Statements back up city authorities' calls for tech giant to take responsibility for misleading search results.
China's foreign ministry has said internet companies had an "obligation" to spread correct information after Hong Kong authorities urged tech giant Google to ensure the country's national anthem was displayed ahead of a protest song in the wake of a string of mix-ups at overseas sporting events.

Following the remarks on Wednesday, Hong Kong's security minister emphasised the local government would do "everything it takes" to ensure the issue was corrected, with authorities sending another letter to Google demanding action.

"Internet corporations have an obligation to disseminate correct information to the public and not let false information spread and mislead the public," Chinese foreign ministry spokesman Wang Wenbin said.

Wang added the national anthem was the "symbol" of the country and represented the "dignity" of the nation. He said that Beijing supported the "resolute defence of the national anthem's dignity" by the Hong Kong government.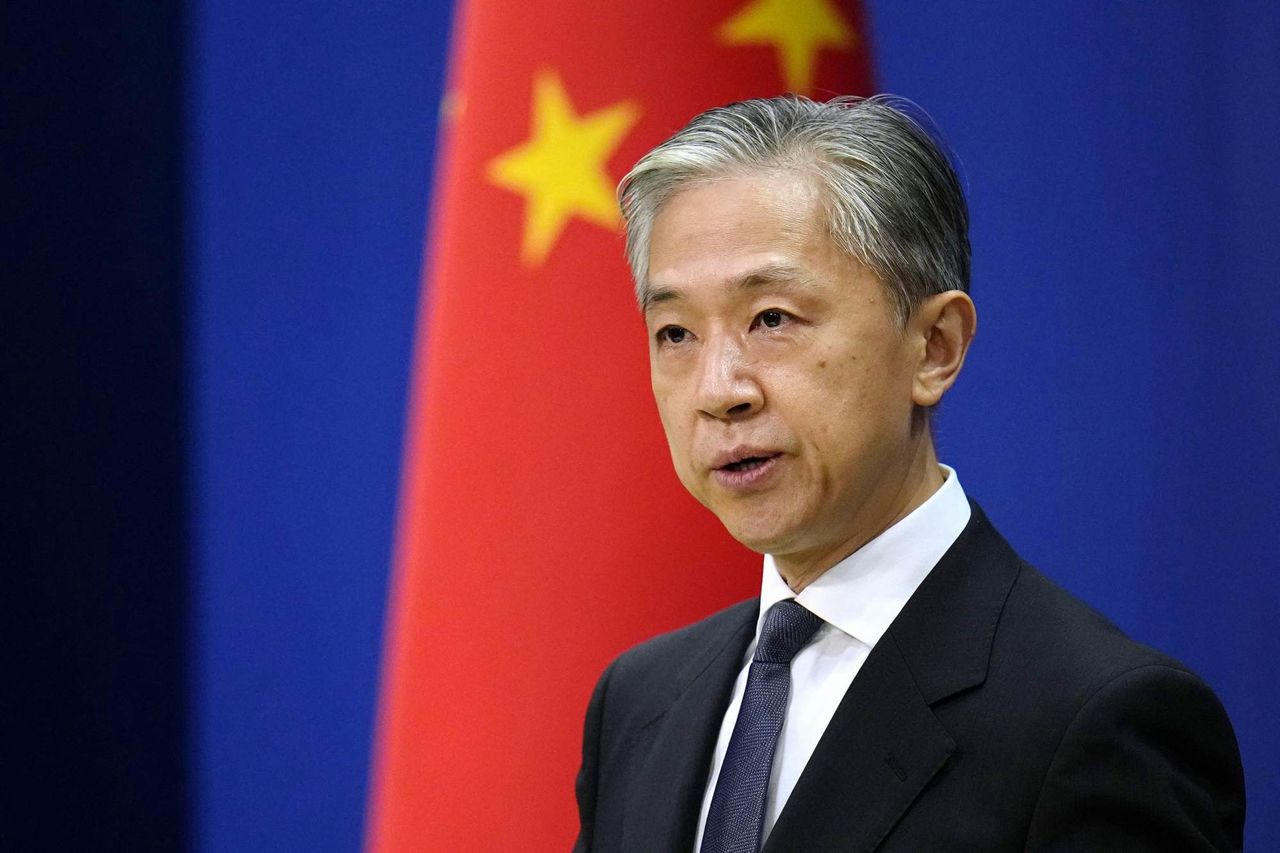 China's foreign ministry spokesman Wang Wenbin.
The statements followed a series of blunders at international sports events where a song linked to the 2019 anti-government protests, "Glory to Hong Kong", was played instead of "March of the Volunteers" during ceremonies involving the city's athletes.
The national anthem was also mislabelled in a broadcast graphic in two rugby matches.
Hong Kong government officials maintained Google played a role in the errors, calling on it to prevent misleading search engine results from displaying at the top when keywords such as "Hong Kong" and "national anthem" were entered.
They also pointed out that a song that was mislabelled as the city's national anthem was available for download in its search results, even though it was "factually wrong" as Hong Kong did not have its own distinct tune.
The city's security minister on Wednesday emphasised authorities would use "everything it takes" to ensure the situation was resolved by the American tech firm.
"With regards to these serious matters and those affairs related to the dignity of the country, we will write another letter to Google in the hope it will correct these errors," Secretary for Security Chris Tang Ping-keung said.
Tang, who was speaking to the press after an antechamber session meeting with lawmakers, repeated there was only one Chinese national anthem.
"Anything else is wrong, no matter how many times you repeat it, it will be wrong," he said.
City leader John Lee has urged Google to take responsibility for its search results.

Chief Executive John Lee Ka-chiu on Tuesday said the government would contact the tech giant again over the issue, noting the company had the ability to remove content to adhere to a recent judgment issued by the Court of Justice of the European Union.

"So there are ways to do it," Lee said. "It is a matter whether a company acts responsibly and respects the importance of the national anthem in the global context."

The Post has contacted Google for comment.

Meanwhile, during the antechamber session, social welfare sector lawmaker Tik Chi-yuen spoke to Tang and Police Commissioner Raymond Siu Chak-yee, who cited the security secretary's remark that around 6,000 people arrested during the 2019 anti-government protests could see their cases resolved in "weeks".

A majority, he added, could be handled "loosely", as they were involved in only minor infractions.

The lawmaker highlighted these individuals were part of about 10,000 people arrested during the months-long protests three years ago, with about 1,000 involved in the siege of Polytechnic University and around 3,000 already charged.

"I welcome them doing this," he added. "I think this issue has been dragged on for long enough … I think the leniency given to those arrested could be further extended."