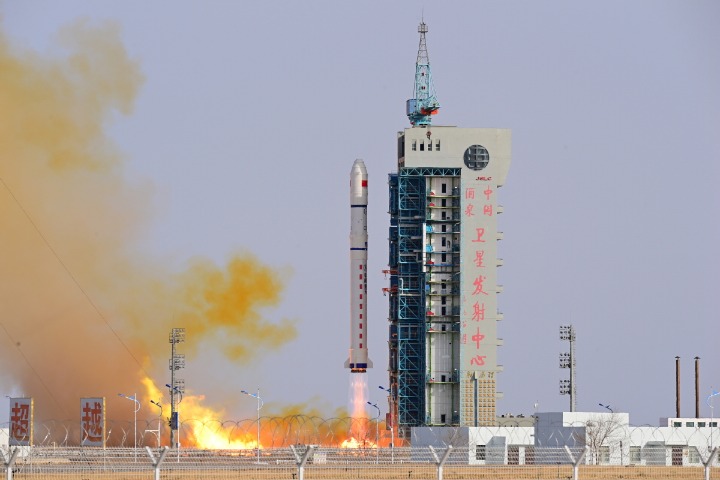 China launched two carrier rockets on Friday to place four satellites into orbit
A Long March 2C rocket blasted off at 2:10 am at the Xichang Satellite Launch Center in Southwest China's Sichuan province and soon deployed the APSTAR 6E communications satellite into its preset geosynchronous orbit, according to a news release from China Aerospace Science and Technology Corp, the nation's dominant space contractor.
Developed by the China Academy of Launch Vehicle Technology, a CASC subsidiary, the Long March 2C rocket is the longest-serving rocket model in the Long March family, and also one of the most reliable types in China's rocket fleet, the State-owned company said.

Built by the China Academy of Space Technology, another CASC subsidiary, the APSTAR 6E is the first based on the electrically propelled DFH-3E satellite platform, which is intended for operations in geosynchronous orbit. The satellite will be used to provide high-throughput broadband communication services to Southeast Asian countries, according to the release.

A satellite platform is a framework used to assemble a satellite, or satellite system, in accordance with its role and function. It consists of the universal equipment needed by any satellite such as a power source, propulsion and orbital control devices, as well as instruments specifically designed for the satellite in question. This permits easy configuration.

With a liftoff weight of 4.3 metric tons, the APSTAR 6E carries 25 Ku-band transponders and three Ka-band gateway transponders that can provide a combined communication throughput of 30 gigabytes per second, according to Wang Min, the satellite's chief designer.

After its orbital transfer and in-orbit tests, the satellite will be handed over to its user, APSTAR Alliance Satcom, a Hong Kong-based operator, according to China Great Wall Industry, CASC's overseas trading arm.

Hu Zhongmin, chairman of China Great Wall Industry, said that an increasing number of developing countries now seek to own communication satellites, but often do not have the money or the market demand and also cannot obtain suitable signal frequency resources for communication satellites.

"So they don't need large, high-capacity satellites that are overly large or too expensive. The DFH-3E platform is affordable and can meet their needs," he said.

"This platform is also an ideal option for communication service companies to conduct trial runs for new business models, or to expand their networks. Any new business venture or expansion is prone to greater risk than established businesses. Buying and operating a small satellite comes with a smaller financial burden and greater flexibility, and helps operators reduce uncertainties."