Some children and carers did not know they needed to scan the vaccine pass.
Carers and children experienced hiccups when using their vaccine pass on Friday after the scheme was extended to those aged five to 11 in Hong Kong, with some parents of unvaccinated youngsters opting for takeaways and staying at home.

Some children aged between five and 11, who now have to be inoculated with at least one jab to enter premises with mandatory vaccine pass checks, were turned away from places such as restaurants and arcades.

Eight-year-old Alysha, who was double-jabbed, was denied entry at the indoor children's entertainment centre Jumpin Gym in Causeway Bay with her 39-year-old domestic helper Dwirahayu as the child did not have any proof of vaccination.

But Alysha was calm and unbothered, describing the scheme as "normal".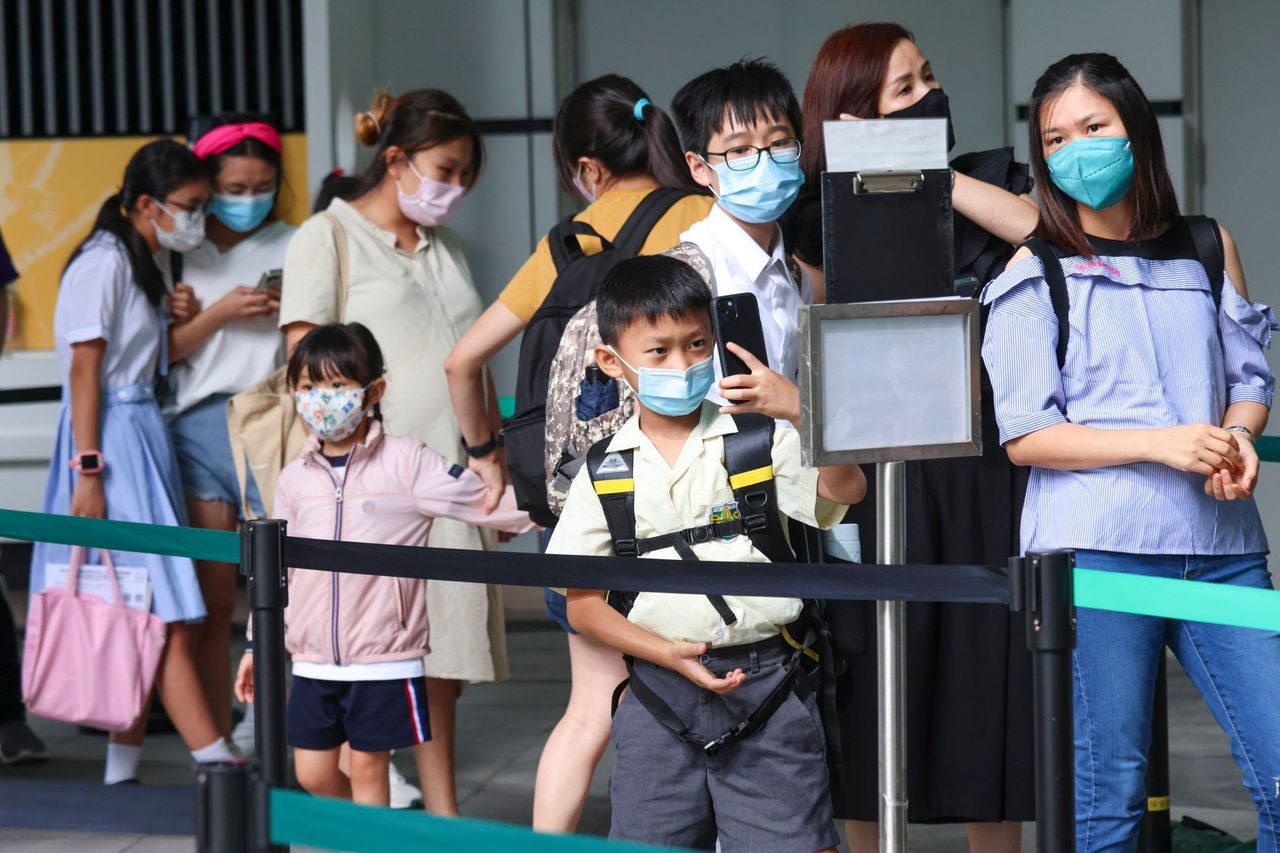 The vaccine pass now applies to children aged five to 11.

"I know what a vaccine pass is, but I didn't know I needed to scan one," said Alysha, who was due to receive her third jab on Monday.

But Dwirahayu, who was not aware of the new arrangement, was shocked and worried. She said she would tell her employer about the change at once.

The Health Bureau previously estimated around 88 per cent of children aged between five and 11 would meet vaccine pass requirements by Friday, meaning 50,000 from the age group could be banned from entering premises such as restaurants, libraries and sports venues.

With the latest update of the "Leave Home Safe" risk-exposure app users can upload up to eight additional vaccine passes of companions exempted from using the application onto their smartphones.

Those who are exempted include the elderly aged 65 or older, children of 15 years or younger, individuals with disabilities, and people authorised by the government.

Parents and companions could also bring along the children's printed vaccination records when visiting premises.

Unvaccinated siblings Curtis Fong, seven, and Kanae Fong, 10, were also barred from entering Jumpin Gym. Their mother said she thought the extension took effect on Saturday.

But the children seemed unconcerned about not being able to go inside.

"I can go home to play video games," Curtis quipped.

Their mother said she had no plans to vaccinate the children because she was concerned about the side effects and the family would be leaving Hong Kong in less than two months.

Lori Lee, a 38-year-old mother, and her unvaccinated five-year-old son also could not enter the arcade. Lee also thought the extension started on Saturday.

Lee said they would get takeaway food and head home instead and that she was not worried about entry restrictions for her child.

"I'm used to not dining out, it's not a big problem. There aren't many indoor places I take him to anyway," she said. "If he can't enter Jumpin Gym, I'll treat it as saving money."

At a Causeway Bay branch of popular fast food chain McDonald's, the vaccine pass scanning device was unstaffed.

Kwan-ho, seven, said he was not aware about using the vaccine pass to dine at the restaurant. "I didn't know I had to scan a vaccine pass," he said, adding that he had received a single dose of vaccine.

His grandmother Tang Kwan, 73, said she was not sure where Kwan-ho's vaccine pass was located, but that she had complied with the latest policy change.

Meanwhile, Amy Lam, regional manager of fast food chain Jollibee, said scanning children's vaccine passes at the Yee Wo Street branch in Causeway Bay had gone smoothly.

"We have scanned around 20 children's vaccine passes today, mainly from kindergarteners and primary school kids after they got off school. Our staff scanned the children's passes with their parents' 'Leave Home Safe' app," Lam said.

At the Hong Kong Central Library in Causeway Bay, housewife Annie Lau, 38, said she did not intend to get her five-year-old daughter vaccinated because she was worried about side effects.

Her daughter has previously caught Covid-19, so she was still exempted from the vaccine pass requirement.

"I'm not worried that my daughter won't be able to enter most premises, I can save some money as well by not being able to eat out," Lau said, adding that she could borrow library books for her daughter to read at home.

The second stage of the vaccine pass extension will begin on November 30, requiring all children from the age group to be double-jabbed.

Children as young as six months are allowed to receive the Sinovac vaccine. Authorities are looking at an application to authorise the use of a BioNTech jab designed for children aged six months to three years. Currently, only those aged five years and above can receive it.