Chief executive promises to revitalise city's music and arts scene and highlight city's unique East-West fusion.
A blueprint to boost Hong Kong's arts and culture scene is to be drawn up, including the global promotion of local pop culture through annual festivals and the production of content for streaming platforms, the city's leader promised on Wednesday.

Chief Executive John Lee Ka-chiu revealed in his first policy address that the Cultural Commission, made up of sector leaders, would be established before the end of the year to map out a plan for the development of the arts, culture and creative industries in a bid to capitalise on the city's cultural fusion.

"Embracing both Chinese and Western culture, Hong Kong has established its cultural infrastructure and global network over the years and drawn in a vast pool of outstanding talents from around the world," Lee said.

"The current-term government is committed to fostering the cultural development of Hong Kong to expedite its progression into an East-meets-West centre for international cultural exchange."

Another 10-year plan for the development of arts and cultural venues will be developed, with the goal of raising the number of government-run museums from 15 to 19 and the seats at performance venues from 30,000 to more than 45,000.

The Mega Arts and Cultural Events Fund will also be created to promote international cultural exchanges, with subsidies worth a total of HK$60 million (US$7.6 million) available each year.

Each large-scale cultural event, such as Art Basel and Art Central, will be allowed to apply for a maximum subsidy of HK$15 million.

Subsidies will be offered to film projects in collaboration with producers from other Asian countries, as well as to variety shows co-produced by local television stations and mainland or Asian production teams.

Lee's policy blueprint also included an annual pop culture festival, covering a string of events, such as live performances, film screenings, exhibitions, talks, workshops and seminars.

The first stage of the festival will be designed to highlight the golden age of the city's pop culture from the 1960s to 1990s, as well as icons such as the late Cantopop superstars Anita Mui Yim-fong and Leslie Cheung Kwok-wing and singer-songwriter and actor Samuel Hui Koon-kit.

Multimedia production teams will also be trained to produce television and film content for streaming platforms such as Netflix in a bid to showcase Hong Kong's productions to the world.

"To promote Hong Kong's pop culture to go global, we will strive to expand the industry's development capacity with three foci on film, television and streaming platforms respectively," Lee said.

He also revealed the government would consider setting up a pop culture museum as a landmark and tourist attraction in the longer term.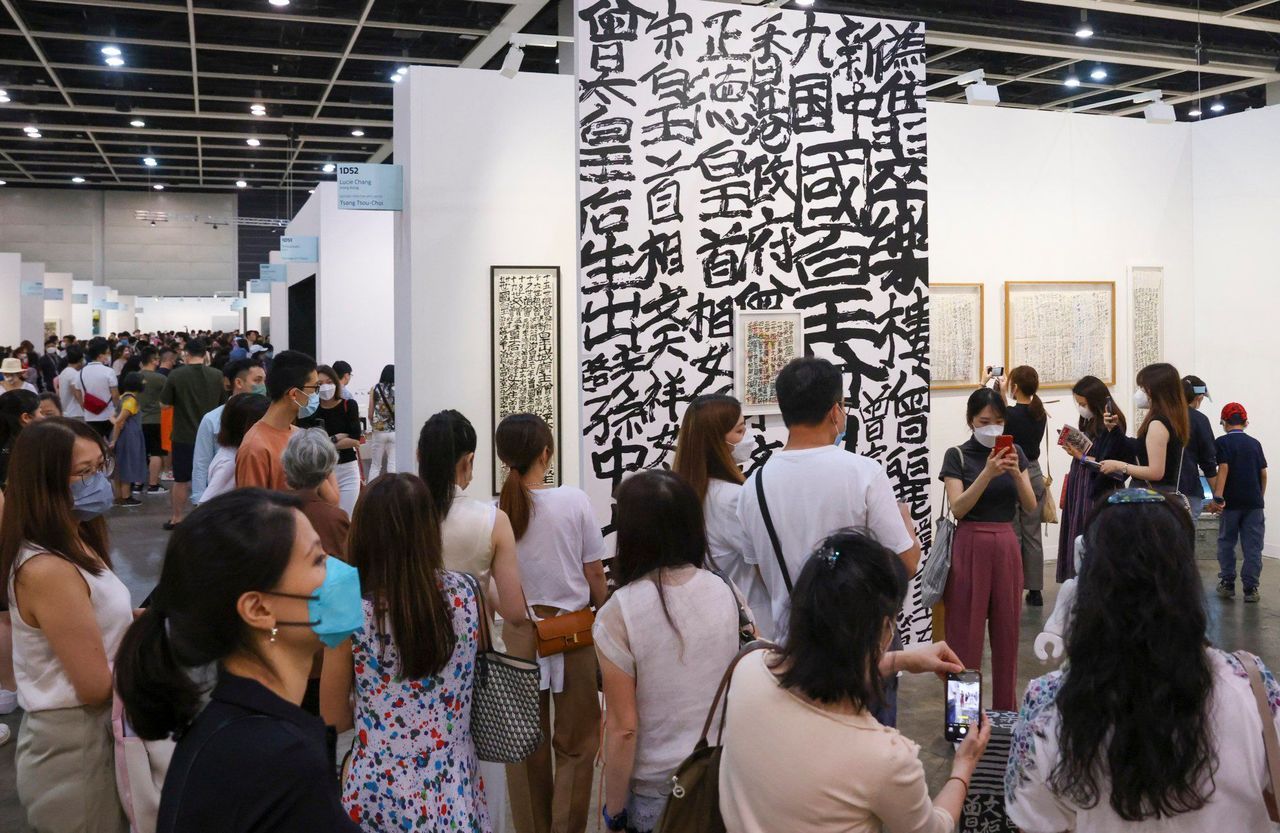 An exhibition at Art Basel Hong Kong 2022, which was held earlier this year.

Other cultural events in the pipeline include the GBA Culture and Arts Festival in 2024, the annual Chinese Opera Festival, as well as the Hong Kong Week, which will be held in mainland cities.

Ma Fung-kwok, lawmaker for the sports, performing arts, culture and publication sector, welcomed the new measures, adding that the city had lacked a body to draft plans for cultural development.

"It is a good thing as it has been 20 years since the previous cultural commission was established. It is even more necessary to map out a blueprint, as the government resources are limited," Ma said.

"The government has to look at how resources can be utilised and what should be given priority."

He said cultural policies, which involved a HK$4 to 5 billion overall budget, had a wide coverage, including libraries, museums, performance venues and the Hong Kong Academy for Performing Arts.

But Professor Oscar Ho Hing-kay of Chinese University's department of cultural and religious studies said the government had made the mistake of applying "a hardware mindset", which focused on the construction of museums and the production of large-scale festivals.

"For over 30 years, I have reminded the government that cultural development demands a well rounded development of a cultural ecology of good art education, training of artists, cultural management and technical specialists, space and freedom for art criticism and arts presentation and audience building," Ho said.

"The government set up many committees in the last 30 years, but the ecology has not improved. In recent years, censorship has prohibited many cultural exchanges, films in particular."

Ho said a "drastic change" was needed and appealed to officials to create the environment needed for healthy and world-recognised artistic development.