Wu, chairman of Titus Business Alliance, attributes city's struggle to contain coronavirus pandemic to government's failure to unite residents.
Titus Wu Sai-chuen, the founder of a business club aimed at nurturing members for success, says he has what it takes to unite Hong Kong after throwing his hat into the ring for the chief executive election.

The 62-year-old property investor on Wednesday attributed the city's struggle to contain the coronavirus pandemic to the government's failure to bring residents together.

"It's difficult for the government to unite the people because the public thinks it did a bad job on the pandemic," Wu told the press, a day after he announced his bid on social media.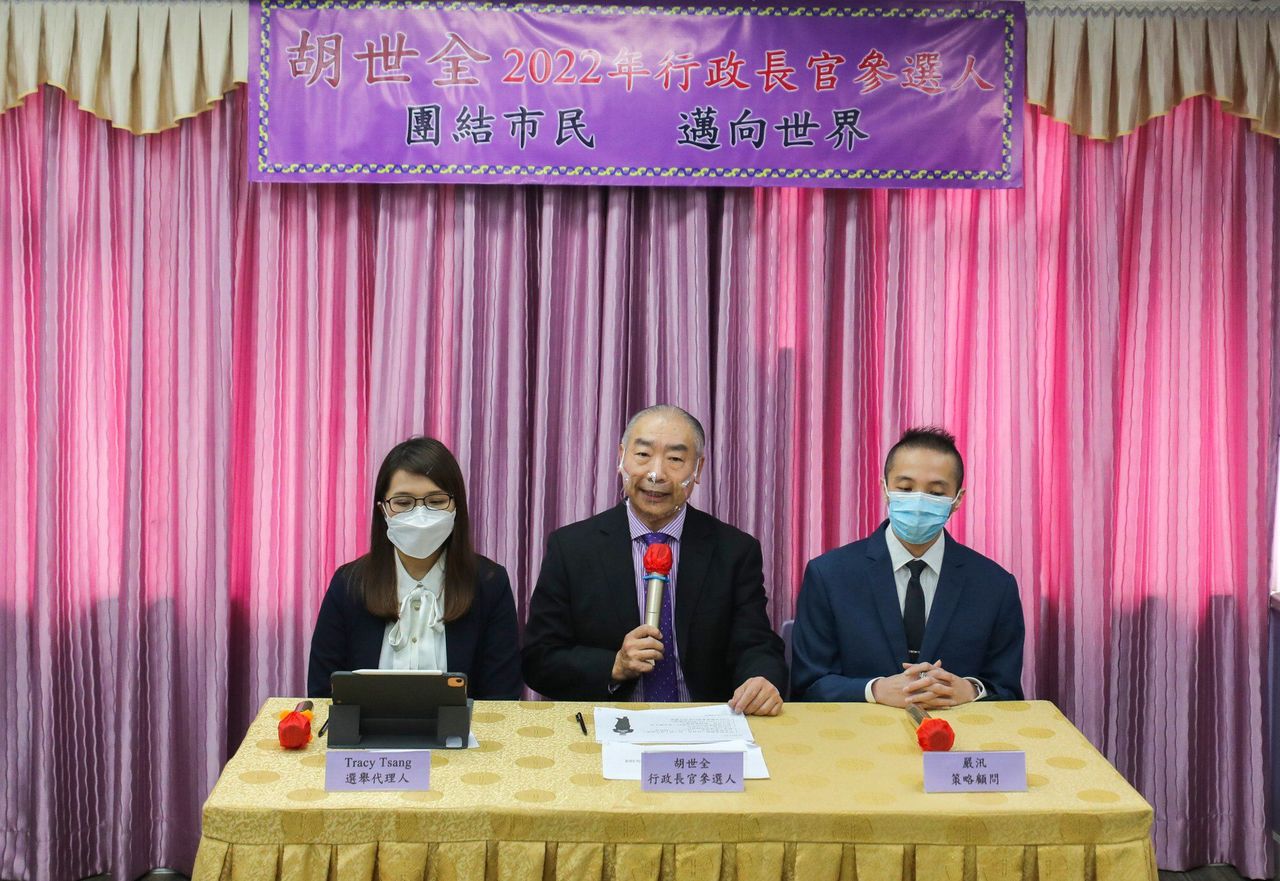 Titus Wu (centre) is flanked by election agent Tracy Tsang (left) and strategy consultant Kimson Yim on Wednesday.

Flanked by his young team of seven volunteers, five of whom were in their 20s, Wu said he was appealing for unity, especially among the younger generation.

Wu also revealed that he had spoken to a political commentator "with close ties to the central government" before expressing his intention to run.

Wu said the unnamed commentator, whose identity he refused to disclose for now, told him that the ability to unite residents and market Hong Kong to the international world would be priorities for the next chief executive and he made that part of his manifesto with that person's permission.

Wu is the chairman of Titus Business Alliance, a group that organises business courses teaching members how to succeed and holds social gatherings for those in the industry. He has nine protégés and more than 200 students, according to the alliance's website.

He also owns eight companies and 17 residential properties.

To enter the March 27 race, Wu still needs to obtain 188 nominations from an Election Committee comprising 1,463 members during the two-week nomination period that begins on Sunday.

Other hopefuls who have expressed their intention to run include film producer and kung fu master Checkley Sin Kwok-lam. Two others who have stepped forward, Wong Man-hong and Ahm Warm-sun, are unheard of in the political scene.

But none of the heavyweights expected from the political circle, such as incumbent Chief Executive Carrie Lam Cheng Yuet-ngor, have confirmed an intention to run.

This is not Wu's first attempt to run for Hong Kong's top job. A former member of the Democratic Alliance for the Betterment and Progress of Hong Kong, the city's biggest political party, Wu failed to garner enough support in the 2012 and 2017 elections.

Wu said on Wednesday he had yet to secure any nomination this time, but added that after meeting the unnamed commentator, he was aiming for more than just being qualified to run.

"I think I have a chance to win this race. The question is how I can do my best in the coming weeks," he said, adding that the identity of the commentator would be revealed in time.

Wu's campaign slogan aims to "unite citizens, towards the world". His manifesto includes boosting home ownership, safeguarding health care services for all and supporting the elderly to live with dignity.

He has also pledged to help children cultivate good character through quality education.

To win Beijing's trust, Wu said he was committed to promoting civil servants while allowing incumbent Executive Council members to serve another term.

The self-described "diligent and capable" hopeful, who touted his ability to strike a balance, said he would also recruit foreign economic experts to join his administration to maintain the city's international outlook.

Wu criticised the current administration for being slow to seek help from Beijing to tackle the fifth wave of infections.

He said he would ask mainland authorities to help ensure all infected patients had a place to quarantine to prevent cross-infection, instead of waiting at home.