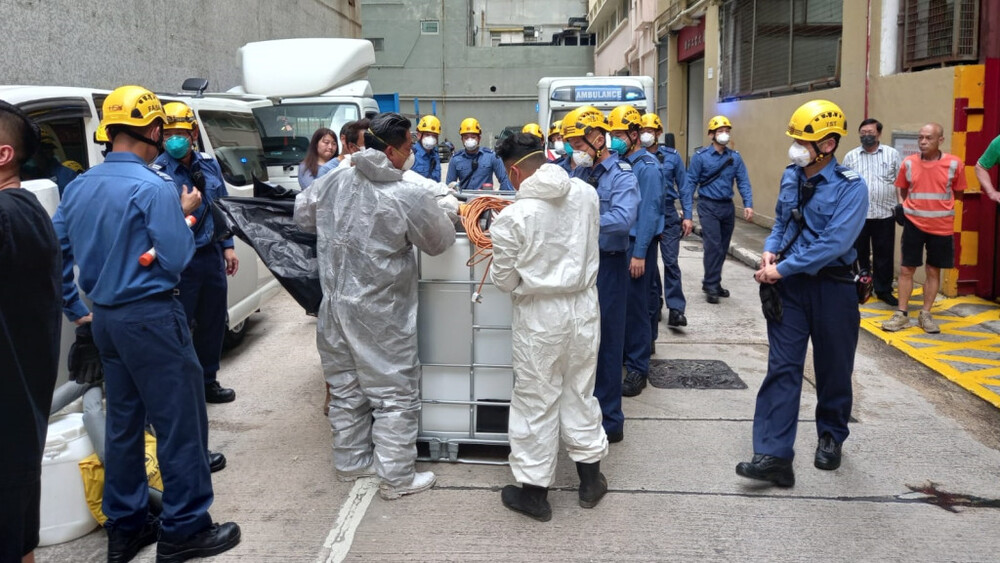 Chemical leak in Tuen Mun sees 33 people evacuated; none injured
A chemical leak occurred in a Tuen Mun warehouse on Wednesday afternoon, with at least 33 people being evacuated as firefighters who were called to the scene soon cordoned off three streets in the area.
No casualties were reported.

Workers were moving a barrel of chemical sulfuric acid in the car park of a warehouse on Kin Fat Street around 2.17 pm when they accidentally spilled it, releasing hazardous gas.

Firefighters in full protective suits soon arrived and sprayed water at the chemicals while their HazMat Support Vehicle stood guard nearby.

Thirty-three people evacuated to safer places on their own, and Kin Fat Street, Kin Lung Street, and Kin Fat Lane were cordoned off to secure the perimeter.

A police investigation is now ongoing.

The Transport Department announced that all lanes of Kin Fat Street between Kin Wing Lane and Kin Wing Street are closed to traffic due to the chemical spillage, while all lanes of Kin Wing Lane (both way bound) are also closed to all traffic.