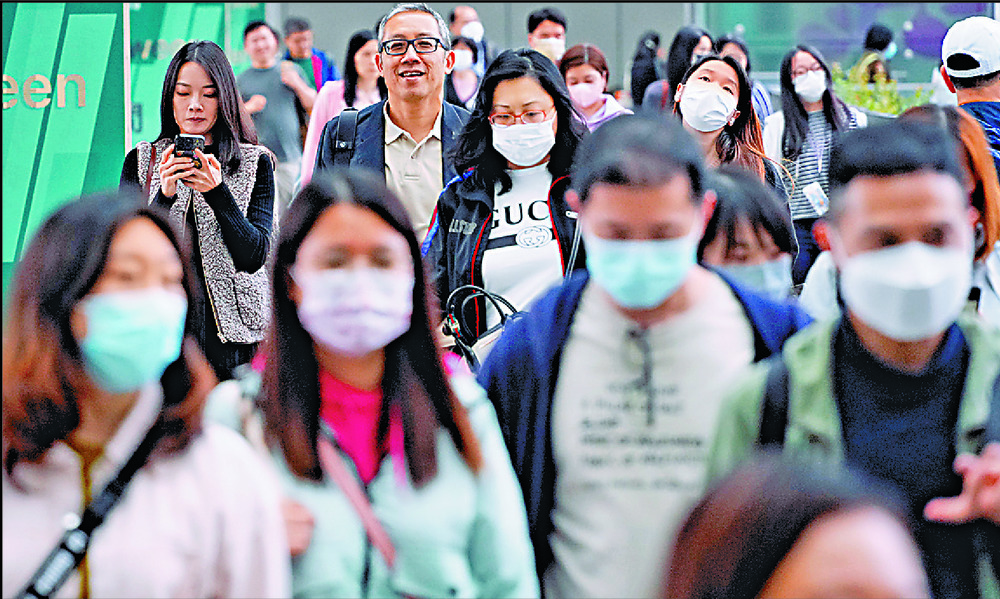 Central stays tops for earnings even as resident numbers fall
Residents in Central and Western were the top earners with a median monthly household income of HK$42,300 last year, compared with HK$28,300 for the whole territory, according to a Census and Statistics Department report released yesterday.
According to its population and household statistics analyzed by district council, the local population numbered 7,259,700 - down some 64,900, equivalent to an almost 0.9 percent drop.

By district, Central and Western saw the largest decrease, from 233,400 in 2021 to 220,800 - a 5.4 percent drop, followed by Wan Chai and Yau Tsim Mong, which saw decreases of 5.2 and 4.8 percent.

The median monthly household income increase for Central and Western residents went up HK$300 to HK$42,300.

It was followed closely by Wan Chai on HK$41,800, up HK$1,400, with Eastern coming in a distant third on HK$31,500.

At the bottom of the list were Kwun Tong, Sham Shui Po and Wong Tai Sin, at HK$22,100, HK$22,800, and HK$24,400.

The average household size remained the same at 2.7 people, while the median monthly household income increased by around HK$800 to HK$28,300.

For economically active households, the median income was HK$36,200, up from HK$35,000.

As for the number of economically inactive households, meaning those involving jobless or retired elderly, Kwun Tong topped the list at 61,700.

There were 54,500 in Sha Tin, 45,800 in Yuen Long and 45,200 in Eastern.

The territory-wide median age was 46, an increase of one year.

By district, the oldest was Wong Tai Sin, with a median age of 50, up from 49, while Islands was the youngest, with a median age of just 42.

Women outnumbered men by 1,000 to 911, compared to 912 previously, but in the labor force, men dominated by 1,195 for every 1,000 women.

The total size of the labor force was 3,776,300, down 94,100 from 3,870,400 - a 2.4 percent drop.

The workforce was relatively larger in Sha Tin, Yuen Long and Kwun Tong at 349,100, 346,900, and 329,300.

The territory-wide labor participation rate continued to see a decline to 58.2 percent, down from 59.4 percent. It was 59.6 percent in 2020, and 60.6 percent in 2019.

Labor participation was highest in Central and Western, Wan Chai, Yau Tsim Mong and Sai Kung, at 61.5, 61.9, 62.1 and 62.3 percent, and lowest in Kwun Tong, at 55.1 percent.