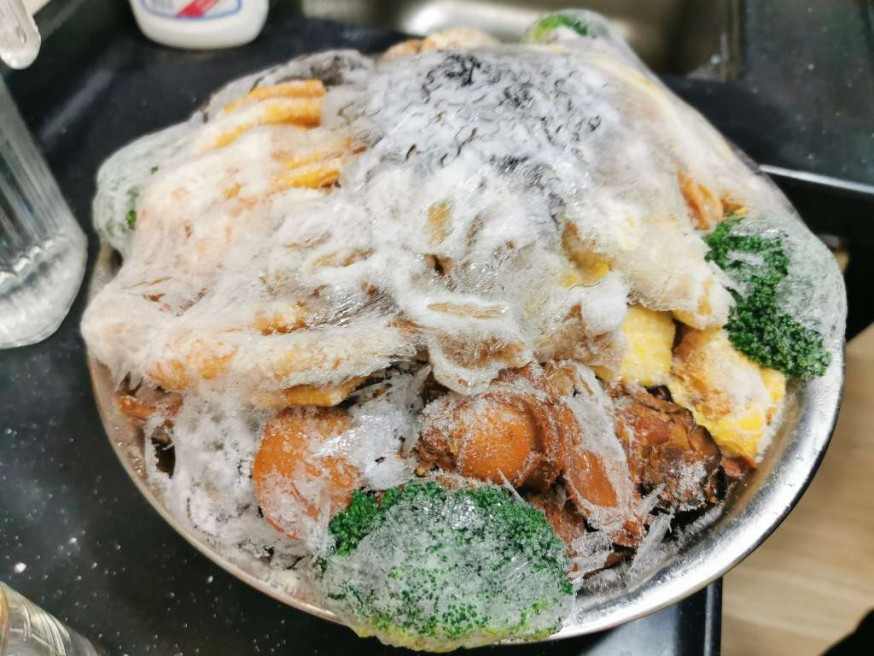 Buyer gets burned by frostbitten poon choi
A HongKonger who hoped to enjoy a family dinner on winter solstice was caught off guard, as he received a "poon choi" topped with thick frost.
The traditional food item born in New Territories villages consist of food piled in multiple layers inside a giant bowl. It is has become a popular choice for festivities, as citizens can buy the poon choi from restaurants or stores and reheat it at home.

But a netizen was unlucky as he received a poon choi from a Yuen Long eatery where food items were covered by frost. He posted the photo online and asked people not to buy from the same shop.

Another citizen echoed his comments, saying she cooked the poon choi for long and the food remained cold. She had to divide the food into two containers to speed up the heating.

Wing Nin Noodle has since published a response, saying it has reviewed its procedures to ensure there will not be a repeat. It has gone through all orders on Tuesday to make sure they are not frozen.

The restaurant said a staffer has mistakenly put the poon choi into a freezer, not a refrigerator with suitable temperature before delivery.