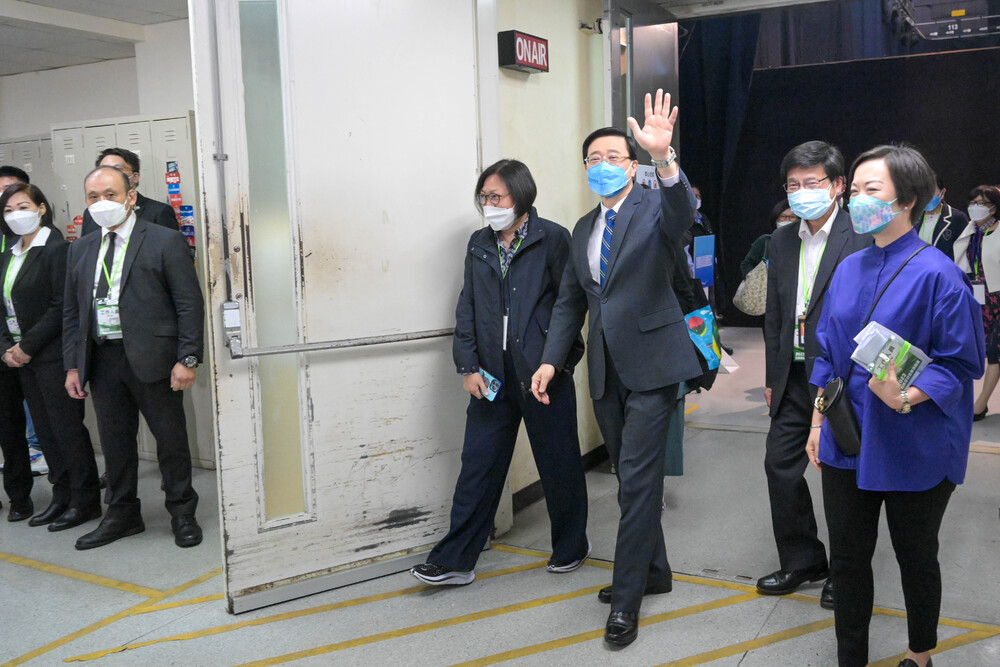 CE hopeful John Lee visits elderly care groups following release of manifesto
The sole candidate for the 2022 Chief Executive election John Lee Ka-chiu visited communities in Sha Tin, Tai Po, and Tin Shui Wai on Labour Day, two days after he unveiled his manifesto laying out plans for the city.
Lee visited the Jockey Club "age at home" Gerontech Education and Rental Service in Sha Tin with Bernard Charnwut Chan and Chua Hoi-wa, the chairman and chief executive of the Hong Kong Council of Social Service, respectively.

Lee spoke with the elderly at the centre, as well as the staff who gave a demonstration of innovations in gerontechnology such as their swivel chair that allows elderly users more freedom of movement when taking showers.

At Tin Yan Market in Tin Shui Wai, vendors shared with Lee how business has been going amid the pandemic.

Lee's manifesto, released last Friday, pledged to expand existing support services for the elderly and improve facilities in residential care homes.

The uncontested chief executive hopeful conducted a visit to grassroots communities in Yau Ma Tei on April 24, after which he pledged to make the housing crisis a top policy priority.

In his manifesto, Lee announced plans to allow people to move into public housing as soon as buildings are completed.

The Lantau Tomorrow Vision and the Northern Metropolis development projects, as well as the enactment of Article 23, were also featured in the manifesto.