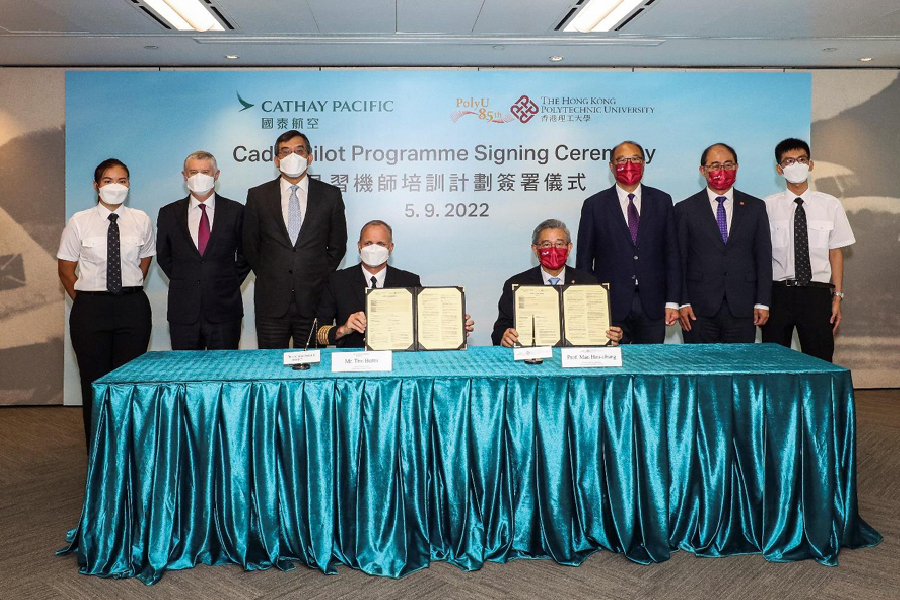 Cathay Pacific and PolyU sign Cadet Pilot programme agreement
Cathay Pacific and The Hong Kong Polytechnic University (PolyU) signed a three-year agreement to collaborate on a new integrated course for Cathay Pacific's Cadet Pilot training programme to cultivate local aviation industry talent.
The signing ceremony took place on Monday in Cathay City.

The new 55-60 week integrated course comprises three stages: theory, simulator training and flight training. Under the newly signed agreement, PolyU will provide a 150-working-day Theoretical Ground Training course that includes a minimum of 750 hours of instruction and examination.

Successful candidates will commence flight training overseas before returning to Cathay City for multi-crew simulator training.

The first batch of 24 candidates have already started the integrated course at PolyU in March and are scheduled to commence flight training in October after completing the programme's ground theory portion.

Conducting the majority of cadet-training activities in Hong Kong will ensure that the training regime is specifically suited to meet the needs of Cathay Pacific. Cadet pilots will be familiarised with aviation facilities and relevant organisations in Hong Kong.

"As Hong Kong's home airline, we are committed to continuing to invest in young local talent and the long-term development of the Hong Kong international aviation hub," Augustus Tang Kin-wing, CEO of Cathay Pacific, said.

He added that since the inception of the Cadet Pilot training programme, Cathay Pacific has trained more than 1,000 cadet pilots from Hong Kong.