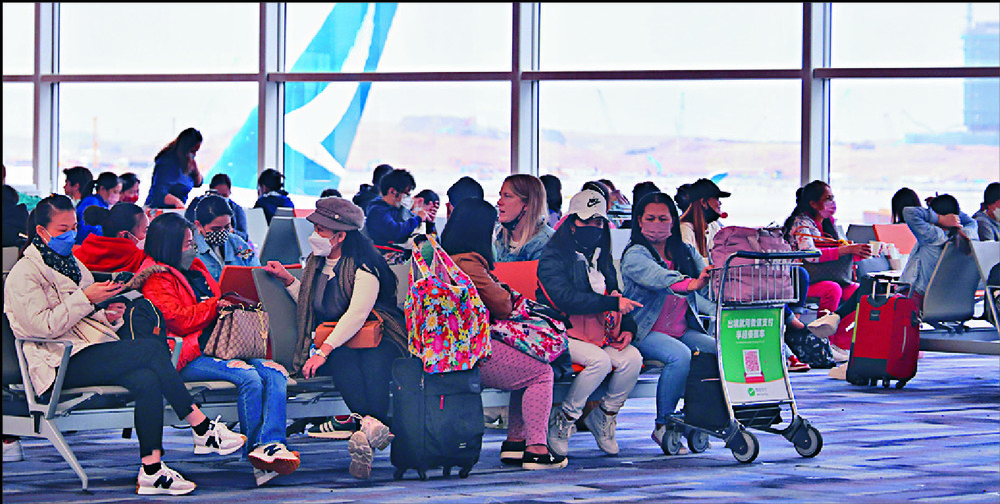 Cathay flies high with 1.03m mark
Cathay Pacific flew 1.03 million passengers last month, 40 times more than January last year and the first time the number passes the one million mark since Covid, the flagship carrier announced.
The Tourism Board said 500,000 visitors came to Hong Kong last month, around 10 percent of the prepandemic level.

Cathay stepped up passenger flight capacities by 18 percent last month and added routes to Phuket, Thailand and Xi'an.

By the end of last month, it was operating up to three return flights a day to Shanghai and 11 return flights a week to Beijing after the mainland fully reopened borders with Hong Kong on January 8.

Chief customer and commercial officer Lavinia Lau Hoi-zee said that leisure travel demand over the Lunar New Year holiday was strong, particularly from Hong Kong to popular destinations such as Japan, Bangkok and Singapore.

"We are on track to operate more than 100 return flights per week to 14 cities in the Chinese mainland by the end of this month," Lau said.

However, she said that despite demand being high for Japan, the airline had to cancel some flights due to restrictions imposed by Tokyo on the number of flights permitted to land.

Cathay, Lau added, is working to increase its passenger flights, especially in the run-up to the Easter holiday.

Its cargo business grew 28.1 percent year on year to 95,139 tonnes in January.

Transport and logistics minister Lam Sai-hung said the Airport Authority and Labour Department will hold recruitment fairs to replenish manpower and launch policies later in the year to address the brain drain.

But Legislative Council Election Committee member Doreen Kong Yuk-foon criticized officials for lacking preparation before the reopening.

Her tourism-sector counterpart, Perry Yiu Pak-leung, said the airport is seeing a serious shortage in ground staff, hindering airlines from adding flights.

Lam said the authority launched a pilot scheme for sharing manpower in December to help with daily operations.

Labor-sector representative Chau Siu-chung asked if the government could adopt the practice in other countries, where free commutes and dormitories are provided to airport staff.

"We will definitely discuss with the aviation sector [on the issue of free transportation]," Lam said.

The board said over half of the visitors, nearly 280,000, in January were from the mainland.

The board will give at least a million sets of cash vouchers for visitors under the "Hello Hong Kong" campaign, with each worth about HK$100.