Chief executive says her own experience working in government for 41 years is proof of what can be accomplished by joining establishment.
Young Hong Kong residents hoping to change society can do so from within the system, city leader Carrie Lam Cheng Yuet-ngor has said, pointing to her own 41 years of public service and status as a former "student activist" as proof.

The exhortation to the city's youth came during the second episode of the RTHK series Overview Policy, a programme dedicated to reviewing her administration's track record since 2017.

Filmed before she fractured her elbow in a fall at Government House last week, the Wednesday episode of the Chinese-language programme focused on Lam's recent policy address – the last of her current term – along with her views on youth policy and a range of other subjects.

Appearing on the show for the second straight week, Lam said she was satisfied with her administration's efforts to give the city's young people a greater voice in local affairs, noting they had actively recruited them to serve as members of government advisory bodies.

"[These young people] are of very high quality, and they do care very much about Hong Kong. What we should do is to promote that caring attitude among our young people. If you care about Hong Kong, you won't do anything that will ruin Hong Kong," she said in an apparent allusion to the 2019 protest movement.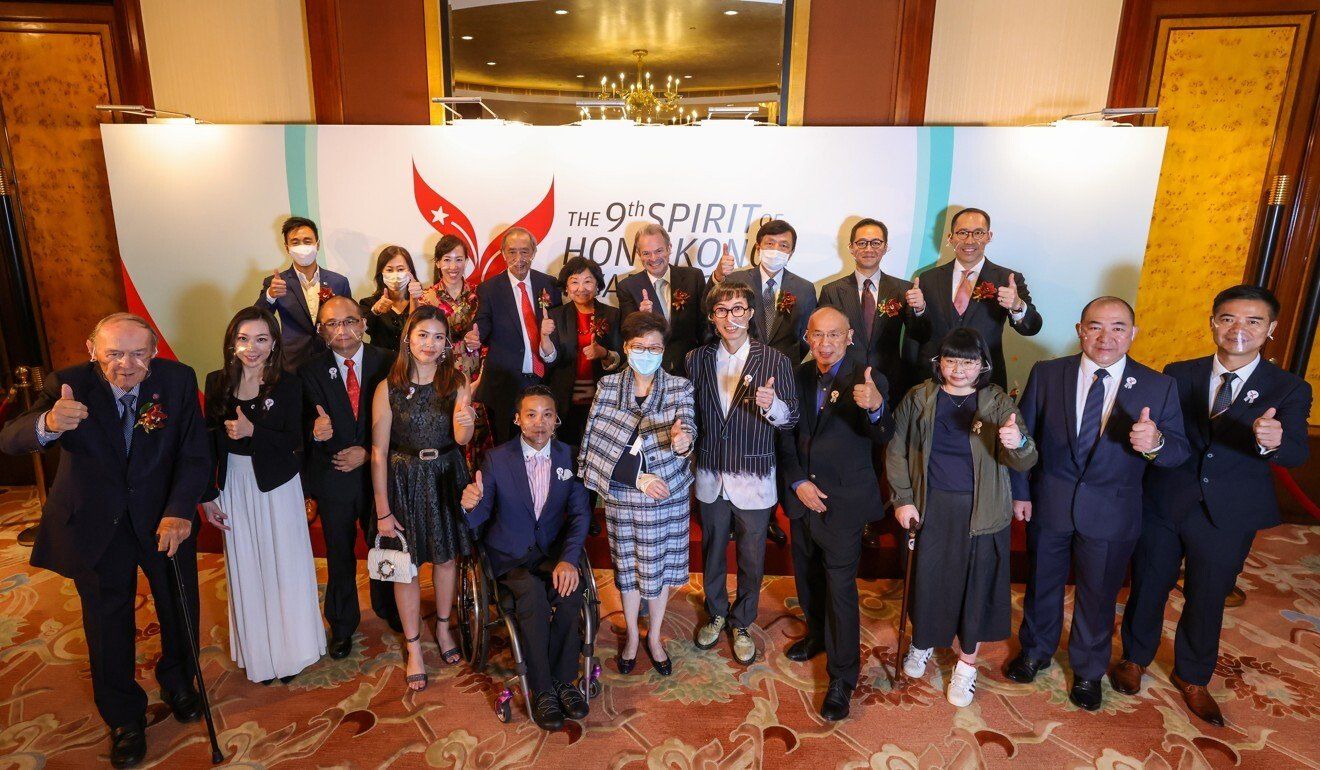 Hong Kong Chief Executive Carrie Lam (centre) poses with winners and judges from the ninth annual Spirit of Hong Kong Awards on Wednesday.

Lam said she considered herself a "student activist" during her university days.

"If I wanted to push for change in society, there were two paths for me to take when I left university 41 years ago. One was for me to [fight for ideals] from outside [the government], as a social worker or whatever. The other was to join the establishment.

"And I believed that if I had the heart to serve the community, and I had the commitment and held a proactive attitude, I would be able to get things done. And the path I have taken over the past 41 years showed my idea was practicable.

"I hope more young people can have that belief."

Lam also rejected criticisms that there was now only a single voice left in the Legislative Council following last November's mass resignation of the city's opposition bloc, saying pro-establishment legislators continued to offer "constructive" proposals that demanded government action.

Separately on Wednesday, Lam praised the city's unsung heroes at the ninth annual Spirit of Hong Kong Awards, where she was a guest of honour.

"I've been coming to this event year after year, because I find this event a meaningful event for the chief executive to recognise – as do co-organisers the Sino Group and the South China Morning Post – the unsung heroes of Hong Kong," she said.

Lam also jokingly credited her administration's "inconvenient policies" for keeping the city's Covid-19 case tally low enough that 200 attendees could gather in a public venue for the awards ceremony.

Referencing her most recent policy address, the chief executive once again lauded Beijing's imposition of the national security law and drastic overhaul of the city's electoral system, saying Hong Kong's ability to bounce back from difficulties provided "hard evidence" it had a bright future.

"Next year is the 25th anniversary of the Hong Kong special administrative region, I am very confident that Hong Kong will enter a new era, which will bring all of us a brighter future," she said.

Future Overview Policy episodes are scheduled to feature a number of Lam's ministers, with environment chief Wong Kam-sing first in line.