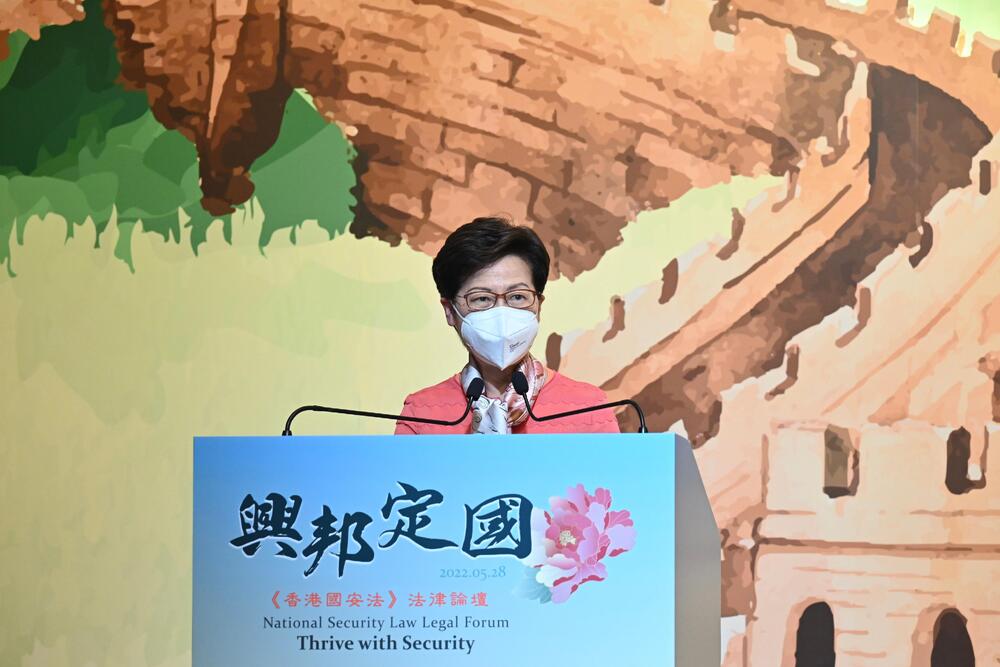 Carrie Lam tells next administration team to increase political and national security awareness
Outgoing Chief Executive Carrie Lam Cheng Yuet-ngor called on the next government cabinet to enhance the administration team's awareness in terms of politics and national security amid challenges against the city's national security law.
Her remarks came after speaking of possible threats to national security including rising foreign forces that will continue to boycott China and radical localist groups and even underground terrorist organizations.

Speaking at the National Security Law Legal Forum on Saturday, Lam described the national security law as a godly device that stabilizes the city that was hit by violence and disorder for more than a year.

The law also shares a firm foundation laid by the common law judicial system with highly effective and powerful execution, according to the Hong Kong leader.

Lam praised the effectiveness of the legislation of national security law as well, with all the major works completed within the first 10 days since the implementation. That included appointing designated national security judges and setting up a national security department for the police force.

However, Lam pointed out that Hong Kong's works on maintaining national security remain at primary stages and the situation in that field is still complicated and challenging.

"Concluding the works and experiences over the past two years, my biggest feeling is that in order to safeguard national security to the utmost, we must fully understand the country's national security concept and execute every part to achieve the goal of prevention," she said.

Zheng Yanxiong, director of the Office of Safeguarding National Security in Hong Kong, said: "There is no absolute freedom in the world, and even the biggest freedom would be restricted by legal boundaries."

"It is like playing football. You can kick the ball with your feet or play it with your head with reasonable collision, but there must be lines clearly drawn on the pitch and referees to enforce the rules," he added.

Secretary for Justice Teresa Cheng Yeuk-wah said the SAR government is responsible to execute actual works to safeguard national security, including improving the electoral system and ensuring civil servants pledge allegiance to the government.

She also said the Department of Justice will continue to promote intentional security education and strengthen citizens legal awareness.