The public has no stomach for any big talk about government overhauls at a time when Covid-19 is spreading and our children are suffering. Rather than fretting over politics, let policymakers make Hong Kong children's needs a priority.
There has been quite a lot of talk on the political circuit about the next chief executive. It is quite natural, of course, since there are only less than three months to go before the chief executive election.

The incumbent chief executive has been tight-lipped on whether she will seek re-election for a second term. No one from Carrie Lam Cheng Yuet-ngor's cabinet has quit, so it does not look like anyone from the current administration is eyeing the spot. With no one else having yet put themselves forward, we can only guess.

By looking at what Lam has said, it appears she would not mind a second term. At the inaugural meeting and first question-and-answer session with the chief executive for the seventh term of the Legislative Council, Lam looked very much the part of the headmistress in front of legislators, many of whom are first-time lawmakers.

So far so good for the executive-led political system Xia Baolong, the director of the Hong Kong and Macau Affairs Office, wanted to safeguard.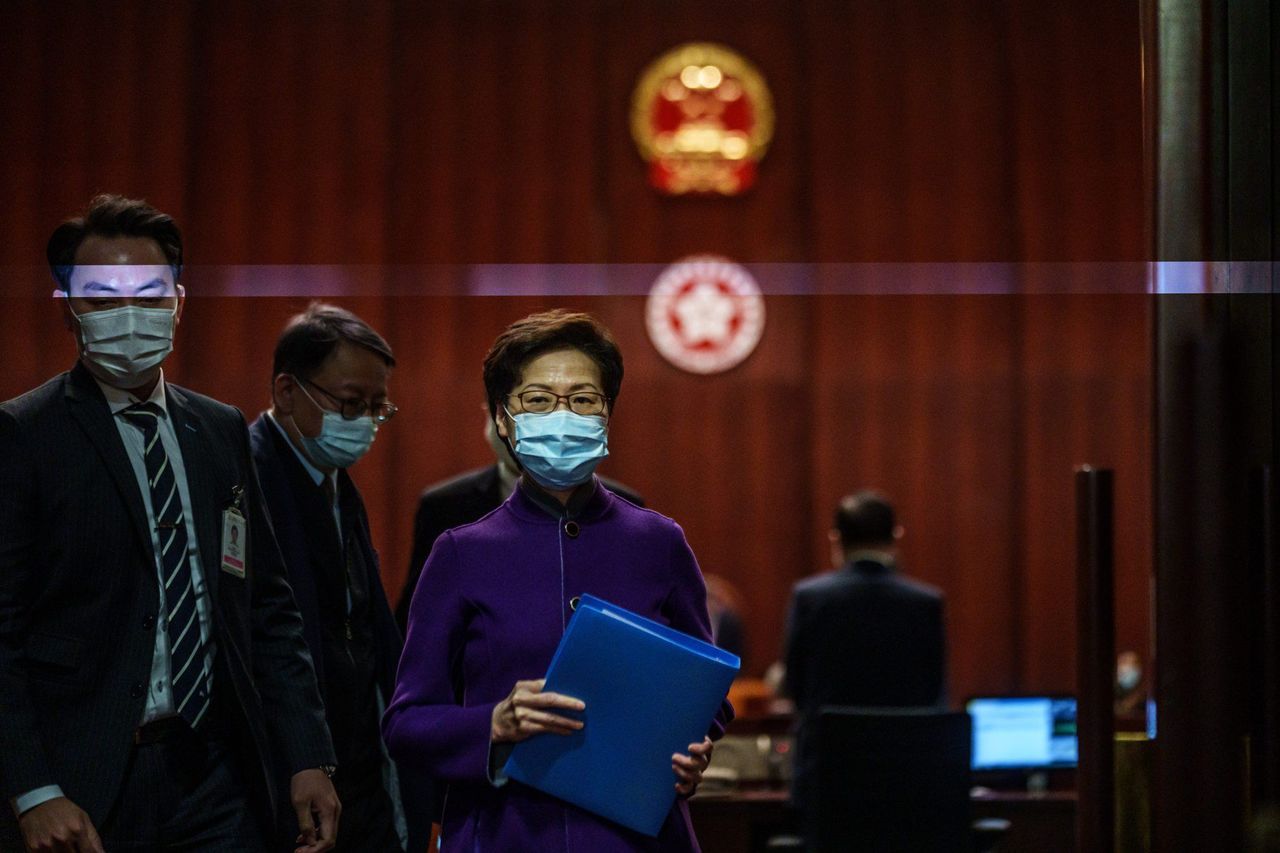 Chief Executive Carrie Lam, Hong leaves following a question-and-answer session at the Legislative Council in Hong Kong on January 12.

Lam also showed her hand by detailing her plans to restructure the government, with just months left in her first term. She first unveiled the restructure in her last policy address in October 2021, along with many other major policies that would not be characteristic of a lame-duck government.

She pretty much cemented these plans at last week's Legco session. In doing so, she showed once again that she is ready to lead in Hong Kong's new patriots-only political system.

Then again, lots of things can still happen. Last month's Legislative Council election was originally set to take place in September 2020, but Lam postponed it at the last minute.

She did that just a month before it was set to happen. The pandemic was cited as the reason for the postponement then, and there is little reason it can't be used again to put off the election of the next chief executive. We are in the middle of the fifth wave of Covid-19 and dealing with the Omicron variant. Who's to say the chief executive election will take place as planned?

With schools closed again for kindergarteners and primary school students, it is a bit rich to be talking about anything beyond how to get the fifth wave under control. The public has no stomach for any big talk, whether we are talking about creating metropolises or overhauling government bureaus.

What needs overhauling – immediately, in fact – is our strategy for fighting Covid-19. There should never have been any blind belief that strategies that worked before are still suitable now.

The Economist is right that "Hong Kong has done a better job than almost anywhere at keeping Covid-19 at arm's length." It gave credit to our "rigorous test-and-trace regimen, an unflinching policy of sending thousands of people for long stays in quarantine facilities, tightly controlled borders and an overwhelming adherence to mask-wearing".

I would like to add to that list all the days our children and their parents have given up children's rights to education and play. Our policymakers have time and again made young children – the most powerless among us – first to pay for our Covid-19 fight.

The chief executive has acknowledged the impact prolonged, repeated suspensions of in-person classes has had on the academic achievement, social development and the mental and emotional health of schoolchildren. Even so, young children were quickly taken out of school again without considering the strain it would have on families.

This time around, many working parents have gone back to their jobs. With the government hesitant even to ask civil servants to work from home, this early Lunar New Year holiday is no holiday for families.

Xia has given lawmakers quite a demanding list of expectations. Perhaps it is time to push for policymakers to make Hong Kong children's needs a priority.