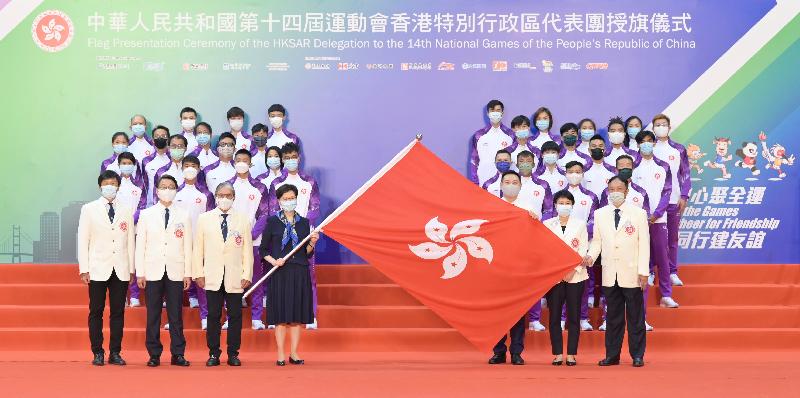 Carrie Lam presents flag to HK delegation to National Games
Chief Executive Carrie Lam Cheng Yuet-ngor presented the flag of HKSAR to the Hong Kong delegation to the 14th National Games of China on Friday.
As of August 17, a total of 171 Hong Kong athletes will participate in 18 final competitions at the Games, including shooting, athletics, badminton, boxing, canoeing, cycling, equestrian, fencing, golf, gymnastics, table tennis, taekwondo, tennis, volleyball, baseball, karatedo, rock climbing and wushu.

Secretary for Home Affairs Caspar Tsui Ying-wai, who is also the head of the delegation attended the flag presentation ceremony.

Tsui said Hong Kong athletes had attained remarkable achievements in the last National Games and in Tokyo Olympics. He added that the government has been promoting sports in the community, supporting elite sports development and making Hong Kong a hub for major international sports events.

Tsui also said resources will be allocated to support elite athletes and sports development, including supporting the extension work of the Hong Kong Sports Institute.

President of the Sports Federation & Olympic Committee of Hong Kong, China Timothy Fok Tsun-ting and permanent secretary for home affairs Cherry Tse Ling Kit-ching attended the ceremony as well.

The National Games, organized by the General Administration of Sport of China, is held every four years, and is the highest level and largest national mega sports event in China.

The 14th National Games, with 35 competitions, will be held in Shaanxi from September 15 to 27.