Liu Guangyuan, who arrived in the city last Tuesday, tells Carrie Lam he will work with her to safeguard China's sovereignty and security.
A veteran diplomat recently appointed by Beijing to head the foreign ministry's Hong Kong office said on Tuesday he would work with the city's leader to safeguard China's sovereignty and security, as well as to firmly oppose external interference.

Liu Guangyuan, who came to Hong Kong last Tuesday, made the comments during a 40-minute meeting with Chief Executive Carrie Lam Cheng Yuet-ngor at Government House shortly after 2pm.

The foreign ministry commissioner also had a separate meeting with Lam's predecessor, Leung Chun-ying, who is now a vice-chairman of the Chinese People's Political Consultative Conference, China's top advisory body.

Leung has recently been critical of Lam's governance, fuelling speculation he is preparing for a comeback ahead of the city's leadership race next March.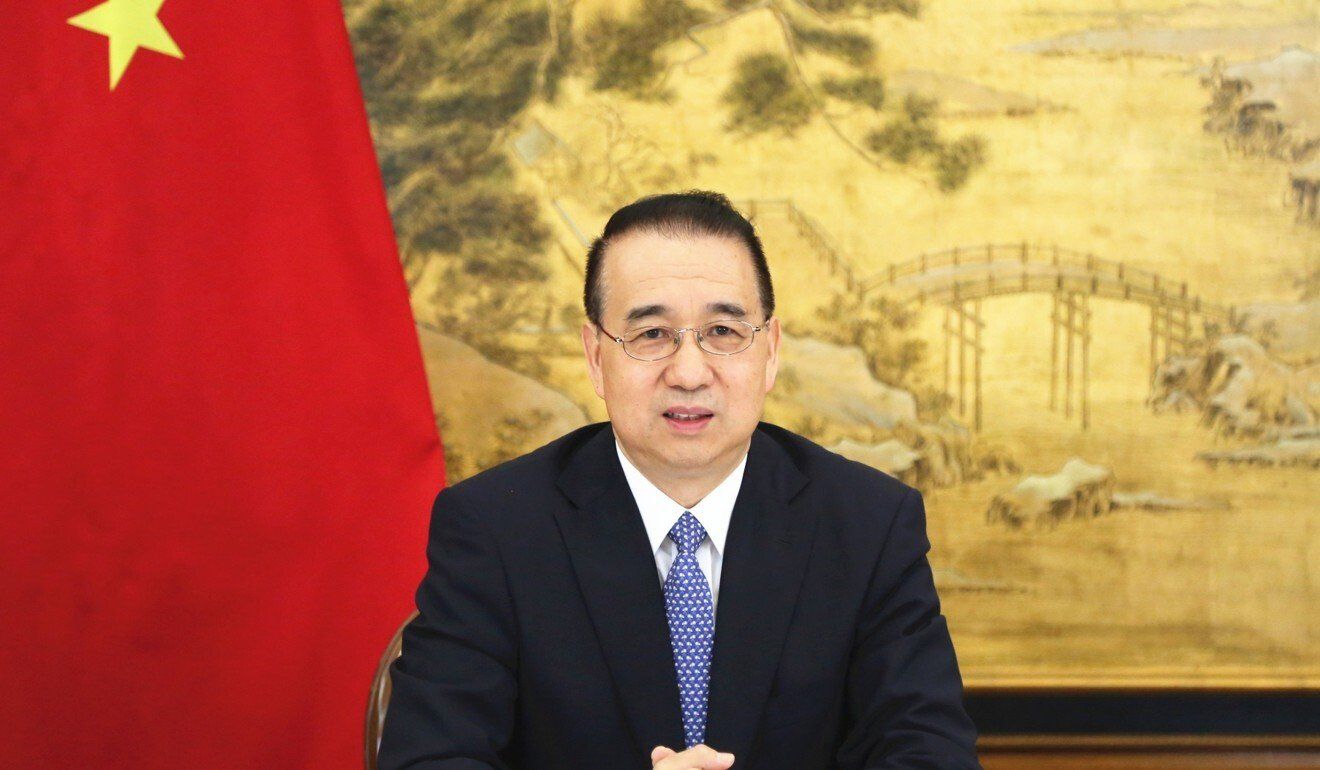 Liu Guangyuan, head of Beijing's foreign ministry office in Hong Kong, met city leader Carrie Lam on Tuesday.

According to a statement issued by the commissioner's office, Liu said he respected Leung's contributions to the implementation of the "one country, two systems" principle under which Hong Kong was governed, as they discussed topics such as safeguarding national security.

The commissioner told Lam his office would strengthen its cooperation with the Hong Kong government, a separate statement said.

"We will safeguard national sovereignty, security and development interests together and firmly oppose external forces from meddling with Hong Kong affairs," he said.

In a reference to the ministry's efforts to promote Hong Kong abroad, Liu also pledged to "mobilise resources in creating a better external environment for the city's governance", and to offer more convenience for residents.

Lam was quoted as having told Liu her administration would help to safeguard national security.

Lau Siu-kai, vice-chairman of the Chinese Association of Hong Kong and Macau Studies, a semi-official think tank, said Liu's remarks showed the ministry would continue to defend the local government should any Western politician criticise the city's affairs.

Veteran China-watcher Johnny Lau Yui-siu said Liu was also talking about how Beijing would help Hong Kong to play a more active role in global and regional trade.

Both experts said it was normal for the commissioner to include Leung and Lam in his first meetings in Hong Kong.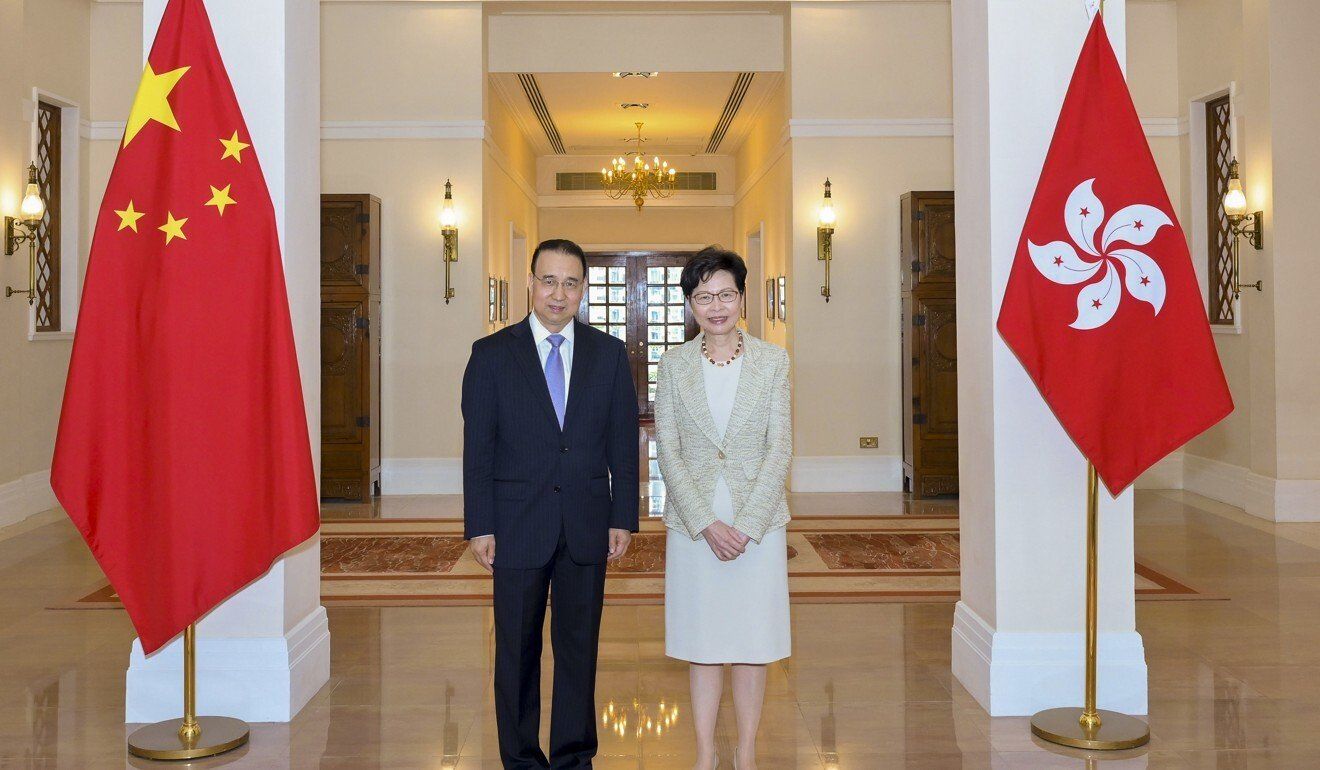 Liu Guangyuan with Carrie Lam at Government House.

According to a statement issued by Lam's office, the chief executive told Liu her administration had faced serious challenges in the past two years.

"But under the central government's full support and timely decision-making, the city has overcome those challenges," she said.

Hong Kong was hit by months of social unrest in 2019, followed by a recession and the coronavirus pandemic.

China's top legislative body imposed a sweeping national security law on Hong Kong last June, and laid down a resolution to shake up the city's political system earlier this year to make sure patriots would firmly dominate the city's legislature and other key political institutions.

These two landmark decisions by Beijing "stabilised the situation in Hong Kong, and brought one country, two systems back on track", Lam told Liu.

She said her administration attached importance to the city's external affairs, and launched the "Early Vaccination for All" campaign on Monday.

"Through drastically increasing vaccination rates, we hope to establish protection for Hong Kong, and resume cross-border travel as soon as possible," Lam added.

She was referring to policies being considered by top officials to boost the city's sluggish inoculation campaign. Plans included a package of restrictions covering only unvaccinated residents in the event of another rush of coronavirus infections.

The new commissioner is an experienced official seasoned in US-China relations and security issues, and analysts previously said his appointment showed Beijing remained concerned about external interference in Hong Kong.

Liu, a minister at the Chinese embassy in Washington from 2007 to 2010, was director general of the ministry's Department of External Security Affairs from 2014 to 2018. He also spent time in the United States as deputy consul general in San Francisco from 2000 to 2002, and was vocal in defending Beijing against foreign attacks during his tenure as ambassador to Poland from 2018 to April this year.

Last month, Lam issued a statement welcoming the appointment, noting that in recent years, when the Hong Kong government had been criticised by foreign politicians, the commissioner's office had strongly refuted them.

Liu's posting was the latest in a reshuffle this year at the ministry's office, which saw his predecessor, Xie Feng, promoted to vice-minister of foreign affairs after serving as commissioner from 2017 to January.