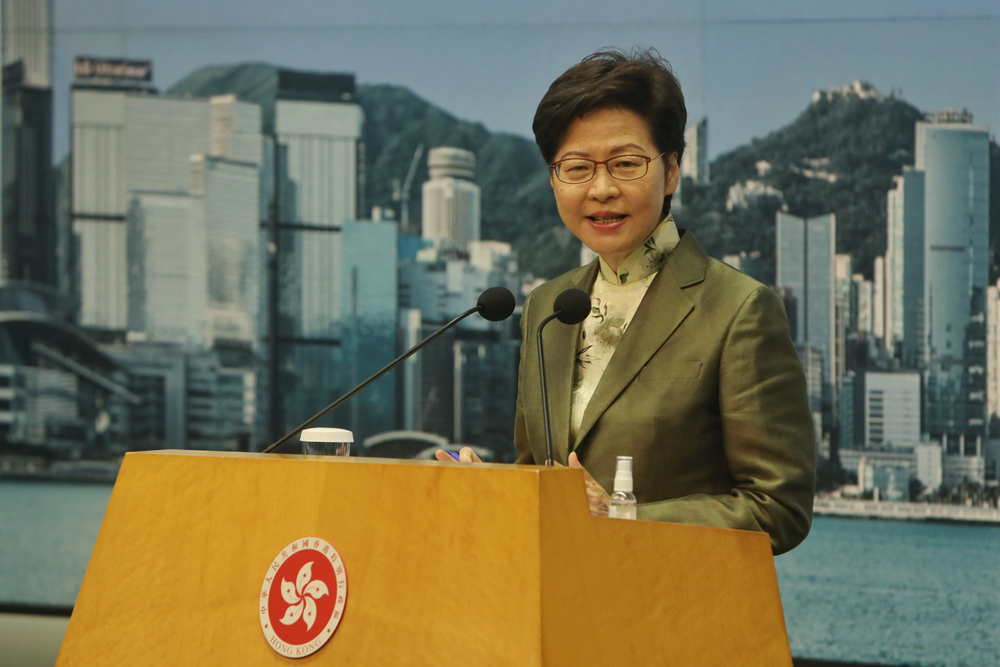 Carrie Lam defends "robust" interests-declaration system
The declaration of interests system for government officials is "robust," Chief Executive Carrie Lam Cheng Yuet-ngor said.
She was answering a question regarding a report by the International Consortium of Investigative Journalists, saying former chief executive Leung Chun-ying allegedly held shares of a Japanese enterprise through his offshore companies and had served as a director of the offshore companies without declaration.

Meeting reporters before the Executive Council meeting this morning, she said: "I don't want to comment on individual cases except to impress upon you that we have a very robust system, but at the end of the day this is an honor system."

"We do not check, monitor or investigate into registrable interests of each member," she said. "You can see for yourselves on the existing website about the current members on the Executive Council that they have declared in a very detailed and meticulous way their beneficial interests."

Leung hit back on the report yesterday and said it was misleading, as he said the declaration system only required him to report the companies he directly owned, adding that possession and transaction of shares need not be declared.

He said he had declared all shares he directly owned and also transferred them to trusts managed by professionals when he took office as the Chief Executive.

But barrister Stephen Char Shik-ngor, who is a former chief investigator of the city's anti-corruption agency, said Leung's declaration of interests could "create a questionable impression" in citizens, although it is difficult to define whether his actions constituted as misconduct in public office.

He said in a radio program today that Leung and authorities should explain why he had to transfer the shares to be managed by trusts, rather than directly declaring the interests.

"If declarations are not needed once (shares) have been handed over to trusts, the declaration mechanism is meaningless. The government should plug the loopholes," he said.

The consortium's report also said the SAR's first chief executive Tung Chee-hwa and his brother own nearly 30 offshore companies, including one in the British Virgin Islands that has an HSBC bank account with around HK$7.8 million of "liquid funds."

A spokesman for Tung said he will not respond on the matter as it is not related to his chief executive duties when he was in office.

The report, derived from millions of documents, also detailed how 336 high-level politicians and public officials – including 35 current and former world leaders – use offshore tax havens to stash staggering assets.