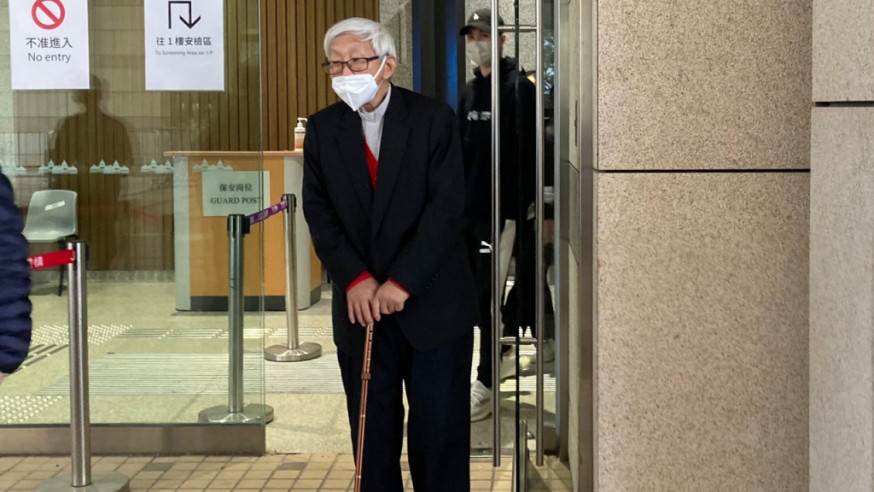 Cardinal Zen sets off for Pope Benedict's funeral in Vatican after regaining passport
Ninety-year-old retired cardinal Joseph Zen Ze-kiun will retrieve his SAR passport so that he can fly to the Vatican to attend the funeral of Pope Benedict XVI, as the court has approved his application to change the bail condition without objection, sources said. 
Zen was among five trustees of the 612 Humanitarian Relief Fund arrested by national security police in May 2022 for conspiracy to endanger national security by colluding with foreign forces. 

He was then released on bail and ordered to surrender his travel documents. 

In a closed-door hearing at the West Kowloon Court Tuesday, Zen's application of changing the bail condition regarding his travel documents has been approved by the court as the DoJ didn't voice any objection, according to sources. 

That means Zen will get his passport back and can fly to the Vatican to attend the funeral of Pope Benedict XVI, who passed away last Saturday (Dec 31). 

It is understood that Zen will leave Hong Kong tomorrow (Jan 4) and return this Sunday (Jan 8). 

The other four trustees of the now-defunct protesters' fund included former legislators Margaret Ng Ngoi-yee, 74, Cyd Ho Sau-lan, 68, Cantopop singer Denise Ho Wan-see, 45, and cultural studies scholar Hui Po-keung, 62. They were also released on bail. 

In November last year, the five trustees and the fund's secretary, 37-year-old Sze Ching-wee, were convicted of failing to register the fund as per legal requirements. The five were each fined HK$4,000 and Sze HK$2,500. 

Unhappy with the court's conviction, the five have already filed an appeal to the High Court.