Questions over legal status of fund and whether it required registration could be resolved using 'common sense', Principal Magistrate Ada Yim says.
A Hong Kong magistrate has ruled that there is a case to answer for retired Catholic leader Cardinal Joseph Zen Ze-kiun and five other activists prosecuted over their failure to register a legal fund for those involved in the 2019 anti-government protests.

Shortly after her ruling at West Kowloon Court on Tuesday, Principal Magistrate Ada Yim Shun-yee said questions over the legal status of the 612 Humanitarian Relief Fund and whether it required registration with police could be resolved using "common sense".

All six accused chose not to testify or call any witnesses. Their lawyers are set to make submissions in late October on the nature of the now-defunct group, their clients' roles and the constitutionality of the Societies Ordinance.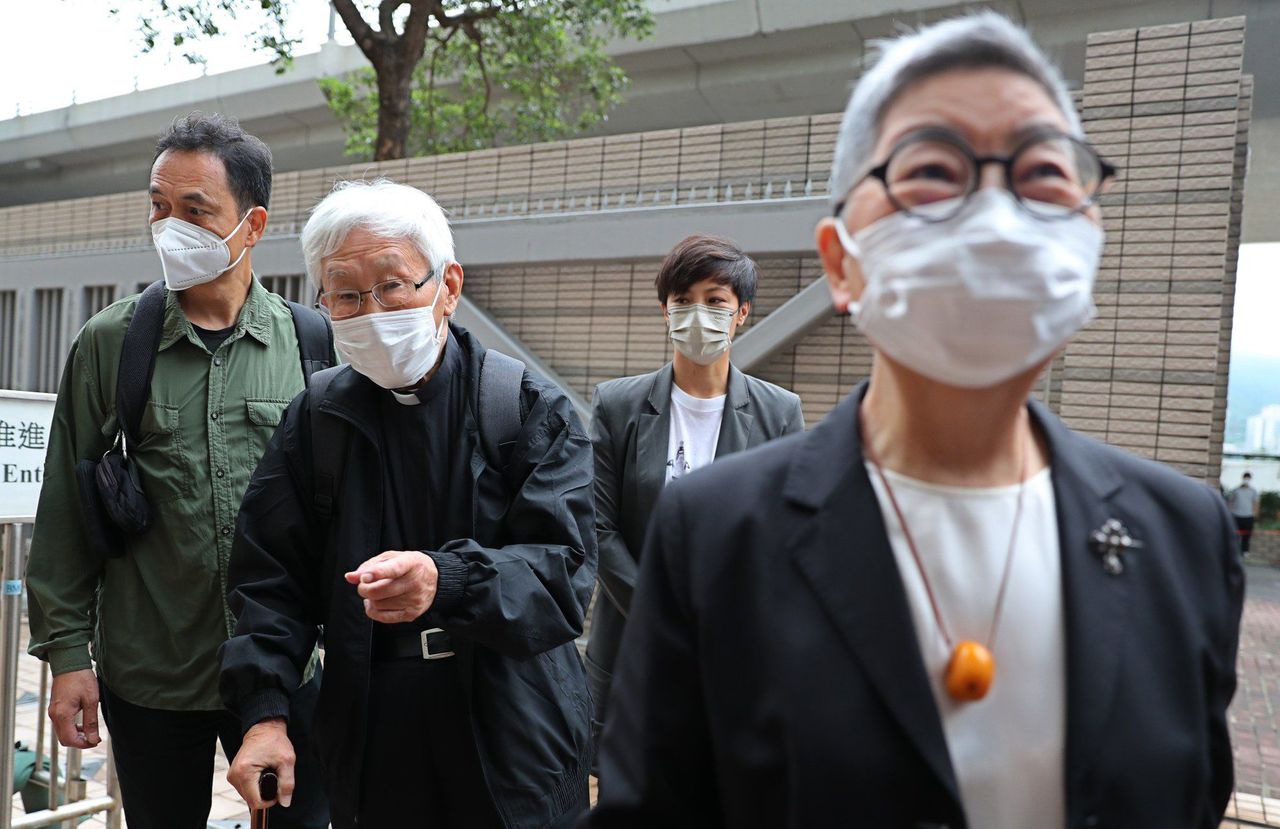 (L-R) Hui Po-keung, Cardinal Joseph Zen, Denise Ho and Margaret Ng.

According to the ordinance, a society, meaning "any club, company, partnership or association of persons, whatever the nature or objects, to which the provisions of [the] ordinance apply", must register with the societies officer, who is the police commissioner, or ask for an exemption.

Commenting on the issues in contention, Yim said there was room for interpreting the ordinance as it had only given a relatively brief definition of an organisation that required registration.

But she also noted the law had stipulated the criteria for exemptions and that there were many forms of assembly in everyday life that could begin without prior approval, such as a primary schools' music clubs, a cross-family gathering during festivals, and a funeral committee set up by the families of a deceased to plan a memorial service.

"How should one define the term society in the law? Has the issue been dealt with in past cases? If not, we'll have to use common sense, as the Societies Ordinance has a bearing on society," Yim said.

Zen, 90, was prosecuted for his role as the fund's trustee alongside singer Denise Ho Wan-see, former Lingnan University academic Hui Po-keung, and ex-opposition lawmakers Margaret Ng Ngoi-yee and Cyd Ho Sau-lan. A sixth defendant, Sze Ching-wee, was charged over his role as the fund's secretary.

Prosecutors accused the six of failing to register the fund within one month of its establishment. They have relied on video footage of press conferences and public events held by the group, as well as bank records, legal documents and investigators' testimonies.

The defendants argued that the fund did not require registration, as it was not a society as defined by the ordinance and they were not office-bearers.

The law also says an organisation set up "solely for religious, charitable, social or recreational purposes" can be exempt from the requirement.

Organisers can be fined HK$10,000 (US$1,274) upon a first breach of the ordinance.

The defence counsel will also make submissions on whether the ordinance violates the right to freedom of association under Article 27 of the Basic Law, the city's mini-constitution. The trial continues on October 26.