Result is a clean sweep for those who supported focusing on professional duty and shunning politics.
A crucial election for the leadership of Hong Kong's largest group of lawyers ended late on Tuesday night with five candidates advocating professionalism over politicisation defeating three rivals backed by liberal voters.

This year's election was politically fraught, being held against the backdrop of Chief Executive Carrie Lam Cheng Yuet-ngor warning the Law Society that it should stick to its professional role in monitoring the conduct of solicitors and law firms or suffer the same fate as the Professional Teachers' Union, which ended up disbanding after the government severed all ties with it over its pro-opposition political advocacy.

Winning by a wide margin were Jimmy Chan Kwok-ho, Tom Fu Ka-min, Justin Yuen Hoi-ying, Ronald Sum Kwan-ngai and incumbent Careen Wong Hau-yan, who had campaigned on the importance of professionalism and warned of the consequences of losing self-regulatory power if the Law Society became overly politicised.

All five have confirmed they either worked with or had ties to Beijing's liaison office in the city, but have insisted those links were irrelevant in this election.

Thanking voters for their support and pledging to uphold the concept of professional duty, Wong said: "During the election period, in the face of unprecedented challenges and our politicised society, we played our little part in hoping to unite our profession."

The three unsuccessful candidates backed by liberal voters were Selma Masood, Henry Wheare and Denis Brock, one of two incumbents seeking re-election. The other incumbent, Jonathan Ross, withdrew from the election after reporting he was the victim of threats.

The quartet were perceived as more liberal, but downplayed their political leanings.

Observers said this year's election presented the opportunity for a power shift in the council, given that victory for all four liberal-leaning members would see them join the six vocal incumbents to make up half the 20-member council.

But even before the results came through after midnight on Tuesday that plan had already been dampened by Ross' withdrawal. The election outcome means the perceived liberal voices on the council remain at six.

Victorious Law Society election candidates (left to right) Jimmy Chan, Tom Fu, Careen Wong, Justin Yuen and Ronald Sum.

All five of the victorious candidates each picked up more than 3,000 votes, totalling more than 16,811.

The losing three received 5,785 votes in total, with none of them backed individually by more than 2,000 people.

The election drew significantly fewer voters to the polling station than last year, while earlier hundreds of postal ballots were discarded.

From 6.15pm, solicitors trickled into the Convention and Exhibition Centre to cast their votes, in stark contrast to the long queues witnessed at the 12,000-member association's Central office in 2020, when outspoken candidates prevailed over their conservative counterparts to win four of the five seats up for grabs.

Sources familiar with the situation said ahead of this year's polls that at least 300 postal votes had been discarded for failing to arrive – by Saturday's deadline – at the offices of Tricor Investor Services, the company overseeing the Law Society council polls. That was despite the votes bearing postmarks predating the deadline.

An initial field of 11 candidates were vying for five of the council's 20 seats in this year's election. The other two candidates were William Tong and Nadine Lai.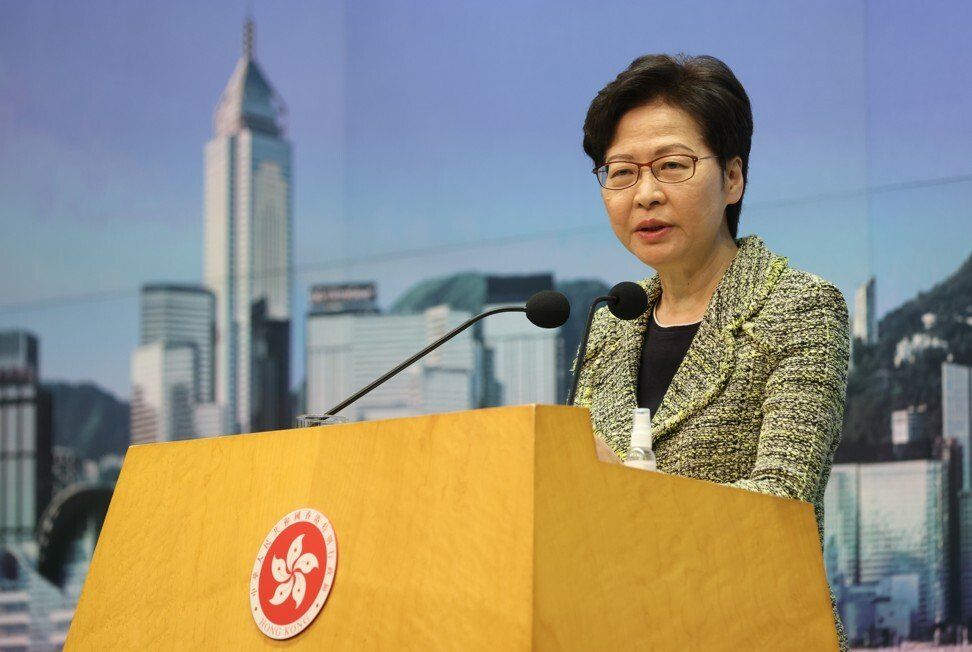 Chief Executive Carrie Lam warned the Law Society not to put politics above professionalism.

The annual leadership poll for the 114-year-old governing body for solicitors was once a more private affair, but in recent years it has increasingly drawn public attention for its supposed insight into the society's stance on not just legal, but also social and political issues.

At the polling station this year was a distinct lack of younger lawyers, who formed a considerable proportion of voters last year.

But several prominent figures were committed to voting in person, including former justice secretary Elsie Leung Oi-sie and ex-chief justice Geoffrey Ma Tao-li, a barrister who was admitted to the Law Society's roll of honour.

Also voting in person was pro-establishment lawmaker Junius Ho Kwan-yiu, a former society president who said he was supporting candidates focused on discharging their professional duties. He said any attempts by candidates to politicise the association would be unfortunate.

"[The Law Society] works best as a professional group so we get to continue enjoying our self-regulatory and licensing powers," he said.

In her warning last week to the Law Society, chief executive Lam said organisations prioritising politics over professionalism left the Hong Kong government with no choice but to "cut ties with them".

The Law Society regulates the conduct of lawyers and law firms with power granted under the Legal Practitioners Ordinance.