Emergency wards already under pressure from increased Covid-19 infections and stress expected to increase with flu and staff holidays.
Emergency wards in Hong Kong public hospitals have been swamped with patients in the wake of a jump in Covid-19 infections, and some doctors are warning that the pressure on the healthcare system will increase with a seasonal flu surge while more medical personnel go on a holiday break.

One doctor told the Post on Monday the overcrowding problem was also worsened as some care homes for the elderly had sent residents with mild Covid-19 symptoms to public hospitals.

The Hospital Authority appealed to people with less severe illnesses to go to outpatient public clinics or private practitioners after residents were forced to wait for up to eight hours at some accident and emergency departments.

The queues mostly decreased later in the day, but at 9pm waiting times at Ruttonjee Hospital in Wan Chai and United Christian Hospital in Kwun Tong were still more than eight hours.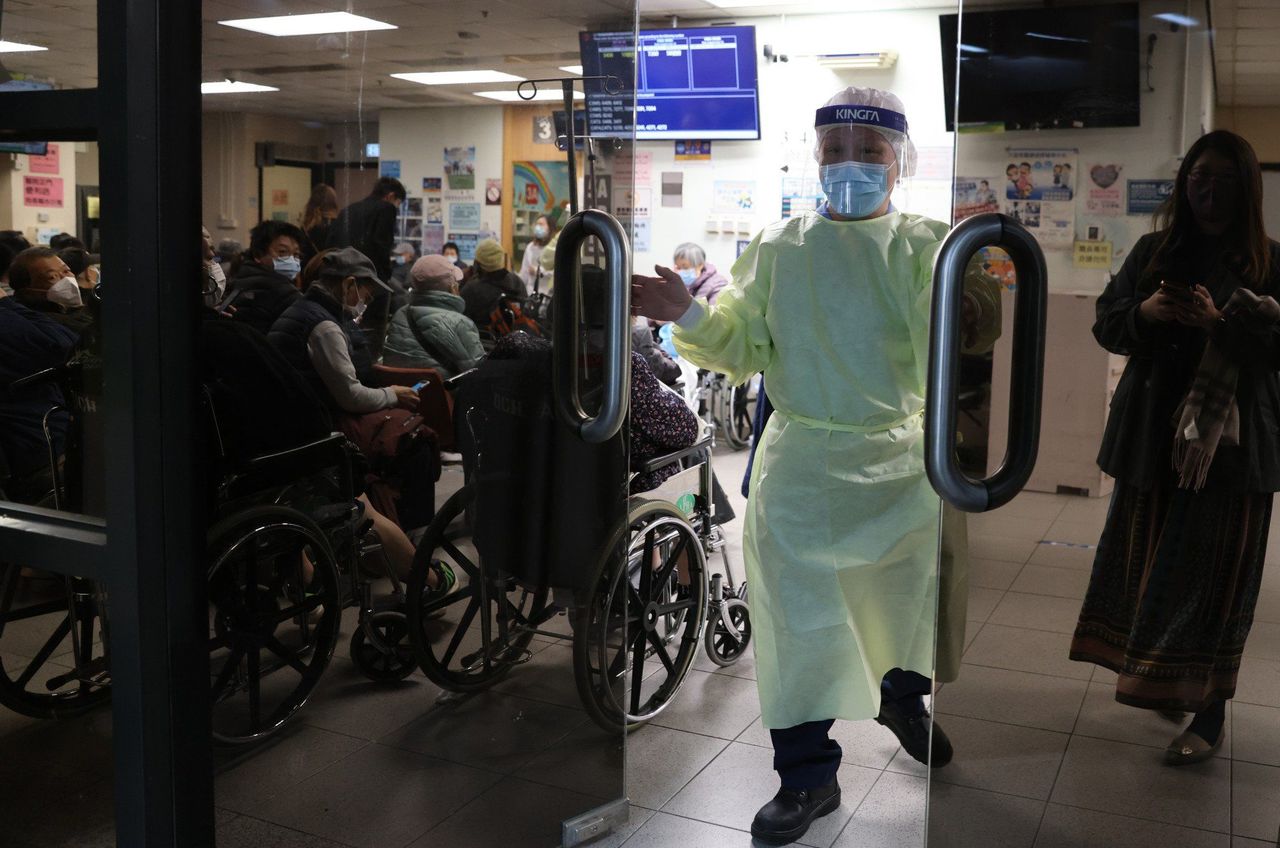 Patients at the United Christian Hospital's accident and emergency unit in Kwun Tong, where waiting times hit eight hours on Monday.
Dr Aaron Lee Fook-kay, an emergency ward doctor at a public hospital, said the influx of patients had started with the latest increase in the number of
Covid
-19 infections.
He also highlighted signs of a jump in flu-like cases, as a quarter of patients he had seen at his hospital with symptoms had tested negative for the
coronavirus
.
Statistics from the Department of Health also suggest a flu surge – 29.1 of every 1,000 consultations at private medical practitioners for the week ended December 10 involved influenza-like symptoms, up from 13.3 the previous week.
Lee said care homes that sent elderly residents with mild symptoms to public hospitals had also contributed to the problem. He noted his ward had admitted six care home residents on Sunday afternoon who tested positive for
Covid
-19 but showed no sign of severe illness or high-risk factors, such as abnormal blood pressure.
Lee warned that the pressure on emergency wards could increase over the next few weeks as more public and private doctors went on leave over Christmas and new year.
He also criticised care homes that put unnecessary strain on the public healthcare system. "That can lead to a repeat of the problems at the peak of the fifth wave in February and March."
Public hospitals at the time were so full that some patients were left lying on beds outdoors. The situation at the time caused a public outcry and forced health authorities to introduce preventive measures and guidelines, under which
Covid
cases at care homes with mild or no symptoms were sent to special centres set up by the Social Welfare Department.
There are at present nine such centres, which can take a total of 1,493 care home residents with
Covid
-19. The figure includes 739 spaces added in the past week. The occupancy rate stood at 75 per cent on Monday.
An extra 188 beds were added on Monday at the AsiaWorld-Expo on Lantau Island.
Kenneth Chan Chi-yuk, chairman of the Elderly Services Association of Hong Kong, agreed it should not be standard practice to send care home residents with mild symptoms to hospital.
"But it can't be ruled out that some elderly people will suffer immediate change of health once they test positive," he said.
Family doctor Edmund Lam Wing-wo said many private clinics would be closed or only opened for half a day over the holiday season, when there could be a surge in respiratory illnesses, especially among children.
"I saw a 20 per cent increase in the number of patients with respiratory diseases recently, as compared with November," Lam said. "Many patients with underlying diseases such as high blood pressure, eczema and arthritis also saw their conditions worsening under the cold weather."
Lam said many family doctors had attempted to relieve the stress on public hospitals by offering telemedicine services and the prescription of antivirals to
coronavirus
patients.
The Hospital Authority on Monday said the accident and emergency departments were "very busy" because of a significant increase in patients with chronic diseases aggravated by the cold weather, in addition to the influx of
Covid
-19 cases.
The authority announced an easing of pandemic measures in an internal circular earlier this month. The requirement to treat
Covid
-19 patients in negative pressure wards only was removed.
The authority said on Monday it would continue to add beds and manpower as part of its contingency plan to meet the winter demand.