Legal scholars say the question revolves around whether the fund itself broke the law, as well as donors' intent in contributing.
Whether supporters of a legal defence fund for Hong Kong protesters – currently under investigation on national security grounds – can be held criminally liable for their donations depends in part on how they intended the money to be spent, experts say.

The police force first revealed on Wednesday that its National Security Department was investigating the 612 Humanitarian Relief Fund and the Alliance for True Democracy, which had provided its bank account to the fund's trustees for holding donations.

Questions immediately rose as to whether those who had donated to the fund – aimed at providing financial aid to protesters facing prosecution over the 2019 anti-government unrest – might also find themselves in the authorities' cross hairs.

According to the fund's annual report for 2021, some 2,500 people donated to it every month.

University of Hong Kong legal scholar Simon Young Ngai-man, who specialises in national security law, said the question of liability revolved around whether the fund itself had broken the law.

"If none of the funds were used to facilitate the commission of any national security offences, then clearly persons who donated to the fund need not worry about any national security law consequences," he said.

Even if some funds were found to have furthered a national security offence, Young said, donors would only be criminally liable if they "acted with knowledge or foresight of their donation being used for such illegal purposes".

"Only then could their donation be said to be aiding and abetting a national security law offence," he added.

Former director of public prosecutions Grenville Cross said the fund's donors could be viewed as accomplices, but only if they intended for a crime to take place when they made their contributions.

"I imagine, therefore, that the police will be looking to determine if the donors who were providing the financing were doing so innocently, thinking that they were only helping someone who might be innocent to afford quality legal representation," he said.

"Or whether they were donating to a suspect organisation with a view to encouraging either 'hostile activities against the [Hong Kong government]', whether directly or incidentally, or else some other criminal offence."

Cross also noted that at this stage, police were reportedly seeking to ascertain whether donors were involved with any foreign organisations, or illegal activities such as rioting.

Sources told the Post on Wednesday that police had obtained court orders under the Beijing-imposed national security law to compel those involved with the fund to provide information within a specified period of time.

"The source of the donations, the information of the donors and the purpose of the donations were among the details officers demanded to investigate whether there was collusion with foreign forces," one source said of the orders, which were directed at the fund's trustees and directors, and people in charge of the alliance.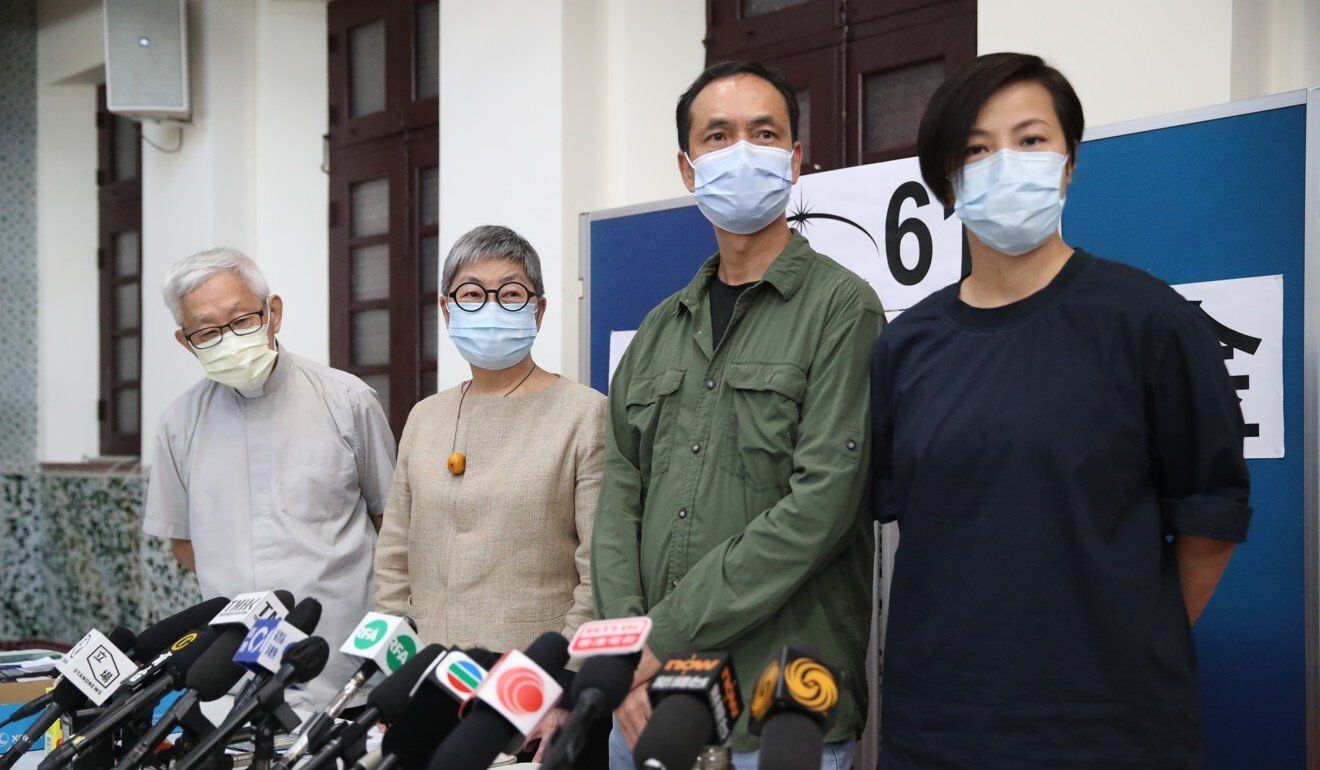 Trustees (left to right) Cardinal Joseph Zen, Margaret Ng, Hui Po-keung and Denise Ho announce the fund will cease operations at a press conference last month.

The trustees are Cardinal Joseph Zen Ze-kiun, former opposition lawmakers Margaret Ng Ngoi-yee and Cyd Ho Sau-lan, academic Hui Po-keung, and singer-activist Denise Ho Wan-sze, whose September concert series was recently cancelled by the Hong Kong Arts Centre over unspecified public safety concerns.

Since it was founded in 2019, the 612 Humanitarian Relief Fund has distributed more than HK$243 million (US$31.2 million) to protesters facing prosecution or financial hardship as a result of the social unrest.

But about two weeks ago, the fund's trustees said it would close in October, citing the difficulty of opening a bank account "under the current political environment".

The planned dissolution of both the alliance and the fund follows hot on the heels of similar actions taken by the opposition-leaning Professional Teachers' Union and the Civil Human Rights Front, an umbrella group behind the city's largest marches during the 2019 protests.

However, officials in recent weeks have issued repeated warnings that such groups cannot evade criminal liability just by dissolving.

On August 18, Secretary for Security Chris Tang Ping-keung declined to comment on whether police were investigating the fund, but warned that "any groups or organisations which have broken the law … even if they announce they are disbanding, their criminal behaviour cannot be written off and we will do our best to investigate them".