Professor David Hui cites sufficient hotel facilities and waning wave of local infections.
Hong Kong's flight suspension mechanism should be scrapped as current quarantine measures are enough to reduce the risk of Covid-19 spreading in the community, a government pandemic adviser has said, as the number of new cases fell to a three-month low.

But Dr Chuang Shuk-kwan, head of the Centre for Health Protection's communicable disease branch, warned on Sunday a rebound in infections was possible following the easing of social-distancing curbs that had been in place for months, especially the end to the ban on international travellers.

"The caseload has been decreasing since the peak in early March to 300 today, but we still have to observe [the situation], as we have been slowly releasing the social-distancing measures," Chuang said. "The increase in [the flow of people] and gatherings may cause a rebound in cases."

Health officials reported 300 Covid-19 infections on Sunday, 22 of which were imported, and five deaths related to the virus. The latest cases were the fewest since February 4, when 131 were recorded.

According to Dr Lau Ka-hin, a chief manager of Hospital Authority, a total of 1,339 patients were still receiving treatment in public hospitals and other medical facilities. Five of them were in critical condition.

Hong Kong finally reopened to foreigners on Sunday after being cut off from most of the world for more than two years due to the government's tough pandemic curbs. But all arrivals will have to be quarantined at a hotel for a week.

Government pandemic adviser Professor David Hui Shu-cheong said on Sunday that even if Omicron outbreaks were still prevalent around the world, imported cases from other countries did not pose a serious threat locally.

"I personally think the flight suspension mechanism can be lifted," he told a television programme. "As the epidemic here has subsided, we now have a lot of hotel rooms available [for quarantine]. Also, even if you come back from overseas, you have a week of quarantine and a week of medical surveillance, so the suspension mechanism does not serve a huge purpose [in preventing outbreaks]."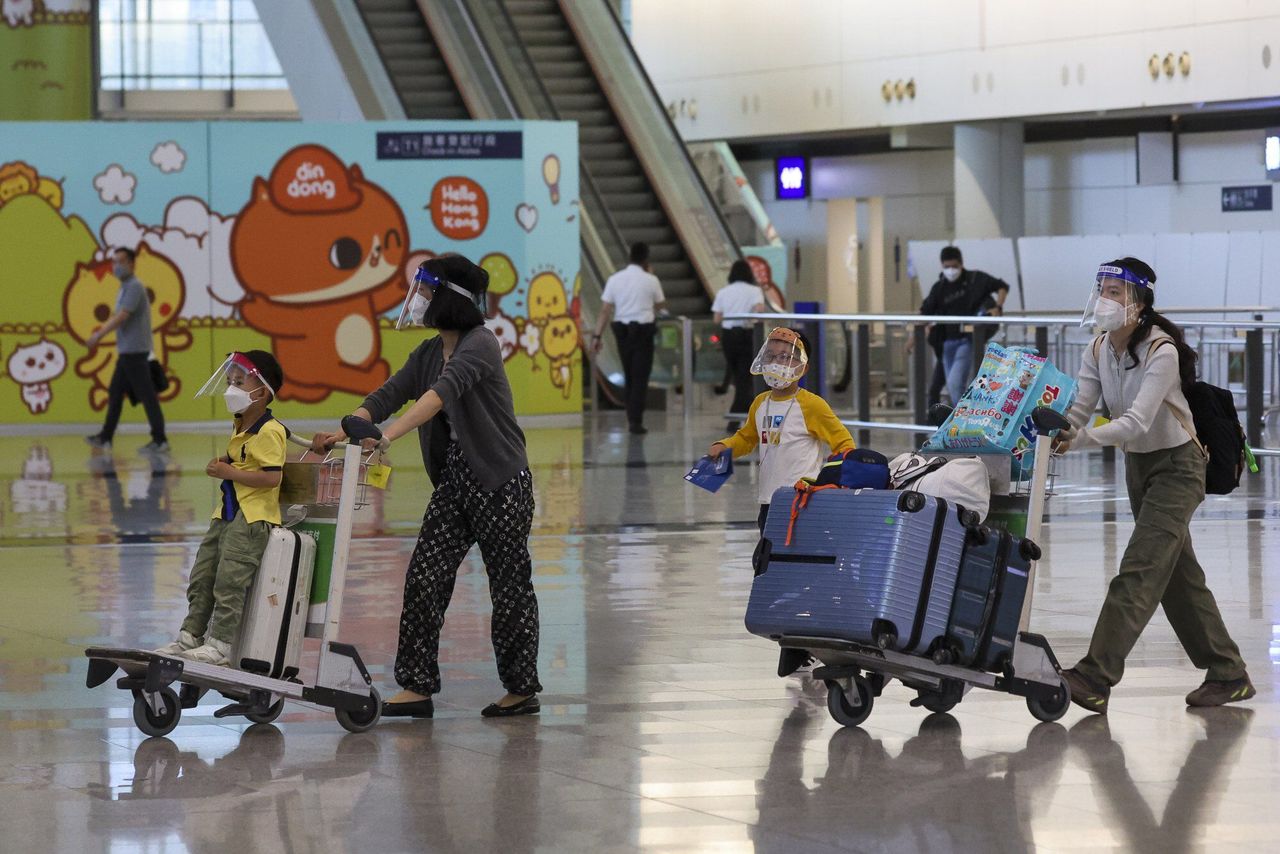 Passengers at Hong Kong International Airport.

The flight suspension rule was also eased, with the threshold for triggering the mechanism increased from three infected passengers to five – or 5 per cent of capacity – while the length of the ban was cut from seven days to five.

Hui noted there were still a few cases of travellers testing positive on the 12th day of their arrival after seven days in quarantine, but their CT values were high, meaning they could no longer transmit the virus and were therefore of low risk.

Hui is the second government advisor who has called on authorities to consider dropping the flight suspension mechanism. Last week, Professor Ivan Hung Fan-ngai also cited adequate protection from testing and quarantine measures as reasons to forgo the restriction.

But Hui warned that the Travel Industry Council of Hong Kong's suggestion to replace hotel quarantine with home isolation was still "risky".

"We should remember that a Cathay Pacific crew member brought Omicron BA.1 into Hong Kong as he went out during home quarantine and no one was tracking him," he said. "Last year, the children of a Saudi Arabian consulate member were infected and also went out to Taikoo Shing, so it is important to understand how risky home quarantine is."

Chuang warned the number of imported cases was expected to rise as the number of arriving flights increased.

"Whether the travellers are Hong Kong or non-Hong Kong residents, there will not be a huge difference in terms of imported cases as they all returned from overseas," she said.

Former secretary for food and health Dr Ko Wing-man also warned that as social-distancing rules were eased before the number of new cases dropped to zero, a rebound in infections was almost certain.

"I am not saying the rules should not be relaxed, but people have to understand that in some Western countries, which have never had zero cases, when social-distancing rules are relaxed, there is a rebound in cases," he said. "So we cannot say the makeshift isolation hospitals and facilities are not necessary now."

Ko added that another variant with higher transmissibility could also emerge and trigger a surge in infections, so the public should adhere to anti-epidemic measures, such as wearing masks.

To relieve the strain on healthcare resources, the Hospital Authority previously converted its 23 outpatient clinics into designated clinics to treat Covid-19 patients with mild symptoms. About 120,800 patients have been treated at the clinics.

Lau said authorities would review the clinics' manpower levels and operation arrangements based on the development of the pandemic, adding that more details about the resumption of out-patient services would be revealed soon.

"Some services at these clinics have been suspended, such as medical consultations in the evenings, on Saturdays and Sundays. We will first resume these services … and gradually convert these clinics back to outpatient ones," he said.

Lau added that during the peak of the pandemic, half of public hospital beds were being used for Covid-19 sufferers but had since been released for other patients, while some non-emergency services, such as elective surgeries, gastroscopies and colonoscopies, had resumed.

Hong Kong has recorded 1,191,879 cases and 9,100 related deaths since the start of the fifth wave on December 31 last year.