Prosecutors say Adam Ma, who is accused of inciting secession, claimed several times the security law was nothing more than 'decoration' and urged people to 'bravely trample the law and struggle'.
A former food delivery worker charged over chanting protest slogans had maintained that calling for Hong Kong's independence was a constitutional right, a court heard as the second trial over national security law offences began on Tuesday.

Adam Ma Chun-man is accused of inciting secession in connection with 20 incidents over a span of 3½ months last year. The 31-year-old had called himself a second-generation Captain America, in reference to a prominent protester who dressed as the fictional character and was seen at the Occupy movement
in 2014 and a riot in Mong Kok in 2016.

In their opening statement, prosecutors said Ma had repeatedly flouted the Beijing-imposed legislation on the assumption he could not be arrested for simply exercising his freedom of speech safeguarded by the Basic Law, the city's mini-constitution.

Prosecutors said Ma had claimed on multiple occasions that the security law was nothing more than "decoration" and offenders would be let off lightly.

He was also said to have encouraged others to further the discussion on Hong Kong independence in preparation for the next "revolution".

The alleged crimes took place between August 15 and November 22 last year when Ma purportedly promoted the city's independence by either chanting slogans in shopping centres or sharing his political ideals in media interviews.

Common expressions used by Ma included "Hong Kong independence, the only way out", "Hongkongers build their country", "One nation, one Hong Kong", and "Liberate Hong Kong; revolution of our times" – a signature slogan of the anti-government protests in 2019.

He had also set up a Facebook page titled "610,000 do not fear arrest" – referring to the turnout of an unofficial primary election held by the opposition camp last year – allegedly saying his intention was to encourage residents to "bravely trample the law and struggle".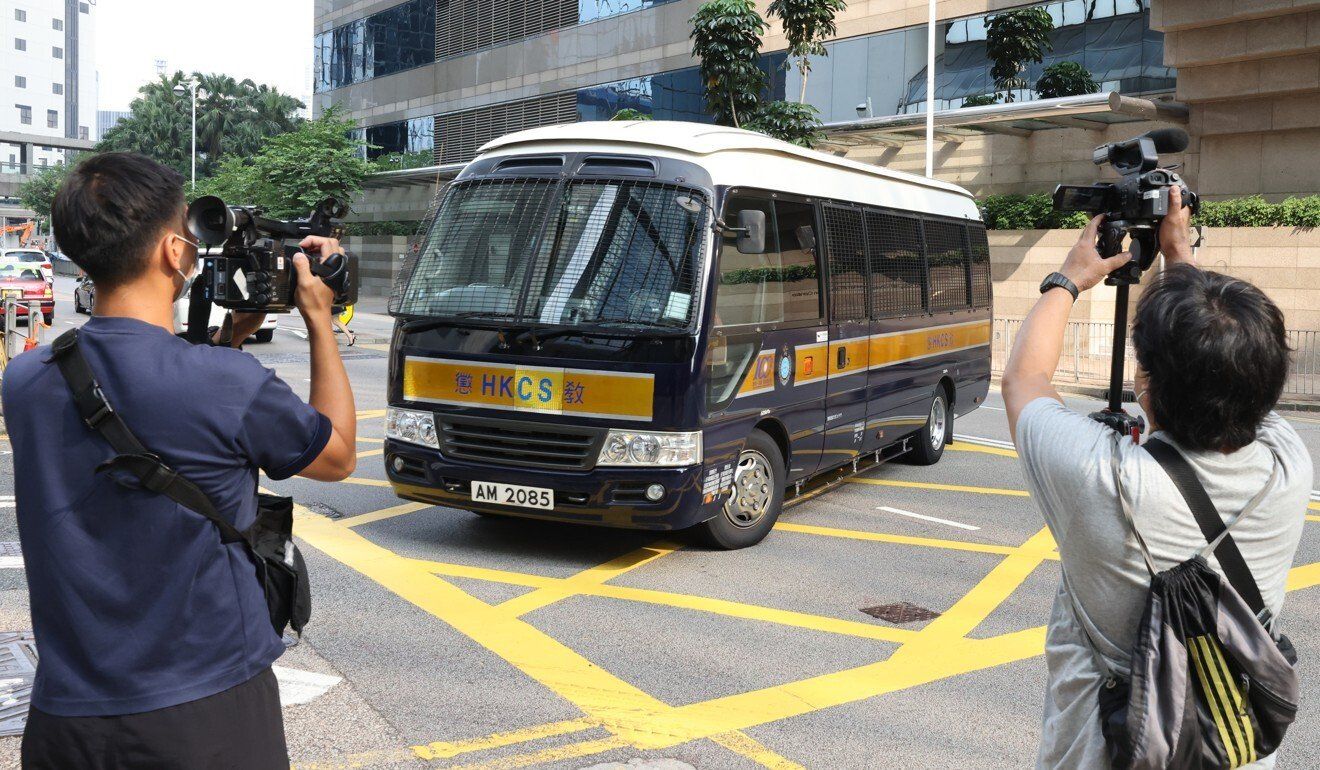 Adam Ma is escorted to the District Court in Wan Chai on Tuesday.

"During media interviews, the defendant ... unequivocally stated that his demand was Hong Kong independence," prosecutor Crystal Chan Wing-sum said, adding Ma had urged the public to "assemble together on five designated dates every month to chant slogans and promote independence, in a bid to brew the next revolution".

In one interview, Ma purportedly said the consequence of chanting such slogans in public was minor, similar to that for jaywalking.

"The Hong Kong national security law is in substance decoration," Ma was quoted as saying. "Under the Basic Law, the Hong Kong national security law is nothing to write home about. I want to show everyone that it is our civil right to chant slogans."

But he was said to have admitted he could be prosecuted and jailed by a judge who supported the government.

Ma was arrested five times for chanting protest slogans before he was charged and remanded in custody by a magistrate after the sixth occasion. He purportedly committed further offences every time he was released on bail.

The trial continues on Wednesday before Judge Stanley Chan Kwong-chi, one of the jurists hand-picked by city leader Carrie Lam Cheng Yuet-ngor to handle national security cases.

Inciting secession under the national security law is punishable by up to seven years behind bars at the District Court, but a minimum jail term of five years applies in serious cases. The legislation, which came into effect in June last year, also criminalises acts of subversion, terrorism and collusion with foreign forces.

Leon Tong Ying-kit, 24, became the first person to be convicted under the national security law in July when he was sentenced to nine years in prison for driving his motorcycle into a group of police officers last year while flying a flag calling for the city's "liberation".