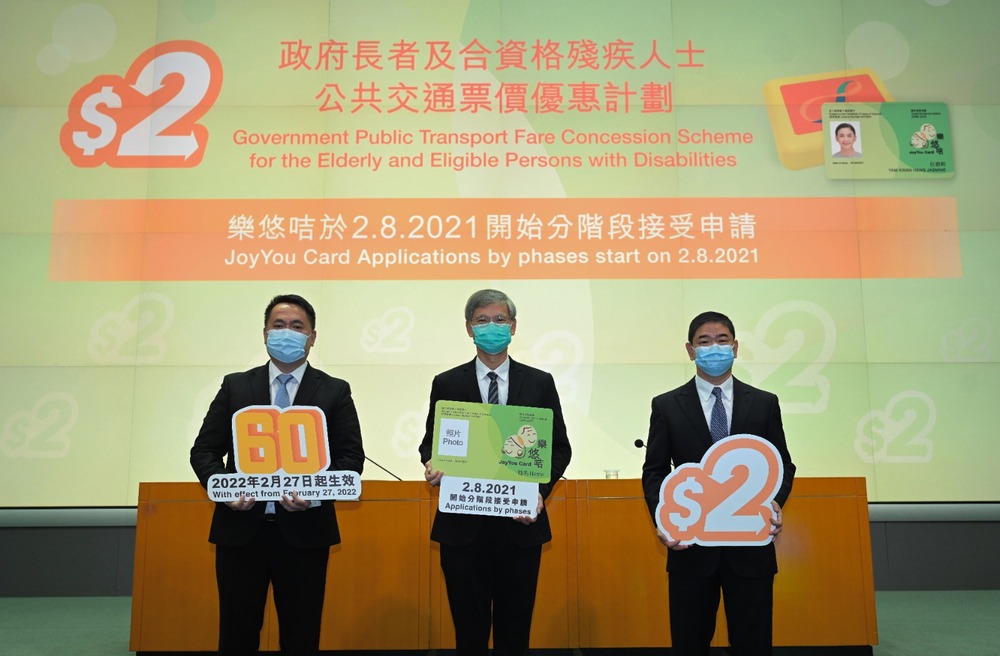 Call for 70,000 people to apply for JoyYou card for transport subsidies
Around 70,000 people aged between 60 and 64 have yet to register for a card allowing them HK$2 concessionary fares on public transport, Secretary for Labour and Welfare Law Chi-kwong wrote in a blog post.
The JoyYou card is a special Octopus card that allows people aged between 60 and 64 to take HK$2 trips on the MTR, franchised buses, green minibuses and ferries. The scheme will also be expanded to cover trams and red minibuses in the future.

Deadline for application falls on January 31. As of last Wednesday, over 530,000 applications have been received, which is approximately 88.2 percent of those aged between 60 and 64, Law wrote. Another 70,000 have yet to apply.

"It is not easy to determine why eligible individuals have not applied for the scheme – whether they did not pay attention to the news, or if they did not typically use public transport. They could have moved out of Hong Kong to the mainland or to overseas countries," he wrote.

He also urged those aware of the scheme to remind their eligible relatives to apply, so they can enjoy the concessionary fares starting February 27.

Users can file their applications by posting forms or via the Octopus App. To facilitate the application process and assist those in need of guidance, Octopus Cards has set up four temporary service centers at Revenue Tower in Wan Chai, Pioneer Centre in Mong Kok, Tin Ching Amenity and Community Building in Tin Shui Wai and Hin Keng Neighbourhood Community Centre in Sha Tin.

The centres will operate between 9am and 8pm on Monday to Friday and between 9am and 1pm on Saturdays, up until March 12.

The Public Transport Fare Concession Scheme for the Elderly and Eligible Persons with Disabilities, introduced in 2012, originally applied to people aged 65 and older, as well as people with disabilities. It allows elderly people to travel on designated public transport at a concessionary fare of HK$2 per trip.

The government announced last June that the eligible age will be lowered to 60 from February 27. It will also be extended to cover red minibuses, kaitos and the tramways.

To prevent abuses, the JoyYou Card will carry a personal photo and the name of the eligible beneficiary. Each eligible person will be issued with one card only.

Those aged 65 and older will be able to apply for the JoyYou card at a later date. In the meantime, they can still enjoy the concessionary fare with their current Octopus cards.