Worst power cut in decades caused by 'low voltage electrical installation' near cable bridge, power firm says.
A fire that caused Hong Kong's worst power cuts in decades was linked to a "low-voltage electrical installation" close to the scene of the blaze, officials revealed on Monday.

The Electrical and Mechanical Services Department said the final report from power firm CLP on the June cable bridge fire in Yuen Long that plunged about 175,000 households and businesses into darkness was being reviewed.

"In the report, CLP Power gives an account of the fire's origin, the cause of the incident and the remedial measures," the department said. "CLP Power believes the fire started near the entrance of Kwong Yip Street and was related to the low-voltage electrical installation nearby."

The department said the report was being reviewed with independent experts to decide if the cause identified by CLP was accurate and if the remedial measures introduced afterwards were sufficient.

It also said CLP would release the details of the report to the public "at an opportune time".

CLP, the biggest of the city's two electricity suppliers, prepared the report after a fire involving high-voltage cables on June 21 caused major blackouts.

A bridge that carried three high-voltage cables collapsed in the fire and homes, hospitals and the railway network across the western New Territories were left without power.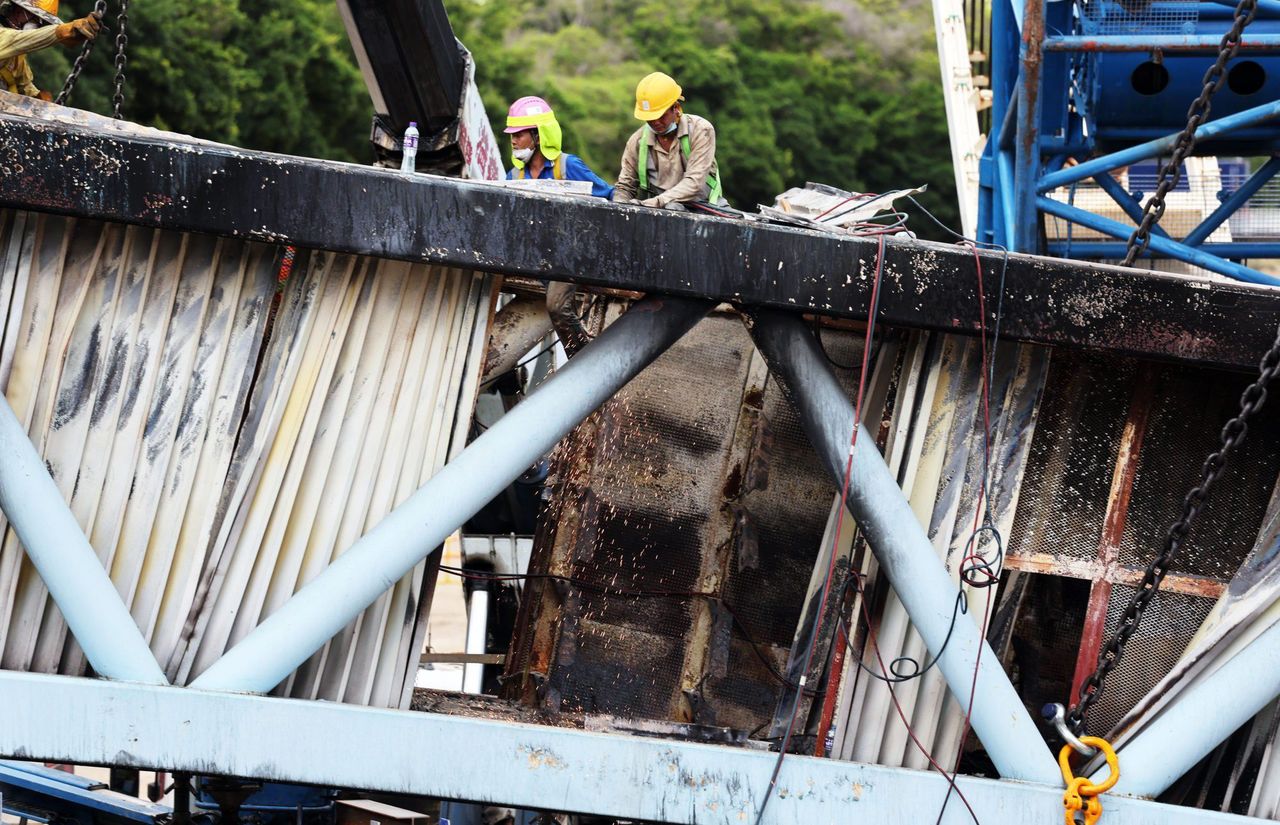 CLP workers dismantle a cable bridge ravaged by fire at Kwong Yip Street in Yuen Long in June.

CLP highlighted that it had boosted precautions at all its cable bridges after the incident with the installation of additional fire protection and firefighting equipment.

The power firm said it would replace all low-voltage electrical installations that could cause a fire and that a risk assessment of vulnerable power transmission equipment would be carried out.

The report also said that contingency measures were under review and special drills would be held.

The department has been asked what type of low-voltage equipment was responsible for the fire.

The power company earlier said it would offer HK$100 vouchers (US$13) to affected residents of Yuen Long, Tin Shui Wai and Tuen Mun next month as compensation.

CLP explained the scheme, which is expected to cost about HK$20 million, was designed "to show care and express gratitude for the affected customers' understanding".