Cathay Pacific Airways Flight Attendants Union says members should strictly follow airline policies and standards, including refusing to work on days off.
The cabin crew union of Hong Kong's flagship carrier Cathay Pacific Airways has warned that it will launch industrial action from Thursday to demand improvements in roster and manpower arrangements.

The Cathay Pacific Airways Flight Attendants Union on Monday evening announced that it would commence its work-to-rule campaign, meaning its members should strictly follow the airline's policies and standards, including refusal to work on days off.

It said the management had failed to reach a consensus with the union on workers' concerns and meet them on Tuesday as requested.
Cathay says services will not be affected by the action.
The union published the "golden rules" of the campaign on
Facebook
, stating that their actions should be enforced at all ports and members must all be tolerant with each other on the repercussions caused by the drive.
It added: "Everybody must carry out the work-to-rule together and must not try to discourage anyone."
The union also plans to stage a rally on Wednesday afternoon, which, if approved by police, will become the first high-profile public gathering given the go-ahead by the force in recent years, after many large-scale assemblies or protests were banned in the aftermath of the 2019 social unrest and later amid the
Covid
-19 pandemic.
With plans to hold the rally outside the airline's headquarters, the union on Monday told the Post the company had rejected the proposal.
Cathay assured customers its services would not be affected by the campaign or the protest.
"Cathay Pacific can assure our customers that our flight services will continue as scheduled and there is no need for concern," the airline said in a reply to the Post.
The union earlier said the assembly in open space near the airline's headquarters aimed to get the public's attention and pressure management into responding.
"We are still awaiting the police's approval for a letter of no objection at this stage," the group said, adding that it would update members in due course.
The union urged attendees to dress in white tops at the rally.
For it to be legal, organisers have to tell police of their intention to hold a demonstration and receive a letter of no objection from the force beforehand.
At least nine large-scale rallies have been banned since 2020.
Police on Monday said they were still handling the application which they received last Wednesday.
"In handling each public event notice, police will conduct independent risk assessments," a spokesman said.
The union last month issued an ultimatum to management that it would not rule out taking industrial action during Lunar New Year if its demands were not addressed.
It wants fairer roster arrangements, guaranteed minimum layover periods on overseas outports, regular meetings with the airline, more staff on flights and contract reviews.
Cathay reiterated its position that many rostering issues raised had been resolved for this month's schedule and the improvements would continue in future.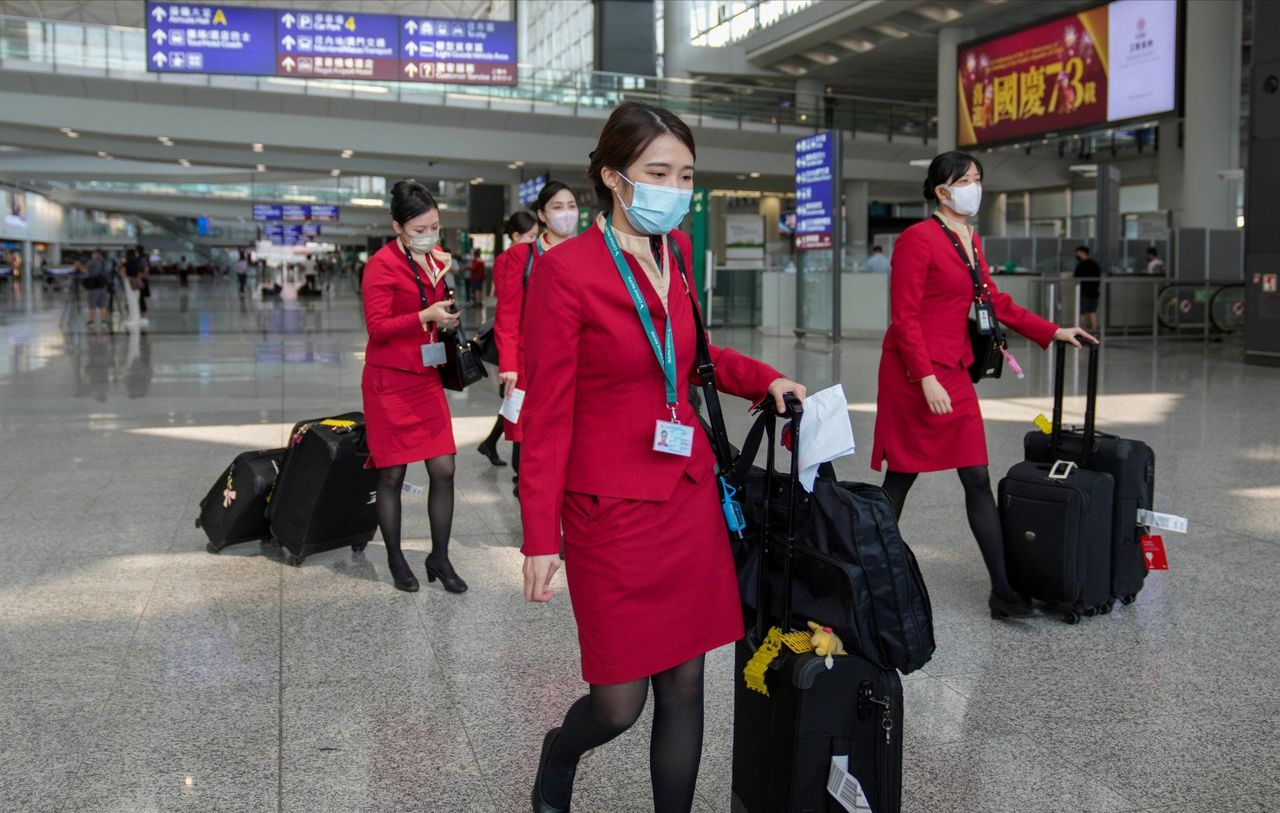 Cathay says it has communicated directly with cabin crew through multiple channels.

The airline said management had communicated directly with cabin crew through multiple online and in-person channels, and would continue to listen to and act upon feedback.

Figo Chan Ho-wun, former convenor of the now-disbanded Civil Human Rights Front, which had organised numerous public protests in the past, said the force should not oppose the rally.

"The government has scrapped most Covid-19 measures. Public events like concerts and the Lunar New Year fair can be organised. Public health concerns aren't a factor any more," Chan said.

The city last month cancelled the 12-person cap on public gatherings but people are still required to wear masks in public places and on public transport.

Noting large-scale protests had disappeared since 2021, Chan said Wednesday's rally would pose little risk to public order and safety, adding that police could always introduce requirements for the organiser.

"The government should be more open to public rallies as residents do not have any channels to voice their opinions in the past few years. They need a legal way to vent their feelings," Chan said.

Unionist lawmaker Bill Tang Ka-piu, a member of the Legislative Council's security panel, said police would act according to the law and organisers would have to discuss arrangements with them.

He said he hoped the authorities would be prepared for future public events caused by labour disputes.

"The city is undergoing a preliminary stage of economic recovery. Manpower shortages and salary issues will bring more disputes between management and workers and they may turn into actual actions," Tang said.