Chief Executive John Lee appealed to individuals and businesses to look at advantages of setting up in Guangzhou's Nansha district.
Hong Kong and mainland Chinese leaders have urged the city's businesses and residents to seize opportunities to move to Guangzhou's Nansha district with the aim of better integration into the Greater Bay Area and improved national development.

Hong Kong Chief Executive John Lee Ka-chiu on Wednesday appealed to individuals and business representatives at a seminar to understand the policies under a Beijing plan for cooperation in Nansha among Hong Kong, Macau and Guangdong province, and grasp the chances brought by development of the district, as well as the Greater Bay Area.

"The opportunities brought by the 'Nansha Plan' are unlimited," he said.

"I hope all participants … can work together to make more and greater contributions to Hong Kong's better integration into the overall development of the country, the high-quality construction of the Guangdong-Hong Kong-Macau Greater Bay Area, and the realisation of the great rejuvenation of the Chinese nation," he said.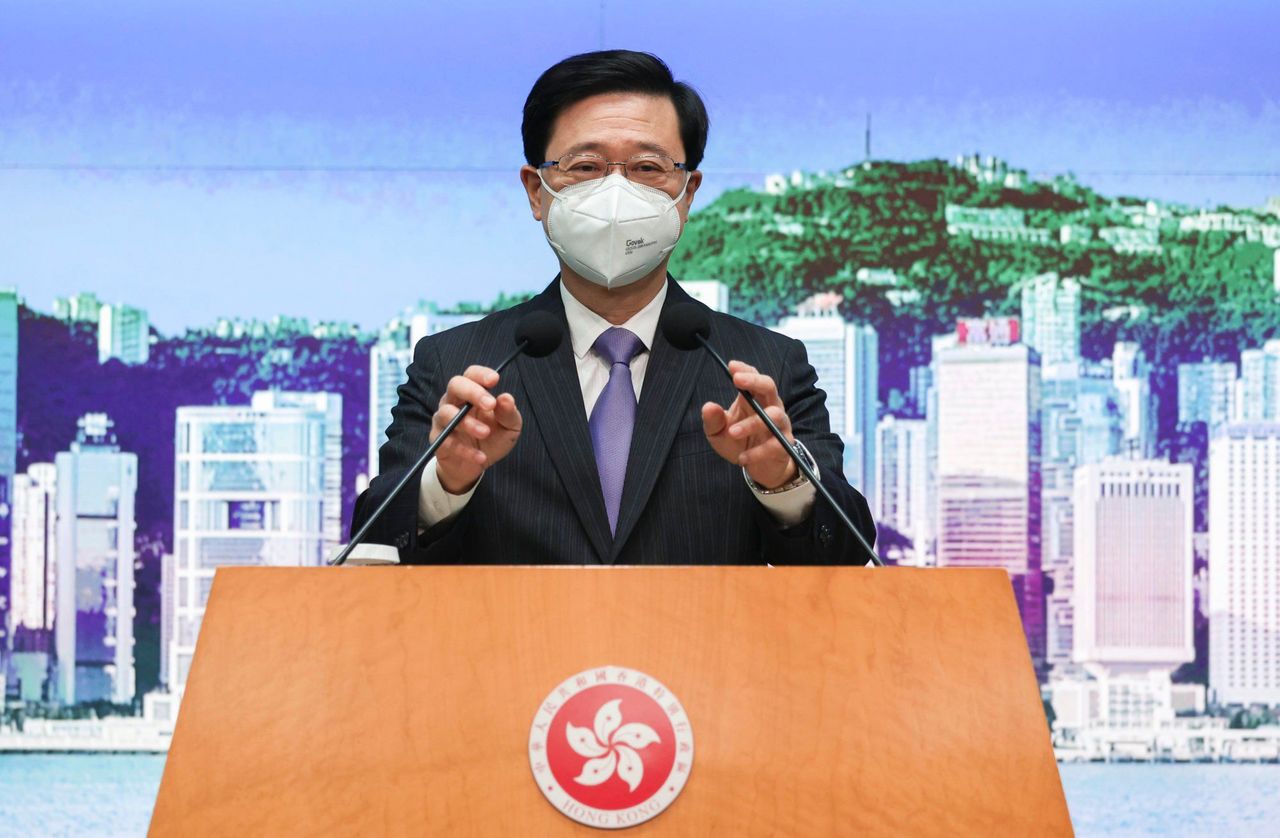 Chief Executive John Lee.
Lee was speaking at an event held by the Administrative Committee of Nansha Development Zone designed to promote the area's advantages and preferential policies implemented to attract more people and businesses from Hong Kong to the district.
The State Council in June unveiled a 26-point document covering Hong Kong, Macau and Nansha and detailed how all involved could benefit from increased cooperation in healthcare, financial services, employment, education and social welfare.
Nansha, along with Qianhai in Shenzhen and Hengqin in Zhuhai, were earmarked by Beijing as key development zones under the Greater Bay Area project, created to turn Hong Kong, Macau, Guangzhou, Shenzhen, Zhuhai and six other Guangdong cities into a financial and technology hub by 2035.
Lee highlighted that he announced in his first policy address in October that the government would establish a steering group on integration into national development which he would lead.
The group held its first meeting on Tuesday, he said, and added the authorities would enhance the cooperation among cities in the Greater Bay Area.
Lu Yixian, a member of the Standing Committee of the Communist Party of China Guangzhou Municipal Committee, said at the seminar that President Xi Jinping had mentioned the development of the Greater Bay Area and support for Hong Kong and Macau's integration into national development in the report of the 20th National Congress.
Lu said cooperation between Hong Kong and Guangdong in the Nansha area had a long history, and residents across the border paid attention to Hong Kong's development.
He said Hong Kong was one of the core engines driving the development of the Greater Bay Area, and praised Lee's work in areas such as innovation and technology, talent, youth, livelihoods, as well as his efforts to connect the city to the Greater Bay Area.
"We hope to further join hands with Hong Kong to seize the important window period of economic recovery," he said.
The Nansha plan introduced a series of preferential policies for Hong Kong and Macau residents living and working in the district.
Corporate income tax will be levied at a reduced rate of 15 per cent for enterprises, while Hong Kong and Macau residents working in Nansha will be exempted from the portion of personal income tax that exceeds the rates levied in Hong Kong and Macau.
Nansha has also introduced 10 new policies for Hong Kong and Macau youth entrepreneurship and employment.
These include a one-time employment incentive of up to 120,000 yuan and a monthly salary subsidy of up to 5,000 yuan. Employers hiring young people from Hong Kong and Macau will be offered a recruitment reward of up to 200,000 yuan.
The plan also has a range of policies designed to support businesses, scientific and technological innovation, financial services, and other sectors.