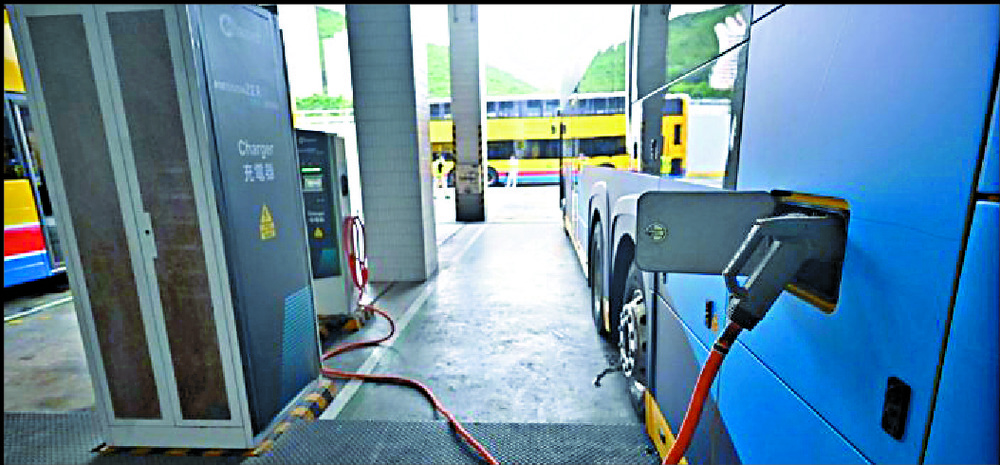 Bus giant rides green wave to hydrogen first
Citybus yesterday got Hong Kong's first tri-axle hydrogen double-decker bus that is tailor-made for the city. It is the SAR's first public bus to be powered by hydrogen.
Cliff Zhang - chairman of Bravo Transport, which owns Citybus and New World First Bus, said the company is "very proud" to be the first public transport operator here to introduce the electric tri-axle double-decker powered by hydrogen fuel cell and battery.

The hydrogen bus is designed and built by Bravo Transport and Wisdom (Fujian) Motor. To ensure it achieves its maximum potential, Citybus has adopted key components and products from renowned international partners and suppliers.

The fuel cell, the key component that converts hydrogen into electricity, is provided by Ballard Power Systems; and the Type 4 hydrogen storage cylinder system is provided by CIMC-Hexagon, a joint-venture between CIMC Enric and Hexagon Purus. Both Ballard and CIMC-Hexagon, will work with Citybus to develop application of existing technology and more hydrogen double deck buses for ongoing trials here.

Zhang said the bus "demonstrates Citybus' leading position in Hong Kong's public transportation sector's zero-emission transformation journey".

The bus is a prototype designed to showcase hydrogen fuel cell bus capabilities in meeting what is considered one of the world's most challenging operating environments, comprising steep road gradients, high passenger loadings and consistent use of air-conditioning systems.

Its side panels come in carbon fiber and bring further new innovation in bus design and operations, with a space frame body of stainless-steel tubes.

"We aim to operate a full fleet of zero-emission buses by 2045 and believe hydrogen fuel cell technology, alongside battery electric, are both viable options for Hong Kong's challenging operating environment, with both battery electric and hydrogen fuel cell double deck buses being tested in parallel," Zhang said.

In thanking the government for its ongoing collaboration in bringing the bus here, Citybus said it would continue to work closely with government departments to design legislation and guidance to obtain approvals for the public launch of the bus.

A fleet of 16 KMB new-generation electric vehicles started operating between Lai Chi Kok and Star Ferry Pier at Tsim Sha Tsui on April 25.

KMB is also expecting 52 double-decker electric buses from BYD and the UK's Alexander Dennis, to be delivered next year. The two models have a passenger capacity of 120 people, take 2 hours to fully charge and have a driving range of 300 km.