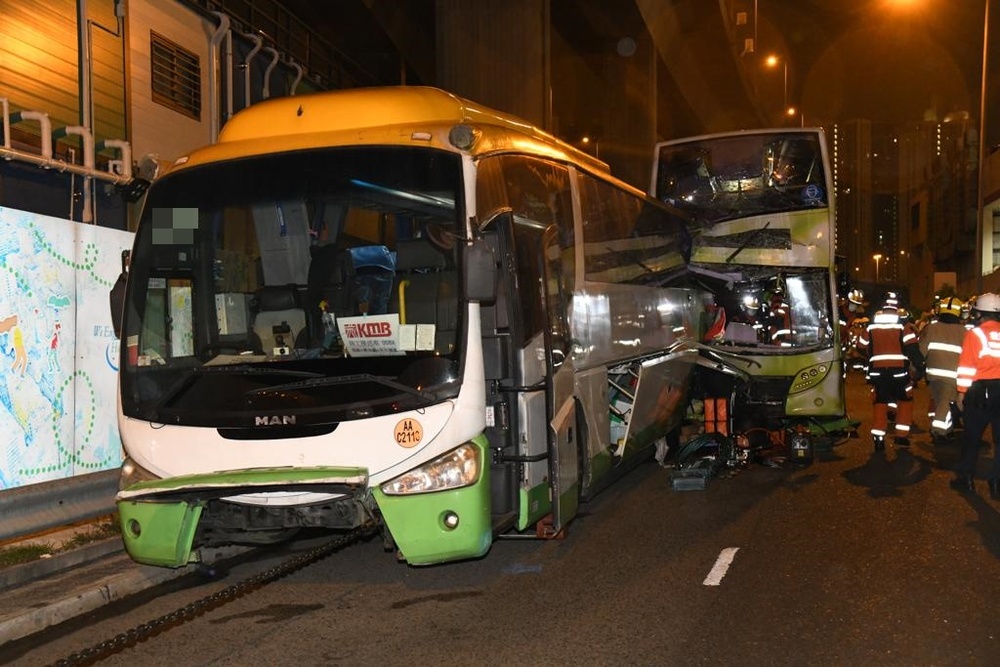 Bus driver dies after being trapped for 1.5 hours after crash
An empty bus in the early hours on Sunday crashed into a tour bus in Cheung Sha Wan, causing the two drivers one dead and one injured.
At about 1am on Sunday, an unloaded New World First Bus driving along the Lai Po Road in Cheung Sha Wan hit the rear of a parked tour bus at around KMB Lai Chi Kok Depot.

The front of the NWFB plunged into the left rear of the tour bus, and the driver's seat was seriously deformed, trapping a 43-year-old male driver for one and a half hours.

At about 2.30am, the driver was successfully rescued by firefighters. He suffered multiple head and body injuries, and was taken to the hospital in a coma. However, he was eventually certified dead at 2.55am in the hospital after resuscitation.

The 51-year-old male driver of the crashed tour bus suffered hands and feet injuries and was later taken to the Princess Margaret Hospital for treatment.

It was understood that the tour bus from Sun Bus Limited was parked there waiting to pick up the staff of Kowloon Motor Bus. The left rear of the coach was damaged in the accident.

West Kowloon police formed a special investigation team to follow up on the case. The team called on anyone who witnessed the accident or has relevant information to provide to contact them at 3661 9062.