A cross-party group of 110 lawmakers have asked British Foreign Secretary Liz Truss to pursue action as a "pathway to introducing targeted sanctions" over controversial national security law.
A group of 110 British lawmakers have called on Foreign Secretary Liz Truss to conduct an audit of assets held in the United Kingdom by Hong Kong and mainland Chinese officials linked to human rights violations in the former colony.

In a letter made public on Friday, the cross-party group of members of the House of Commons and the House of Lords urged Truss to examine property and other assets held by Hong Kong and mainland Chinese officials in Britain as a "pathway to introducing targeted sanctions".

"It cannot be right that these Hong Kong officials along with their [mainland] Chinese counterparts who decry 'Western interference' and openly attack the right of the UK to stand by its historic, legal and moral commitment to the people of Hong Kong, at the same time continue to hide their wealth in property in the UK," the lawmakers said in the letter.

The letter followed a report by the non-governmental organisation Hong Kong Watch highlighting property ownership in Britain by 11 Hong Kong government officials and lawmakers who supported a controversial national security law adopted by Beijing for the city in 2020 following months of anti-government protests.

Critics have said the national security law has stifled public questioning of the government, press freedom and other long-held rights protected under the Basic Law, Hong Kong's mini-constitution. Since the law's adoption, journalists, activists and religious leaders have faced prosecution for allegedly colluding with foreign forces.

"It is absolutely imperative that anybody accused of human rights violations, including in Hong Kong, is unable to hold assets or property here in the UK," said Siobhain McDonagh, a Labour MP who helped lead the effort alongside Conservative MPs Tom Tugendhat and Iain Duncan Smith. "We must ask ourselves what it means to be complicit and whether our human rights rhetoric stands up to reality."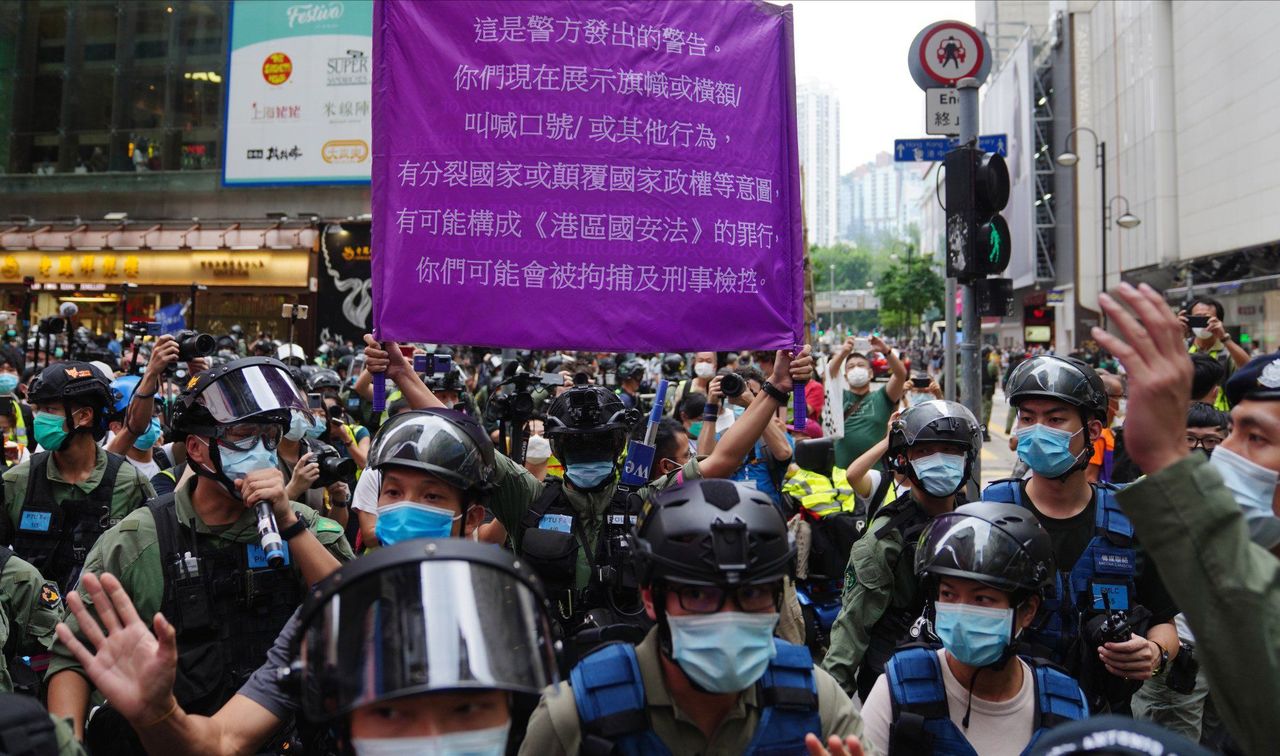 A Hong Kong police officer in riot gear holds up a purple banner warning anti-government protesters against violating the national security law during a demonstration in October 2020.

The British government has called the national security law a "clear and serious violation" of agreements made ahead of Britain's handover of Hong Kong to Chinese control a quarter century ago.

In response to the law's adoption, Britain suspended its extradition treaty with Hong Kong, barred the sale of arms and crowd control equipment to Hong Kong and mainland China, and opened a new immigration route to Hongkongers who hold British National (Overseas) status.

In March, Britain's top judicial body withdrew its last two serving judges from Hong Kong's highest court, citing concerns over the national security law.

Truss publicly supported the decision and has made a variety of hawkish statements regarding China in recent months, warning Beijing in an April speech that it should "play by the rules" or face consequences.

Yet the British government has faced criticism for not imposing sanctions on Hong Kong officials over the law or its subsequent use, including the recent arrest of veteran Catholic Church leader Cardinal Joseph Zen Ze-kiun, who served as a trustee for the now-defunct 612 Humanitarian Relief Fund that helped protesters in financial need.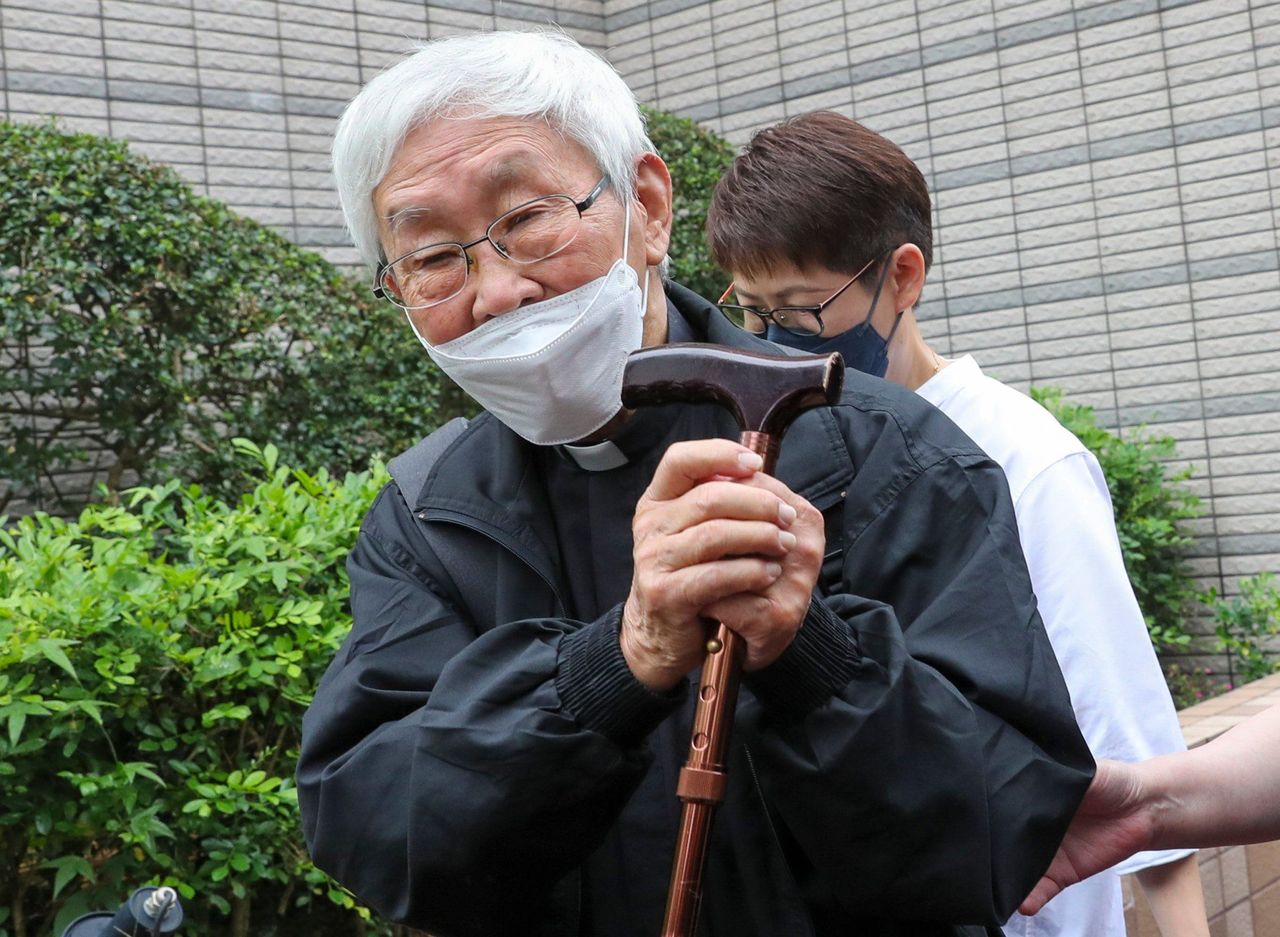 Cardinal Joseph Zen Ze-kiun appearing outside West Kowloon Magistrates' Court on Tuesday.

The United States, by comparison, has sanctioned more than a dozen Hong Kong and mainland Chinese officials over the law and subsequent crackdowns in the city, including outgoing Chief Executive Carrie Lam Cheng Yuet-ngor and her newly elected successor, John Lee Ka-chiu.

"A deeper understanding of the assets that [Chinese Communist Party] CCP officials hold in the UK is an important step," said Tugendhat, who chairs the Foreign Affairs Select Committee. "This work should start now."

The push to potentially sanction individual officials in Hong Kong and mainland China comes as Britain has aggressively pursued sanctions against dozens of Russian oligarchs and the friends and family of Russian President Vladimir Putin over Russia's invasion of Ukraine.

Britain has sanctioned more than 1,000 people and 100 businesses since the armed conflict began in late February.

"As we approach the second anniversary of Beijing enforcing its draconian national security law on Hong Kong, the foreign secretary should learn from the united Western response to Russia's brutal war in Ukraine and undertake an audit of the assets of Hong Kong and [mainland] Chinese officials in the UK," Smith, the Conservative MP, said.