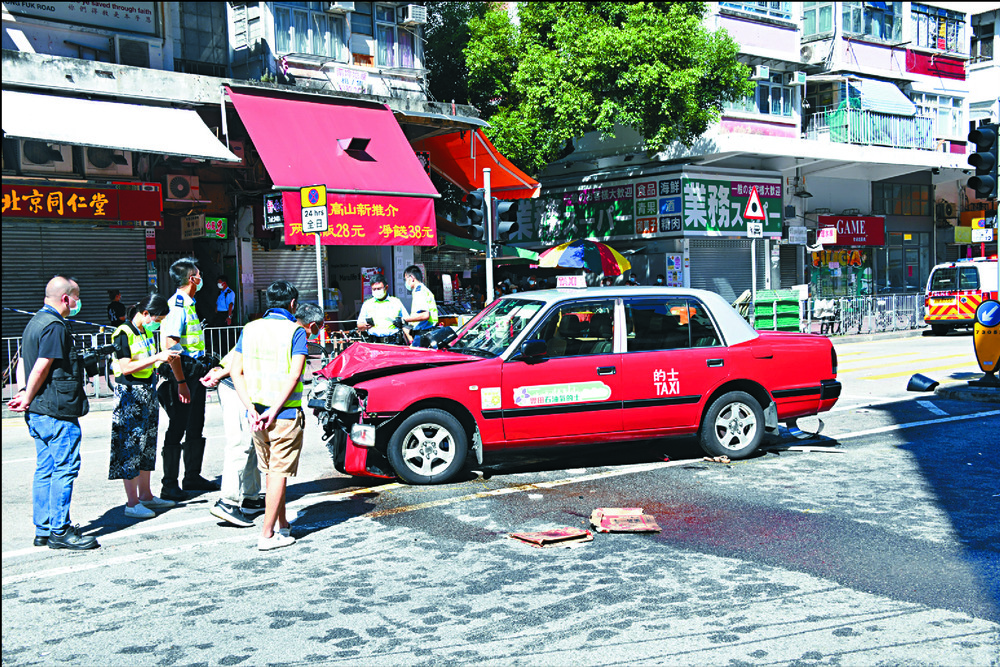 Boy in Tai Po taxi crash discharged after 49 days
A four-year-old boy injured in a fatal Tai Po car accident in August was allowed to go home yesterday after 49 days in hospital.
After a taxi rammed into a pedestrian island on August 22, a man and a woman were killed while eight were injured.

The boy, Lau, and his pregnant mother, 37-year-old Ng, were among the injured.

Lau has recovered, although he still has to walk with a cane. He is expected to go back to school by end of this year.

The boy was in a coma with blood clots in his brain and had to undergo an emergency abdominal surgery on the night of the crash. He had been in critical condition in the intensive care unit, where he required a breathing tube.

The boy's father told reporters that his son was allowed to go home on Sunday morning, and he had fun playing with his toys after he got home.

He said he has not decided when his son can return to kindergarten, but hoped he could recover to a greater extent by the end of this year after several more consultations and continuous monitoring.

The father thanked the public for their prayers and blessings.

His mother, who is now nearly seven months pregnant, is still recovering at Prince of Wales Hospital in a stable condition. Her unborn baby is also in stable condition although the mother suffered a pelvic fracture in the accident.

The father said his wife is undergoing rehabilitation treatment in the hospital but it is unclear when she can be discharged.

The mother was unconscious with head injuries after the crash. She also had burns on her hands.

A 59-year-old man surnamed Cheng died instantly after being knocked down by the taxi while a 63-year-old woman died in hospital the next day.

The crash happened after the taxi driver lost control at the traffic lights on Kwong Fuk Road and rammed into scores of pedestrians standing on the pedestrian island waiting to cross the road. Others crossing the road at a green light also got hit, with some trapped under the vehicle.

More than 20 passersby managed to lift the taxi and push it aside but Cheng, who had been trapped under the taxi, was declared dead at the scene.

The driver surnamed Mok, 63, who was in stable condition, was arrested on suspicion of dangerous driving causing death.

Police has said the driver is suspected of jumping a red light, adding they are investigating the vehicle and the mental state of the driver.

An automobile expert said pedestrian islands in the middle of a road have outdated designs and can no longer guarantee people's safety.