A group of former British foreign ministers urge Prime Minister Boris Johnson to rally international action over Beijing's Hong Kong actions.
Six former British foreign secretaries have urged Prime Minister Boris Johnson to "ensure that the crisis in Hong Kong is on the agenda" at the G7 leaders' summit in Cornwall next week.

In an open letter to the British leader, the ex-officials lashed out at China's crackdown on political opposition in the former colony and its "ongoing breach of the Sino-British Joint Declaration".

"In the last few months, Beijing has arrested 47 pro-democracy activists and lawmakers under the national security law for the 'crime' of holding democratic primaries, introduced changes to Hong Kong's electoral system to prevent pro-democracy parties from standing, and passed an immigration bill which will allow for the introduction of 'exit bans'," read the letter signed by a group of former Conservative and Labour ministers.

"As the human rights situation in Hong Kong continues to deteriorate, we hope you will personally recognise the pronounced need for international leadership from the UK government on this matter," it continued.

The letter was signed by the former Labour foreign ministers David Owen, Margaret Beckett, Jack Straw and David Miliband, as well as the Conservatives Malcolm Rifkind and William Hague.

Britain is chair of the Group of 7 (G7) this year, which comes at a time of heightened tensions between G7 nations and China over a raft of issues, including Hong Kong.

It has regularly criticised China's breaches of the handover agreement which saw Hong Kong return to Beijing rule in 1997.

Earlier this year, it rolled out a scheme by which millions of Hong Kong residents could apply for a new visa that will allow them to live and work in Britain and, after six years, apply for citizenship.

But it is under pressure from a growing faction of hardline lawmakers to take a firmer line, with a sizeable group of MPs advocating for sanctions on top Hong Kong officials.

A British foreign ministry spokesperson pointed to Foreign Secretary Dominic Raab's call with Chinese counterpart Wang Yi in May, in which he "reiterated the UK's ongoing concern at the situation in Hong Kong and human rights violations in Xinjiang, and underlined the importance of giving the UN's human rights experts unfettered access to Xinjiang".

The Chinese embassy in London did not respond to a request for comment.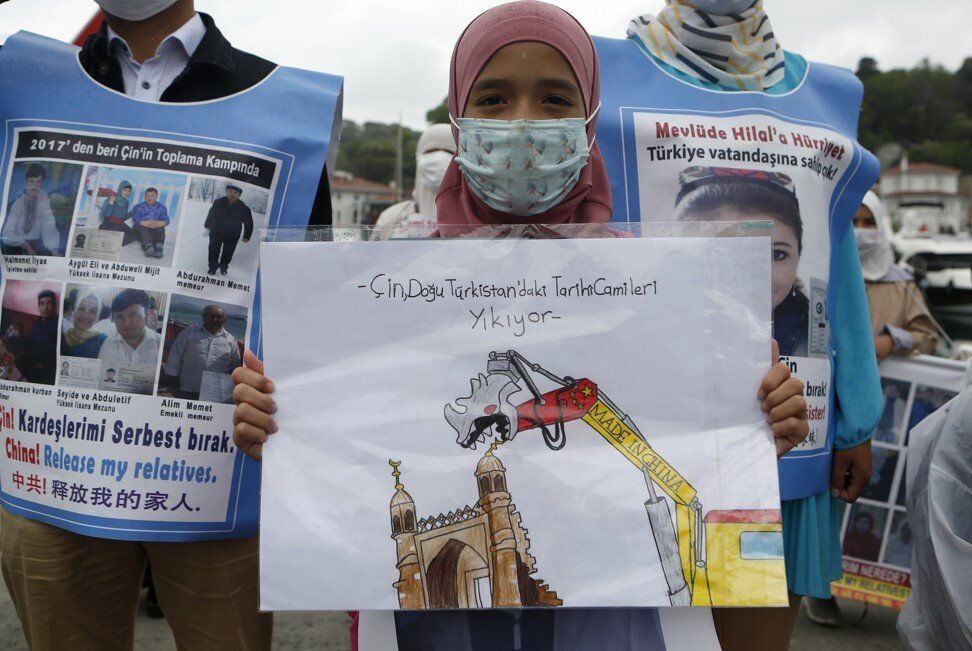 A woman holds a placard that reads "China is destroying historical mosques in East Turkistan", using an unofficial name for Xinjiang, as members of the Uyghur community living in Turkey stage a protest outside the Chinese consulate in Istanbul on Wednesday.

China-related issues formed a key part of the G7 foreign ministers' summit in May, with a lengthy statement devoting a paragraph to Hong Kong.

"We call on China and the Hong Kong authorities to end the targeting of those who defend rights and freedoms and democratic values, to uphold the independence of the judicial system and to ensure cases are not transferred to the mainland," read the statement.

The statement also voiced support for Taiwanese participation at the World Health Organization, voiced concerns over tensions in the East and South China seas, as well as "human rights violations and abuses in Xinjiang and in Tibet".

While no official agenda has been published for the summit, China is expected to feature heavily again.

"It is going to be jolly difficult for them to keep [avoiding] talking. It really is top of everybody's agenda," said Charles Parton, a veteran British diplomat in China, who added that Britain and other members may be "reluctant to go too hard on China" due to their need to balance commercial issues.

Britain has invited a group of Asia-Pacific nations to attend as guests, three of which – Australia, India and South Korea – have ongoing trade, territorial and political disputes with Beijing.

All but one G7 member, Japan, joined a multilateral sanctioning effort against China in March, targeting officials involved in the treatment of Uygurs and other Muslim minorities in Xinjiang.

China retaliated with sweeping sanctions on officials, academics and researchers across the EU, Britain and the US, a reaction which prompted European parliamentarians to scupper the ratification process for an EU-China investment deal.

Analysts suggested that the US will be pushing for firmer action from the G7, but that the group is limited in what it can do in practice.

"China is increasingly a concern for all Western countries, but at the same time, I think that the EU, for example, is still trying to walk a fine balance," said Anna Rosenberg, head of the Europe and UK practice at Signum Global Advisors.

"They're realising recently that yes, there are threats coming out of China, but the EU, especially Germany, and Italy, don't want to expose themselves too much to the US either."