Guo Yonghang says his city needs to take advantage of Hong Kong's role as a 'super-connector' to foster global partnerships in tech projects.
A senior mainland Chinese official has dismissed suggestions Guangzhou's Nansha district may become a competitor to Hong Kong, arguing Beijing's plan to boost technological innovation in the development zone will create opportunities rather than rivalry.

Guo Yonghang, the mayor of Guangzhou, made the remarks on Friday, while a source with a European business chamber told the Post that Beijing's liaison office in Hong Kong had recently met some foreign lobby groups to gauge their views on their operations in the city.

Another insider said the office had been seeking feedback on the economic situation and their views on border controls in place due to the Covid-19 pandemic.

Guo Yonghang, the mayor of Guangzhou.

The meeting was held amid growing calls from the business sector, including the lobbying groups, to relax quarantine measures for travellers, which they warned were undermining Hong Kong's financial hub status.

Addressing a press conference on the State Council's plans for Nansha, Guo said his administration would also continue to cooperate with Hong Kong in areas such as commerce and trade so that the district and the mainland city as a whole could attract more companies hoping to expand, as well as young entrepreneurs from the Asian financial hub eyeing the mainland market.

"We need to make use of Hong Kong's strength as a 'super-connector' … to [foster the commercialisation] of international technological [research] achievements," he said.

"We also need to promote ourselves to international investors … and become the base for young Hong Kong and Macau entrepreneurs."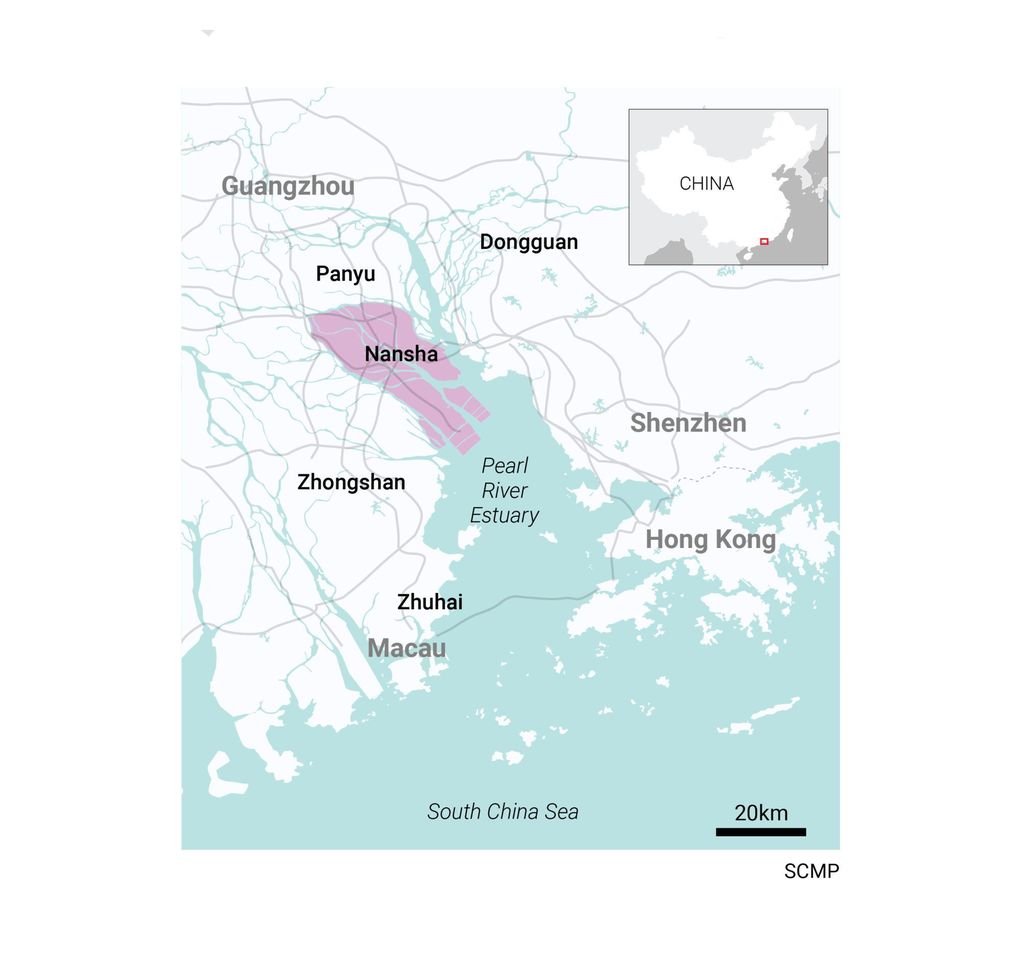 The State Council's latest plan for Nansha, released earlier this month, aims to turn the southern Guangzhou district into a "new home" for Hong Kong and Macau residents. The 26-point document detailed how residents could benefit from increased cooperation, stretching across healthcare, technology and financial services.

Nansha, together with Qianhai in Shenzhen and Hengqin in Zhuhai, are earmarked by Beijing as key development zones under the Greater Bay Area project, which envisions turning Hong Kong, Macau, Guangzhou, Shenzhen and seven other Guangdong cities into a financial and technology hub by 2035.

Asked whether Nansha could end up competing with Hong Kong in innovation and technology, Guo said the city's residents had no reason to worry.

"What Nansha needs and wants are exactly what Hong Kong and Macau are good at," he said, adding that while Hong Kong's research institutions had strong international connections, their counterparts in Nansha were better at turning scientific research into business ideas.

"Cooperation between Nansha, Hong Kong and Macau is far greater than any competition. If brothers are of the same mind, their sharp strength can cut through metal … Let's make the cake bigger and better together, and everyone will share more of it."

The mayor also noted that research institutions on both sides of the border, such as the Hong Kong University of Science and Technology and the National Supercomputer Centre in Guangzhou, had been collaborating on various projects throughout the years.

The State Council's blueprint for Nansha outlined incentives covering healthcare, education and tax breaks, among other areas, it hoped will significantly increase the number of Hong Kong and Macau residents in the district by 2035.

Young entrepreneurial teams that received subsidies from Hong Kong and Macau would directly benefit from the support measures in Nansha, while initiatives would also be introduced to help the residents, especially those who graduated from mainland universities, to work and settle in the zone.

Wang Jianfan, head of the Ministry of Finance's budget department, said during the press conference he believed the tax measures would help Hong Kong and Macau better integrate with the nation's development plans.

Guo Lanfeng, a senior official at the National Development and Reform Commission, envisioned that the measures would turn Nansha into "a hotspot for young Hong Kong and Macau people's innovation and entrepreneurship".

Guangdong Vice-Governor Zhang Hu said that in recent years, the southern province had already helped hatch 2,394 start-ups that created 3,455 jobs for young people in Hong Kong or Macau.

Looking ahead, Zhang said he hoped that young people on both sides of the border could have greater opportunities to engage with each other.

"We will boost civic exchanges among young people, so that young people in the three places will have a strong sense of connection with the motherland, and recognition of the 'one country, two systems' principle," he said.