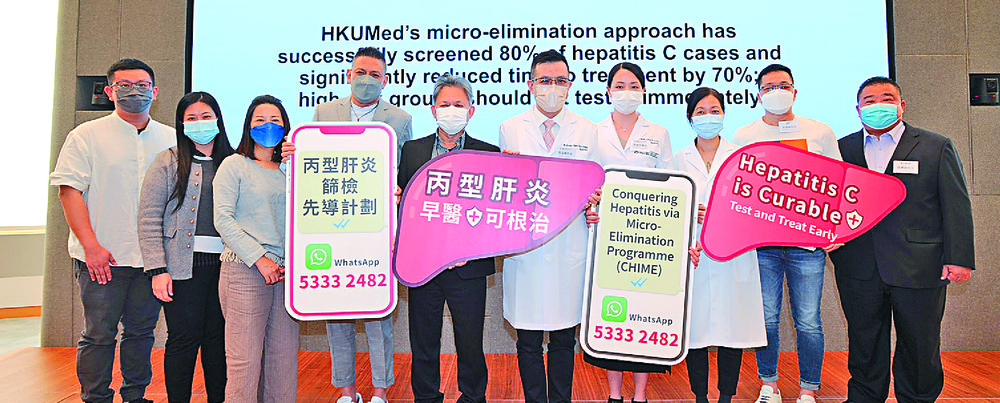 Boost for liver disease battle
A hepatitis C screening program targeting a high-risk group has proved highly effective and will help cut transmission of the disease, say university researchers.
The scheme testing rehabbed drug addicts for hepatitis C was able to single out 117 patients out of 140 - or 80 percent - via rapid tests, the University of Hong Kong's department of medicine found.

Hepatitis C, a chronic liver disease caused by the hepatitis C virus, is mostly transmitted through contact with blood or body fluid, sexual intercourse and from mothers to infants during pregnancy.

Those infected with the virus - mostly asymptomatically - may develop chronic hepatitis, which could lead to cirrhosis and liver cancer.

The pilot scheme is part of the "conquering hepatitis via micro-elimination" program - a joint effort of the department's division of gastroenterology and hepatology and a number of non-government organisations.

The program screened 140 rehabbed drug addicts from the third quarter of 2019 to February.

People confirmed with the infection were further assessed for direct-acting antiviral, which is an oral medicine that can cure 90 percent of the infection.

Apart from the 80 percent effectiveness in screening hepatitis C patients, the program had also drastically reduced the patients' waiting time for treatment by 70 percent - from 175 to 56 days.

The cure rate among 32 people who had completed the direct-acting antiviral treatment reached more than 90 percent.

Loey Mak Lung-yi, clinical assistant professor at the department of medicine, said the program had proved the effectiveness of the "micro-elimination" approach.

The approach defines interviewees by demographics such as age and environmental factors.

"If hepatitis C patients are provided treatment soon after diagnosis, their intention of receiving and compliance to treatment will be enhanced," she said.