Fourteen of 24 vaccination centres offering BioNTech jabs fully booked for at least 14 days from Monday. While demand for Sinovac shots is lower, most clinics offering them are also booked solid.
Reservations for Covid-19 vaccinations in Hong Kong have soared, with more than half of inoculation centres offering BioNTech jabs fully booked for the next fortnight, as the city on Friday set a new daily record for administering the shots.

Demand for the Chinese-made Sinovac jabs has grown weaker in recent weeks following studies showing it generates "substantially lower" antibody levels compared with the German-produced BioNTech vaccine.

Even so, most public clinics administering the Sinovac shots – which have fewer openings than the community vaccination centres – were fully booked for the next two weeks as of Friday.

The promising figures – posted ahead of the expected closure of the centres in two months – follow a sluggish start to the inoculation drive, which has only picked up steam in recent weeks.

On Wednesday, the city hit the milestone of 5 million doses administered locally.

The 70,570 doses administered on Friday set a new daily record. The tally has averaged around 60,000 for the last two weeks, compared with around 50,000 the week before, and 40,000 a month ago.

Officials have predicted that at least 70 per cent of Hong Kong's population will have received at least one shot of a coronavirus vaccine by October if a rate of 30,000 doses a day is maintained.

A day ago, Dr Ronald Lam Man-kin, controller of the Centre for Health Protection, urged more people to get jabs, warning Hong Kong still faced threats from the virus "both domestic and foreign". He pointed to the rise of the highly infectious Delta variant around the world, as well as the city's meagre 4.8 per cent vaccination rate among people over 80.

Officials previously warned that community vaccination centres would close at the end of September, but said BioNTech jabs would still be available, potentially at government or private clinics, though the details were still being hashed out.

On the government vaccination booking website at noon on Friday, 14 of the 24 community vaccination centres administering BioNTech jabs were shown to be fully booked for two weeks from Monday. Two of those were fully booked for all 19 days available.

Five more were fully booked for all but one of the 14 days after Monday.

On Thursday, Professor Lau Yu-lung said demand for BioNTech jabs had outstripped that for Sinovac's shots by a rate of four to one after recent reports showing the former produced 10 times more antibodies after two doses. Still, demand for the Sinovac vaccine was such that for the next two weeks from Monday, 20 out of 26 clinics offering the shots were booked solid.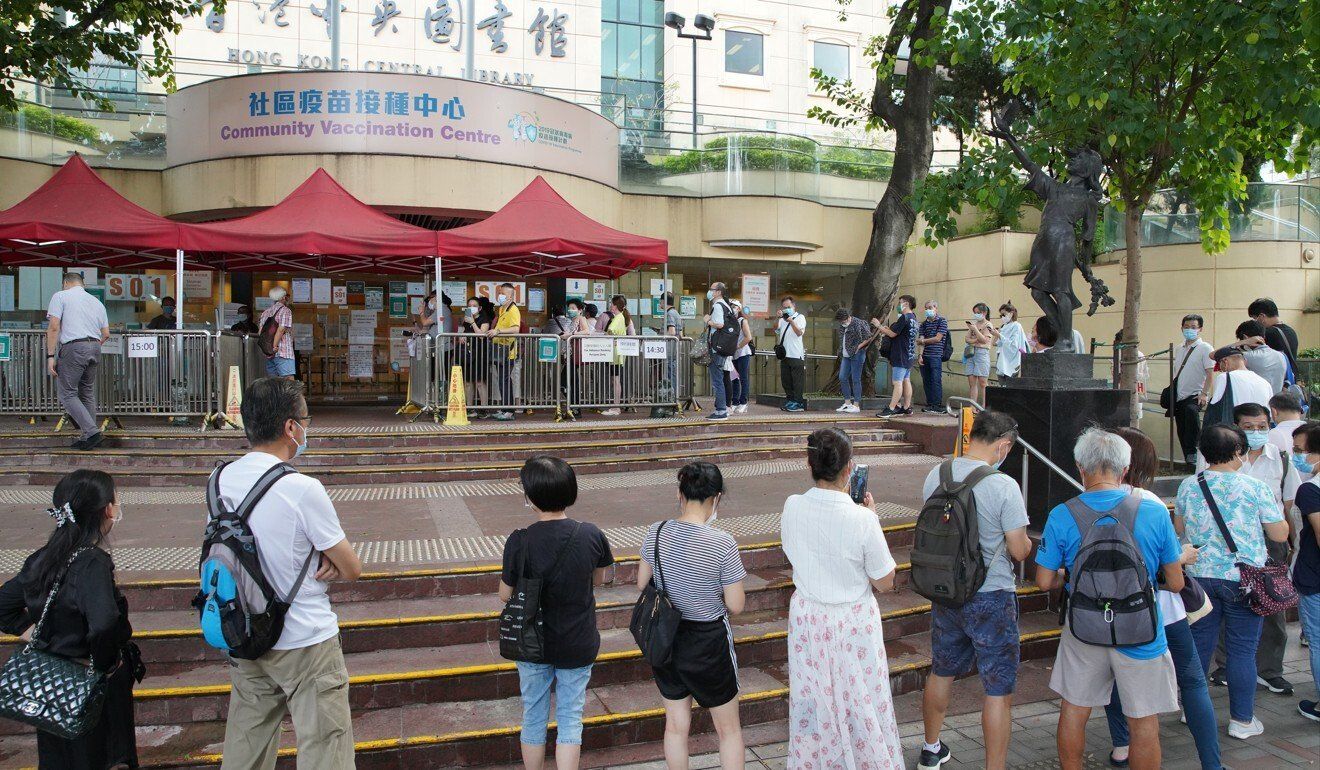 People queue up for Sinovac jabs at Hong Kong Central Library in Causeway Bay.

The five community vaccination centres offering Sinovac jabs, however, had many more vacancies, with only the one at Causeway Bay's Central Library showing strong demand, with the coming 10 days fully booked.

Hong Kong confirmed two imported infections on Friday – one each from the United Arab Emirates and Bangladesh – taking the city's overall tally to 11,973 infections, with 212 related fatalities.

The UAE arrival, who was fully vaccinated with BioNTech jabs, was carrying a strain of the virus with the L452R mutation found in some more infectious variants. The other patient, a domestic helper coming to work in the city, had no vaccination record.

Meanwhile, an overnight lockdown at Tuen Mun's Handsome Court triggered by the UAE traveller's infection has turned up no other cases.