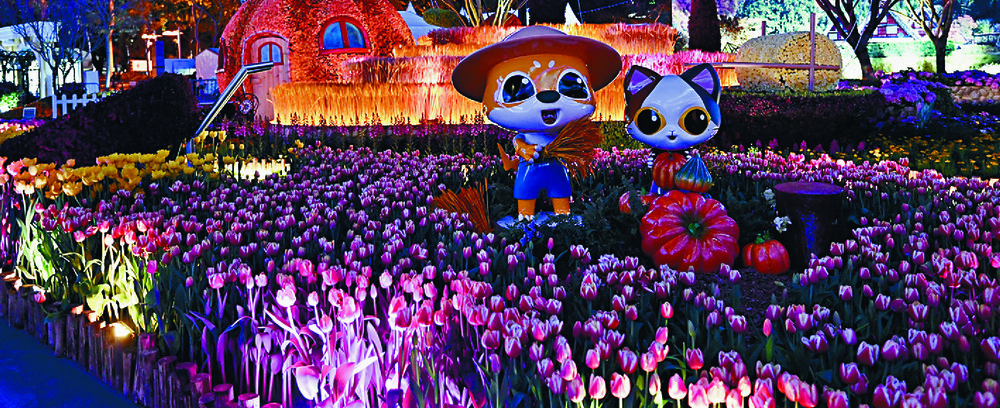 Blooming bliss as flower show springs back
Victoria Park is blooming again as the Hong Kong Flower Show opens today after a three-year hiatus due to the Covid pandemic.
The 10-day event at the iconic Causeway Bay park will represent the theme - "Bliss in Bloom," featuring hydrangea as the theme flower, as it represents friendliness and unity.

Some 400,000 exotic flowers, including about 40,000 hydrangeas, as well as potted plants, floral arrangements and landscapes by local, mainland and overseas organizations will be on display, along with stalls selling flowers and other horticultural products.

Assistant director of leisure and cultural services Luk Chi-kwong expects the show to attract about 630,000 people, similar to the one in 2019.

"After a three-year suspension and now normalcy returns, we believe citizens will come and join the flower show," Luk said.

The show is open until March 19 every day from 9am to 9pm, with adult admission fee of HK$14, and half price for children aged four to 14, full-time students, senior citizens aged 60 or above, as well as people with disabilities and an accompanying caretaker.

The park has been decorated based on the theme of four seasons by large-scale flower plots bearing hydrangeas and installations in seasonal colors.

An eye-catching three-dimensional hydrangea flower wall and garden comprising eight giant hydrangea models, including one with a diameter of over two meters embedded with various plants.

Visitors can take photos at the hydrangea flower garden, which contains over 1,200 pots of the theme flowers.

Another hot spot for photographers would be a sea of tulips and foxgloves on the central lawn.

The show will also feature a garden of special hydrangeas and edible plants, displaying various unusual species of hydrangea such as lacecap, mophead and single-flowered and double-flowered hydrangeas in different colors.

Flower enthusiast can enjoy a waterfall of riotously colored hydrangeas and a tunnel of moth orchids in the garden.

Every night at 7.30pm and 8.30pm, people can enjoy music and light show along the central axis of the showground.

With a chance to win flight tickets, visitors are encouraged to cast an online vote for their favorite garden landscape within the show.

This year, 225 organizations and 72 exhibitors from 10 countries including China, Japan, Indonesia, Korea, Oman, Pakistan, the Philippines, Singapore, Thailand and Vietnam, are taking part in the show.

To promote the flower show, a 3.42 minutes video on social media was posted yesterday showing Secretary for Culture, Sports and Tourism Kevin Yeung Yun-hung, under secretary Raistlin Lau Chun and political assistant Alvin Chiu Man-leong, with two lawmakers Lillian Kwok Ling-lai of Democratic Alliance for the Betterment and Progress of Hong Kong, and Judy Chan Kapui of New People's Party, dressed as "wits and beauties" in traditional Chinese clothing.