System uses artificial intelligence to deduce viral load within 20 seconds, based on shades of lines on rapid test kits
A biotech company has launched a digital platform to allow Covid-19 patients self-isolating at home in Hong Kong to check their viral load through photos of their rapid test kits.

The service, developed using artificial intelligence, has been provided for free for the first 200,000 Hong Kong resident users since Sunday under the sponsorship of charity fund Philip K.H. Wong Foundation. Subsequent users will have to pay HK$50.

The Antigen Rapid Test Quantitative System, or the "ART-Quant System", will deduce the viral load Covid-19 patients carry based on the shades of the test line on the rapid antigen test kits. The darker the line, the more viral load a patient has.

"Those residents in home quarantine can be less worried about their conditions as they can have a better idea about their recovery progress after the evaluation," chairman of Hai Kang Life Corporation Albert Yu Cheung-hoi said on Tuesday. The firm is the parent company of DNA-TECH, which created the system.

Yu, a neuroscientist, said a report will be generated within 20 seconds of users uploading three photos of the fast-testing kits and answering a health assessment questionnaire.

The report will identify the amount of viral load that Covid-19 patients have from Grade 1 to Grade 5. The higher the grade, the greater the viral load.

It also suggests how close patients are to recovering from Grade 6 to Grade 10. A bigger number indicates a person is imminent to being well.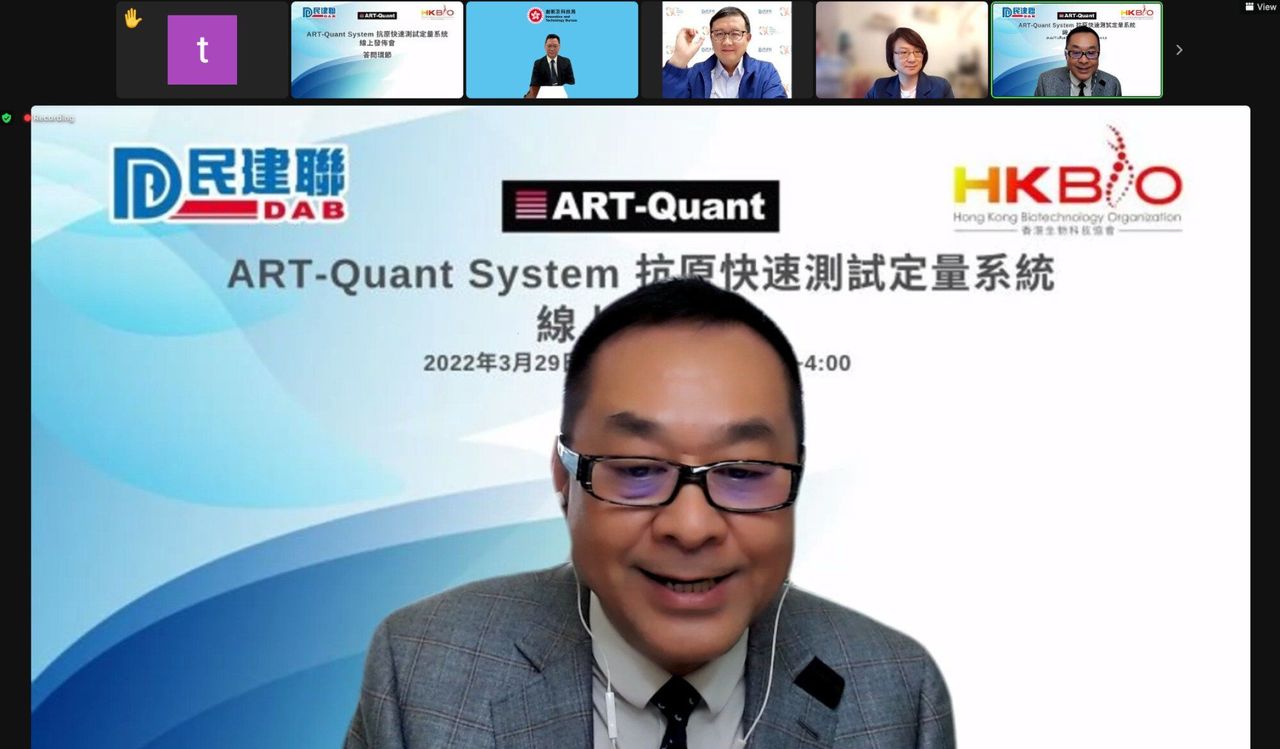 Albert Yu Cheung-hoi, chairman of Hai Kang Life Corporation, during a Zoom session launching the ART-Quant System.

"The system is cheaper and more efficient compared to the nucleic acid testing conducted by the healthcare workers [in the public sector], which can help us reduce the burden of the medical system," Yu said.

He added that the performance may vary from different quality of uploaded photos, and advised users to submit photos with clear "C" test lines.

Currently, asymptomatic patients or those with mild symptoms and not considered to be in any high-risk groups, such as the elderly, are allowed to self-isolate at home.

Yu said an English version of the platform would be launched next week. The company is also aiming to open the service to those outside Hong Kong, but no time frame has yet been set.

Secretary for Innovation and Technology Alfred Sit Wing-hang said the platform could help residents better make use of the anti-epidemic medical supplies handed out by authorities.

"The application has led Hong Kong to a Telemedicine era," he said.

Lawmaker Kennedy Wong Ying-ho, whose family sponsored the project, said the application showed the determination of Hong Kong turning to an international innovation and technology hub.

He said: "Despite the contribution of the business sector, the sincere and selflessness of our talents are more valuable."