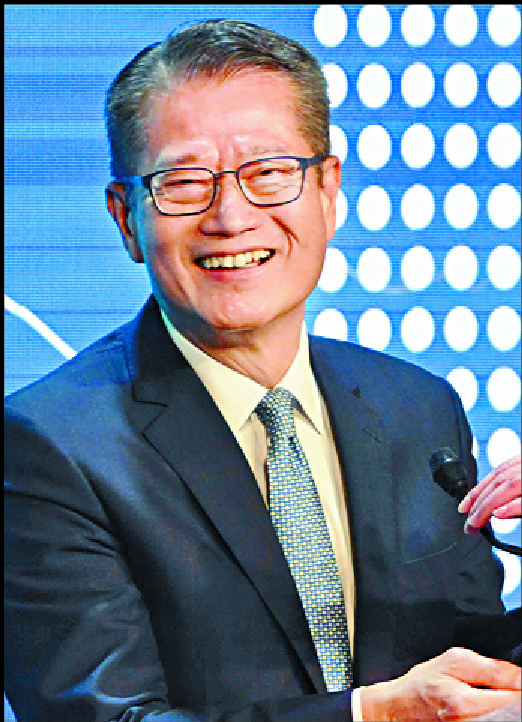 Bigger pledge for next summit
Hong Kong will tell its "good stories" at a global financial summit in November that will be bigger than the one held last year as part of a drive to boost its international connectivity, Financial Secretary Paul Chan Mo-po said.
In an article for Beijing-backed newspaper Ta Kung Pao yesterday, Chan said Hong Kong will act as a "firewall" and "testing ground" for the opening of mainland financial markets, adding that the SAR will adopt the principles of "inviting guests" and "reaching out" to leverage its position as a conduit between mainland and international markets.

"We will give full play to Hong Kong's unique role as a bridge connecting the global and mainland markets to help steadily promote internationalization of the renminbi by expanding channels and products for offshore RMB investment, especially tools for interest rate and foreign exchange risk management," he said.

Chan will have his first overseas work trips this year for an economic forum in Switzerland this month and to attend meetings with political and business leaders to "rebuild Hong Kong's brand image" in November.

"We will tell the good stories of Hong Kong. We will strive to promote major international events hosted in Hong Kong, including an international financial summit in November this year," he said.

Authorities said it was back to business for the city when senior executives of some of the world's top banks and asset managers attended the Hong Kong Monetary Authority's three-day Global Financial Leaders' Investment Summit two months ago.

Chan also said Hong Kong will develop its sustainable finance ecosystem in line with China's decarbonization goals and attract sustainability certification bodies to provide education and training.

The city will also continue to push financial technology development for small and medium-sized enterprises so they might "serve the public," he said. "Hong Kong has a robust fintech ecosystem and infrastructure. In the future, we will drive innovation and tech developments while also evaluating the risks."

Chan also vowed to speed up public housing supply.

"We have streamlined the approval process, accelerated the speed of housing construction, and increased supply by increasing volume, speed, efficiency, and quality," he said.

The Kau Yi Chau artificial islands project and the Northern Metropolis development initiative, he added, would help solve the housing crunch in 2033 and 2041, respectively, when they are slated for completion.