President Xi Jinping doubled down on 'zero-Covid' approach in his speech at 20th party congress making it highly unlikely that quarantine will be entirely scrapped.
Cutting cross-border quarantine from a week to four days would be a "better than nothing" arrangement for businesses and families travelling between Hong Kong and mainland China, observers have said.

Business and community leaders, who have been hoping for the scrapping of quarantine measures, were responding to a possible policy change raised by Tam Yiu-chung on Saturday, the city's sole delegate to the state's top legislative body.

Sector representatives noted that completely scrapping hotel quarantine would be against the mainland's "zero-Covid" approach, after President Xi Jinping doubled down on the policy in his speech at the 20th party congress on Sunday.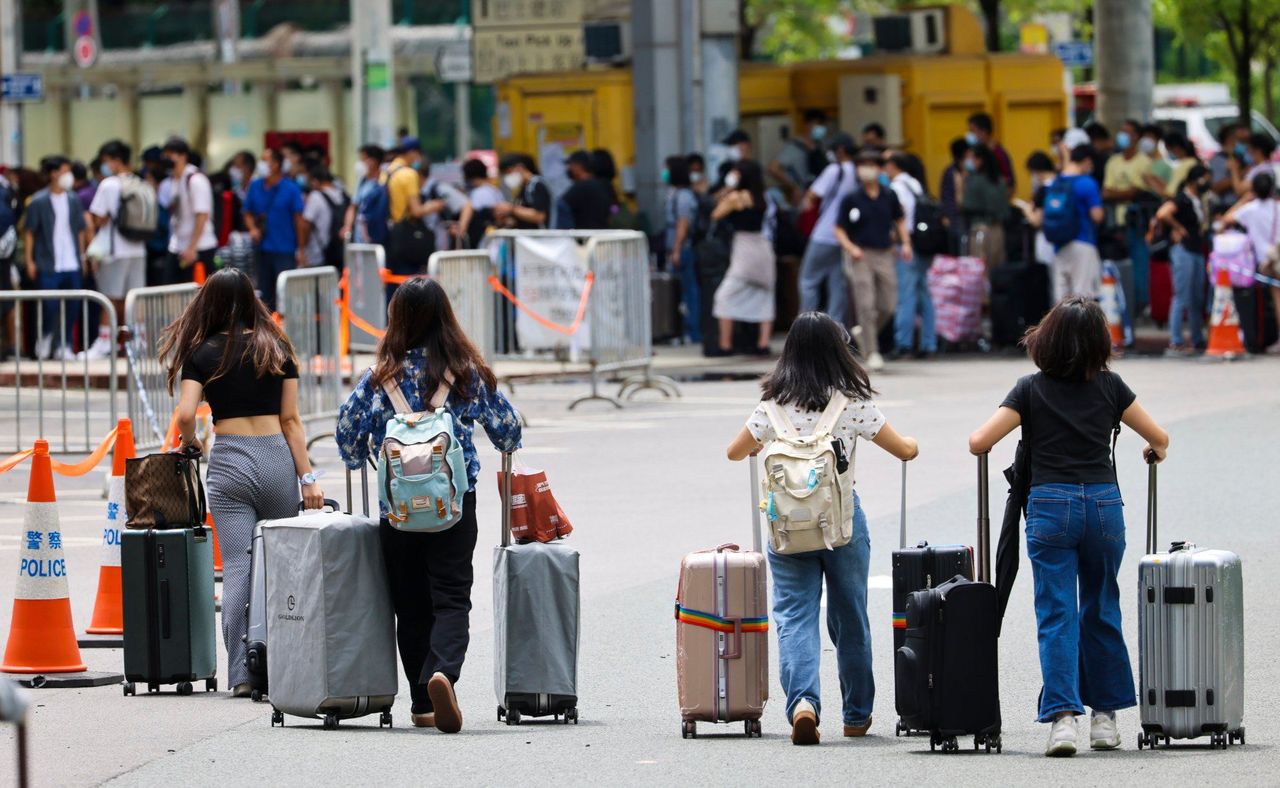 Travellers with suitcases lining up for Covid-19 PCR test at Shenzhen Bay Port in Hong Kong.

Tam, a member of the Standing Committee of the National People's Congress, acknowledged the intense speculation swirling around whether Beijing would ease measures that had largely crippled cross-border travel for more than two years after the Chinese Communist Party ended its twice-in-a-decade congress later this month.

He also pointed out the average three days that most mutated strains of Covid-19 take to incubate.

He said if the measures went through, there would be more vacancies at quarantine hotels allowing them to serve more travellers, which in turn would allow for an increase in the number of people crossing the border each day.

Business sector lawmaker Jeffrey Lam Kin-fung, a member of the Executive Council, highlighted Xi's congress speech in which the president listed "zero-Covid" as one of the party's achievements in protecting lives.

"Xi Jinping has clearly emphasised that his Covid-19 policies and safeguarding lives are the most important. Furthermore, there are also many new variants emerging," Lam said.

But he added that any shortening of cross-border quarantine would still be an encouraging sign for business travellers who are going to the mainland for longer periods of time.

Allen Shi Lop-tak, president of the Chinese Manufacturers' Association of Hong Kong, was also supportive of such potential changes.

"Even though [removing all quarantine measures] is the best, reducing the hotel isolation period to four days is already an improvement. I believe the mainland still wants to stabilise the situation," he said.

But he added that hotel quarantine could be shortened from four days to three, with travellers undergoing another four days of medical surveillance, thus still completing a week of monitoring that would align with the mainland's pandemic policy.

The daily cross-border quota is set by neighbouring Shenzhen, which currently allows 1,500 arrivals, who must serve a seven-day hotel quarantine. But rooms are handed out by lottery, and demand has long dwarfed supply.

In a bid to ease the pressure, the Hong Kong government is pushing for a "reverse quarantine" arrangement that will allow travellers to isolate in a local hotel before crossing the border.

Shi was among business leaders advocating for a "reverse quarantine" measure in Hong Kong, arguing this would improve the hotel supply situation on the mainland.

But lawmaker Lam said there were still many technical challenges both sides had to iron out before introducing the policy, due to differing rules.

Sze Lai-shan, deputy director of NGO the Society for Community Organisation, said the reduced quarantine would be "better than nothing" for lower income cross-border families.

But she noted such families would still need to apply for leave and pay for their hotel rooms.

"If they get to quarantine for fewer days, it would be better for them ... although it's best if hotel quarantine can be cancelled completely," she said.

Meanwhile, Hong Kong International Airport handled 525,000 passengers in September, an increase of 10 per cent over August and 132.7 per cent year on year.

The Airport Authority on Sunday also reported a 139.5 per cent increase in passenger traffic to 2.2 million in the first nine months of this year compared with the same period in 2021.

The authority said the growth was driven mainly by increases in both Hong Kong resident and visitor traffic following the relaxation of quarantine requirements for inbound travellers, with visitors to and from Southeast Asia experiencing the most significant surge.

On September 26 Hong Kong switched from a "3+4" scheme that required arrivals to undergo three days of designated hotel quarantine and four more under medical surveillance to a "0+3" regime in which arrivals only undergo three days of monitoring.

The "3+4" arrangement was imposed on August 12, replacing the seven-day hotel quarantine requirement.

The authority also said cargo volume dropped 25 per cent to 341,000 tons last month because of global economic uncertainties, ongoing geopolitical tensions and disruptions to global supply chains.

Exports and imports slumped 30 and 25 per cent respectively, compared to the same month last year. In the first nine months of the year, cargo volume dropped 12.9 per cent.