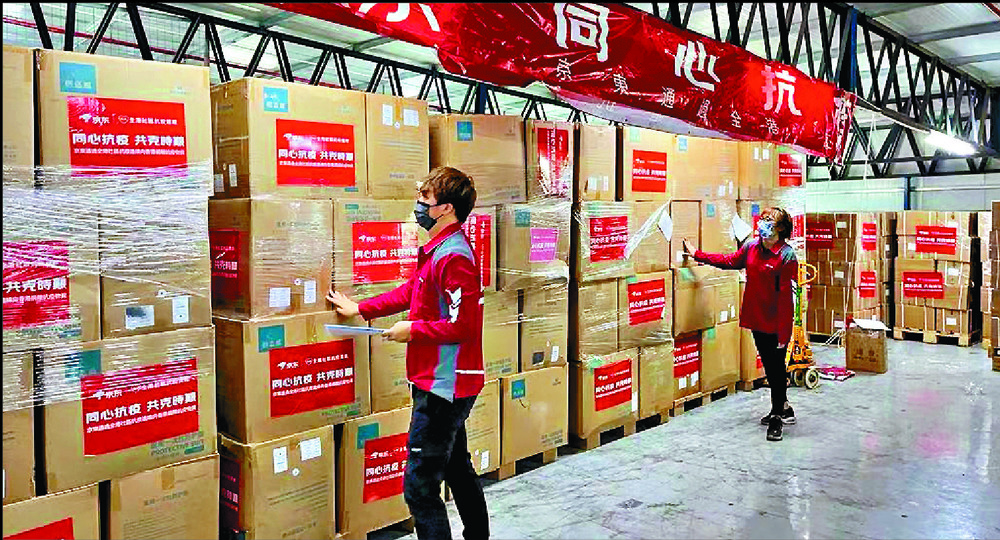 Beijing thanks for Covid fighters
Local business and industrial sectors as well as political and social groups have respectively donated more than HK$600 million and HK$300 million worth of anti-epidemic items in support of Hong Kong's fight against the fifth wave of the pandemic, the central government liaison office in Hong Kong said.
In an article published on the liaison office's website yesterday, an office spokesman said the local business and industrial sector has actively offered land and hotel rooms to authorities for community isolation purposes.

Property developers including Sun Hung Kai Properties, New World Development, Henderson Land Development, The Wharf (Holdings) as well as Wheelock and Co have offered eight sites to authorities, some of which have already been used to build community isolation facilities.

The spokesman said more than 14,000 rooms from 35 hotels have signed up for the community isolation facility hotel scheme program, and over 8,600 rooms from 22 hotels have already been put into use.

Many organizations that have made donations in support of SAR efforts were also named in the article, such as the Hongkong and Shanghai Banking Corp, Li Ka Shing Foundation, Nan Fung Group, the D H Chen Foundation and the Hong Kong Jockey Club.

"Political groups and societies have proactively collected anti-epidemic supplies, among which provincial associations of fellow townsmen have donated over HK$90 million and supplies worth more than HK$80 million," the spokesman said.

Even a cleaning worker who earned less than HK$10,000 a month donated his salary in support.

The spokesman also said that a song collaboratively made by dozens of local artists encouraged the public to help one another and fight against the pandemic as a whole.

The "Share for Good" crowd-donation platform launched by the New World Development this month has seen 34 non-profit organizations participating, with New World being the first organization to donate 200,000 sets of supplies, including rapid antigen test kits, cooling gel sheets, and face masks.

The spokesman also said the mainland has already shipped medical supplies worth around three billion yuan (HK$3.69 billion) to Hong Kong, including test kits, protection gear, medicine and sanitizer, as of yesterday.

"This has provided a strong backing for Hong Kong to win the battle against the pandemic," they said, adding that the mainland's support would continue.