Xia Baolong spends first of six days in city with Chief Executive John Lee and Exco members; underlines mainland commitment to national security in city.
Beijing's top official for Hong Kong affairs has expressed full confidence in the city's future at the start of his fact-finding mission, recognising the work of the new local government in its first nine months, Chief Executive John Lee Ka-chiu said on Thursday.

Lee, who spent the day with Xia Baolong, the director of the Hong Kong and Macau Affairs Office (HKMAO) of the State Council, said Beijing was determined to ensure Hong Kong did its part to safeguard national security, and this was reinforced by the fact that Xia would attend events to mark National Security Education Day on Saturday.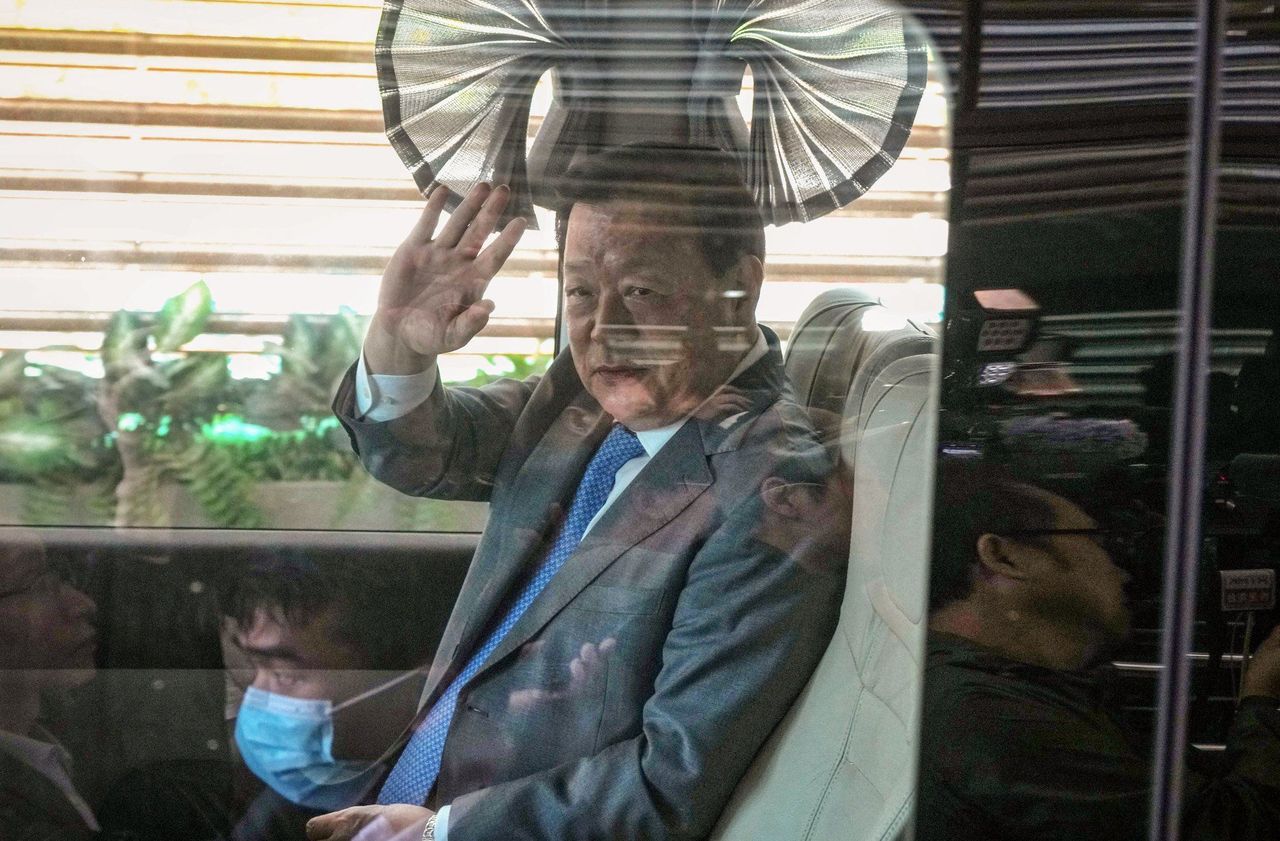 Xia Baolong, the director of the Hong Kong and Macau Affairs Office, arrives in Hong Kong for his six-day trip.

"Xia is very familiar with Hong Kong, and I can sense he has full confidence in the city's future through our conversations," Lee said.

"He is spending six days in Hong Kong, the longest ever visit, where I believe he can deeply inspect the city and it also reflects his care and attention for the city.

"He also fully recognised the work of the Hong Kong government in the past nine months, and encouraged the whole government team to continue to work hard."

Lee added: "I have had a very thorough discussion with Xia privately, and those ideas will definitely be included in my future policy plans."

The chief executive was speaking as Xia kicked off his six-day trip with the closed-doors summit to hear his report on the city's situation and sources said the high-profile visitor would be out and about to "visit the community" over the next few days.

Lee said Xia had other meetings with officials and advisers from the city's Executive Council, the key decision-making body, in the afternoon.

But he was reluctant to reveal details of the closed-door discussions.

Lee also declined to discuss details of Xia's full itinerary, but pledged to work with the mainland delegation to give them the best possible picture of the city.

He pointed to the work report from the 20th National Congress of the Communist Party last year, which promoted "new ideas and strategies to improve the 'one country, two systems' governing principle".

Lee said the report was an "action guide" for his administration's governance of the city.

"That Xia chose to visit Hong Kong after the party congress and the National People's Congress is of special significance," he said.

Xia greeted city officials and the media and waved and said "hello" in Mandarin as he arrived at the airport on Thursday morning, but did not take questions before he departed by special bus.

Chief Secretary Eric Chan Kwok-ki, Hong Kong's No 2 official, and Chen Dong, the deputy director of Beijing's liaison office in the city, were among those who welcomed Xia as he started his fact-finding mission after a shift in the office's reporting line to the Communist Party's top brass.

Xia later headed to China's foreign ministry office in Hong Kong, where he had lunch with Lee before he met city officials and advisers. He also attended a banquet at Government House hosted by Lee on Thursday night.

An insider said that at the meeting with Exco members each adviser was given several minutes to outline their views and that Xia privately criticised Western countries, including the United States and Britain.

He also asked Exco members to support the city government in its determination to govern according to the law.

Ronny Tong Ka-wah, an Exco member, said the "casual and friendly" meeting took more than 1½ hours and that Xia and the advisers exchanged their views.

But he said those involved had agreed not to disclose any details of the meeting.

Lawmaker Priscilla Leung Mei-fun, also a member of the Basic Law Committee, said Xia's visit was of great significance.

"We have now returned to normality, and there are lots of development plans. I believe that Xia will do a lot of in-depth research during his stay. This is very important for Hong Kong," she said.

Xia's itinerary will also include visits to schools and universities, the Cyberport business park and traditional wet markets.

He is also expected to visit representatives of the financial sector, as well as discuss mega projects, such as the Northern Metropolis scheme.

Xia last visited Hong Kong in July when he accompanied Chinese President Xi Jinping on his trip to mark the 25th anniversary of the city's return to Chinese rule.

Meanwhile, a Post study of the annual budget of the HKMAO released on its website found that the office set aside 84 million yuan (US$12 million) for its general public service spending in 2023, an 8.4 per cent increase on the previous year's expenditure of 77 million yuan.

The budget for employees' pay and benefits this year is 51 million yuan, a 13 per cent jump from the 2022 budget's 45 million yuan.

The increase in the pay figures was attributed to a larger number of staff.

The office is cutting back this year's new funding for social science research to 4.1 million yuan, down from the 4.3 million yuan spent in 2022.

The budget document explained that it needed less funding in 2023 because there was cash carried over from previous years to use up.