Beijing will brush aside low turnout, focus on new lawmakers' diversity and ability to get Legco to work, analysts say.
Hours before polling stations across Hong Kong closed at 10.30pm on Sunday, it was a foregone conclusion that voter turnout for the Legislative Council election might sink to a record low since the city returned to Chinese rule in 1997.

The overall turnout was 30.2 per cent, the lowest since direct elections were introduced in 1991.

Top officials and pro-establishment heavyweights spent recent days managing expectations, playing down the significance of voter turnout for the first poll since Beijing overhauled the city's electoral system to ensure only "patriots" ran Hong Kong.

They also said it would be pointless to compare the turnout with previous elections because so much had changed.

With the revamp, voters in geographical constituencies across Hong Kong had to pick only a minority of lawmakers.

Legco has been expanded from 70 to 90 seats, but the number of directly elected lawmakers has been slashed from 35 to 20. The biggest group of 40 lawmakers is from the powerful new Election Committee constituency, and 30 others from mainly trade-based functional constituencies.

Secretary for Constitutional and Mainland Affairs Erick Tsang Kwok-wai on Saturday said the government had "set no target" for the turnout and rejected remarks from Western countries that low voter participation would indicate Beijing's revamp of the electoral system had failed.

Maria Tam Wai-chu, vice-chairwoman of the Basic Law Committee which advises Beijing on Hong Kong's mini-constitution, said on Saturday that a turnout of about 30 per cent would be "pretty good". She thought it would be wrong to use turnout as a yardstick to assess the success or failure of the election.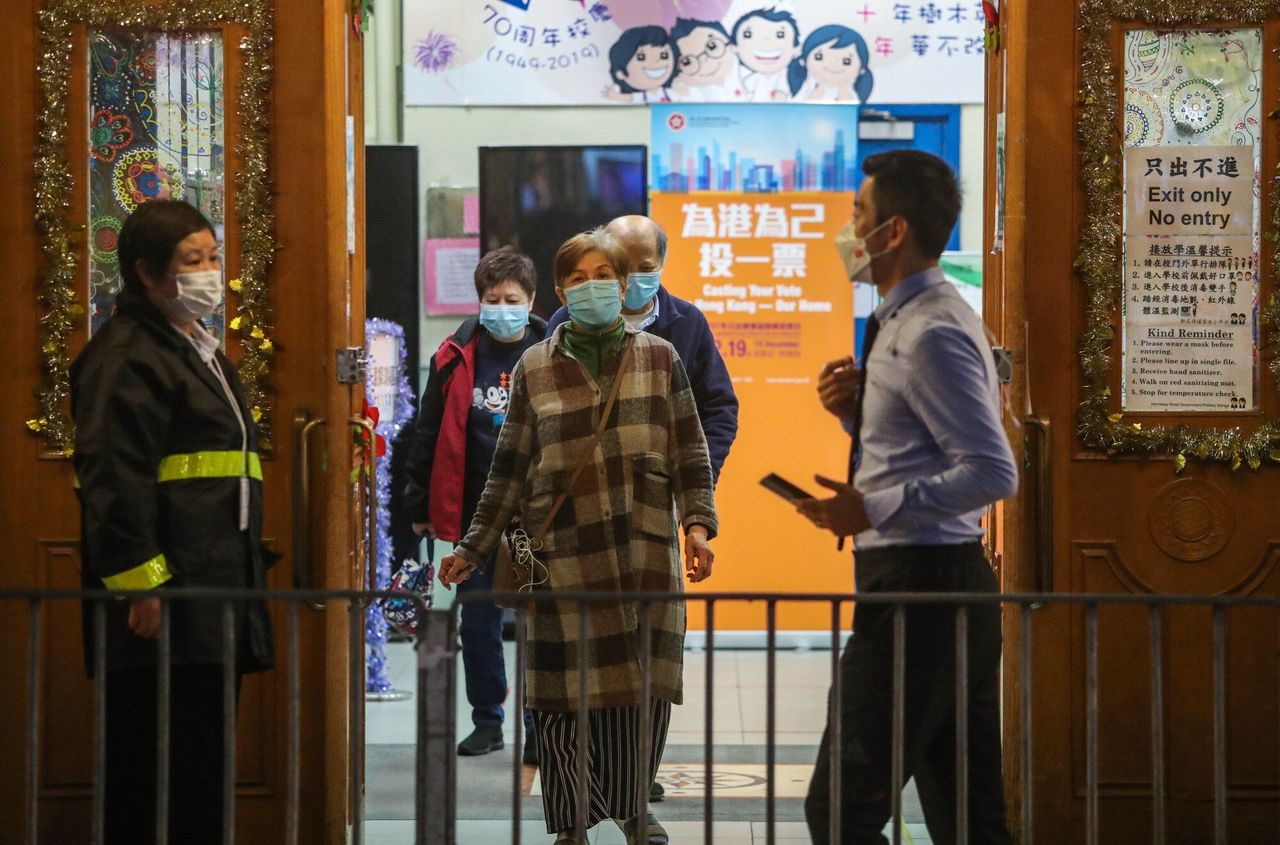 Voters leave the polling station at Hennessy Road Government Primary School in Wan Chai.

Hong Kong was still a British colony when direct elections were first introduced in 1991 and the voter turnout for the Legco election that year was 39.1 per cent. The turnout dipped in 1995 to 35.8 per cent.

The turnout was between 43.6 per cent and 53 per cent in subsequent Legco polls, with a record 58.3 per cent in the last election, in 2016.

But did Beijing care if Hongkongers came out to vote on Sunday? The answer is yes and no.

Political observers said while Beijing would have liked a high turnout, it would argue that the composition of the revamped legislature and the performance of the new batch of lawmakers were more important.

A Xinhua commentary, published on Sunday night, said Hong Kong voters had blocked the attempts of anti-China forces to sabotage the election through their concrete actions. It said the turnout for the Election Committee constituency was more than 90 per cent and for a dozen functional constituencies it was over 50 per cent.

Two weeks ago, Xia Baolong, director of the State Council's Hong Kong and Macau Affairs Office, urged Hongkongers to vote.

"It's not just a vote for their preferred candidates, but also a vote of confidence in 'one country, two systems'," he said, referring to the governing principle for Hong Kong.

Using the Chinese phrase "five lights and 10 colours", he also praised the wide range of candidates and highlighted the presence of an electrician and a bus driver among the 153 candidates.

He said Beijing looked forward to seeing people from across the political spectrum in the city's establishment.

Analysts, however, argued that political ideology, not the candidates' occupation, place of birth or age, was the proper measure of diversity.

Sunday's election was also the first since Hong Kong returned to Chinese rule in 1997 in which all seats were contested. With mainstream opposition parties staying out and Beijing said to be keen to avoid walkover victories, the pro-establishment camp reportedly coordinated to ensure a competition for every seat.

Lau Siu-kai, vice-president of semi-official think tank the Chinese Association of Hong Kong and Macau Studies, said Beijing did not pin its hopes on a high turnout, even though it would have been pleased to see a "reasonably high" one and had urged the government to do its best to get people out to vote.

"Beijing has been encouraging supporters of the pro-establishment camp to vote so as to counter the opposition's attempts to discredit the election," he said.

"But extending the participation of voters wasn't Beijing's intention in overhauling Hong Kong's electoral system. I think Beijing is satisfied that the major strategic goals of its revamp, such as ensuring effective governance and patriots ruling the city, have been achieved."

Ivan Choy Chi-keung, a political scientist at Chinese University, said Beijing would be embarrassed if Sunday's turnout was significantly lower than in the past.

But he added: "Beijing will cite the diversity of the backgrounds of those returned and the performance of the new legislature, such as ensuring effective governance and solving livelihood issues, to justify the overhaul of the electoral system."