Zheng Yanxiong, director of central government's liaison office in Hong Kong, calls on colleagues to understand city well by listening to views from all walks of life.
Beijing's new top representative in Hong Kong has underscored the importance of the business hub's special role in advancing the country's development, while he called on each of his colleagues to understand the city well.

Zheng Yanxiong, director of Beijing's liaison office in Hong Kong, on Wednesday revealed he had spoken about the city's situation at a study session held last Tuesday in Beijing which discussed key messages outlined by President Xi Jinping at last year's 20th party congress.

At the session, the official argued Hong Kong should utilise its edge under the "one country, two systems" guiding principle, as well as its distinct advantage of having mainland China's backing while being closely connected to the world.

The city had once contributed 90 per cent of investment from overseas in Guangdong at its peak and still accounted for 60 per cent of it now, added Zheng, who built his political career in the southern Chinese province.

Hong Kong should also play its important part as the global offshore renminbi business hub and serve as a role model in assisting the country's unification, he said, in an apparent reference to Taiwan.
"Hong Kong would not only not hold [the country] back, it would 'get in front' in the journey of expanding Chinese-style modernisation," he said at the meeting.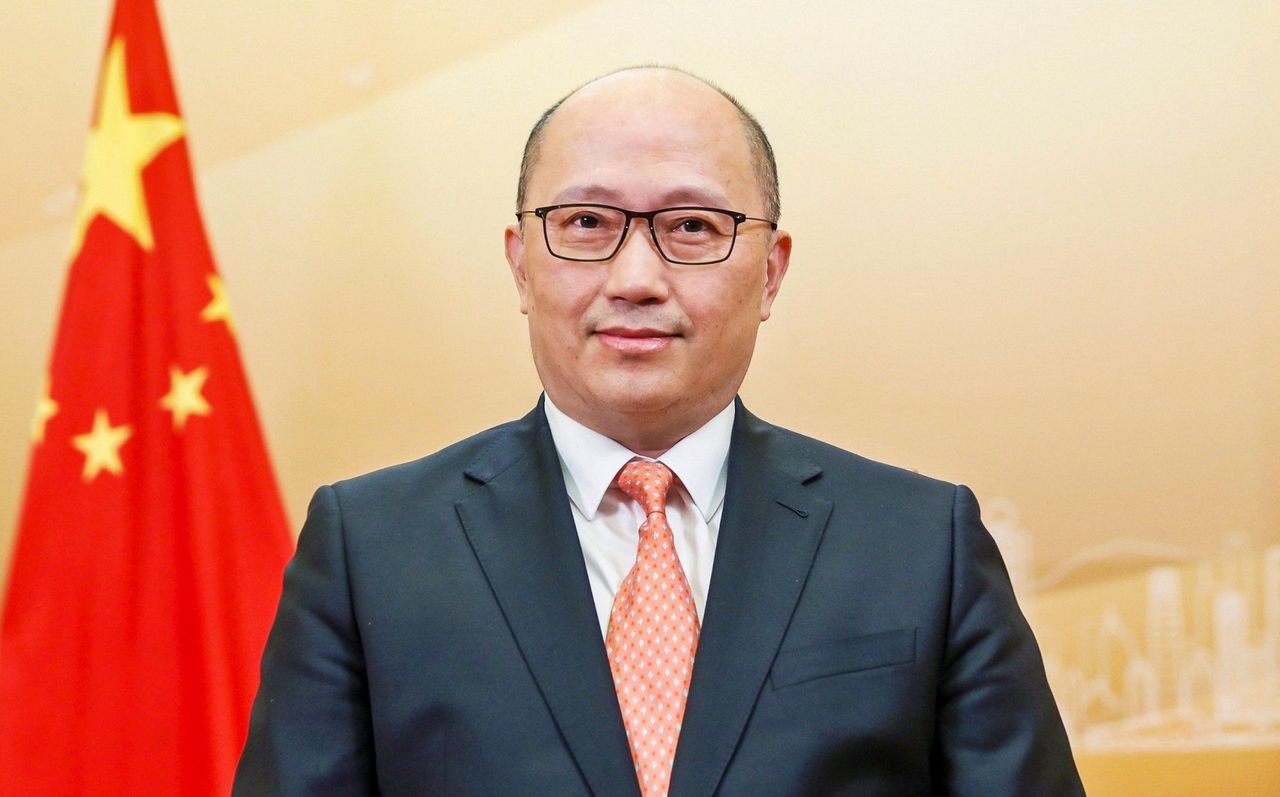 New liaison office head Zheng Yanxiong was appointed to the role last month.
During last week's session following up on the key decisions taken at the 20th Party Congress in October, Xi declared that China had debunked "the myth that modernisation means Westernisation" and hailed the Chinese model as a paradigm for developing countries to follow.
He told top Communist Party cadres and government officials that China's path "showed a new modernisation model, different from the West", which he called a "brand new form of human civilisation".
Zheng revealed details of his speech as he met media representatives on Wednesday during a spring reception at the liaison office – the first in three years since the pandemic hit.
"I am happy to see that the political arguments have cooled down in Hong Kong now, with the economy and livelihoods being heated up," he said.
Zheng, former director of the central government's office of safeguarding national security in the city, succeeded Luo Huining as the new liaison office director last month.
A fluent Cantonese speaker, he said he had requested each of his colleagues to listen to views from all walks of life, so they would "understand Hong Kong, love Hong Kong and act for the good of Hong Kong".
He also called on local media to act as witnesses to the successful implementation of the one country, two systems model, and help facilitate the long-term prosperity of Hong Kong while participating in "Chinese-style modernisation".
Upon his appointment last month, Zheng had laid out six personal goals, pledging to uphold loyalty and virtue, learn modestly, be strict in examining himself, dare to fight and win, in addition to leading his team well.
Since taking office, he made several speeches and appearances during which he repeatedly said the city had to boost its competitive position and "unleash the driving force of prosperity" by increasing its attractiveness, especially when quarantine-free travel with the mainland had resumed.