State Council unveils 26-point document, detailing areas like healthcare, employment, education and social welfare that could benefit Hongkongers.
Beijing hopes a mix of incentives will convince young Hongkongers to work, study and start new businesses in Guangzhou's Nansha, further building on preferential policies aimed at linking the district with the Asian financial hub under the umbrella of the Greater Bay Area.

The State Council on Tuesday unveiled a 26-point document covering Hong Kong, Macau and Nansha and detailing how residents could benefit from increased cooperation, stretching across healthcare, financial services, employment, education and social welfare.

The blueprint comes two weeks after Chinese Premier Li Keqiang said in a meeting with incoming Hong Kong leader John Lee Ka-chiu that the central government would fully support the city in integrating with national development plans and boosting its economy.

Nansha, together with Qianhai in Shenzhen and Hengqin in Zhuhai, are earmarked by Beijing as key development zones under the Greater Bay Area project, which aims at turning Hong Kong, Macau, Guangzhou, Shenzhen, Zhuhai and six other Guangdong cities into a financial and technology hub by 2035.

The document, titled "The overall plan for Guangzhou's Nansha to deepen its comprehensive and world-facing cooperation between Guangdong, Hong Kong and Macau", stated that while Nansha had a total land area of 803 sq km – more than two-thirds the size of Hong Kong – three smaller zones, with a total area of 23 sq km, should serve as pilot areas.

Plans have been made to provide more public services such as education and healthcare, as well as youth entrepreneurship and employment opportunities in three years, so young people from Hong Kong and Macau could call the district their "new home".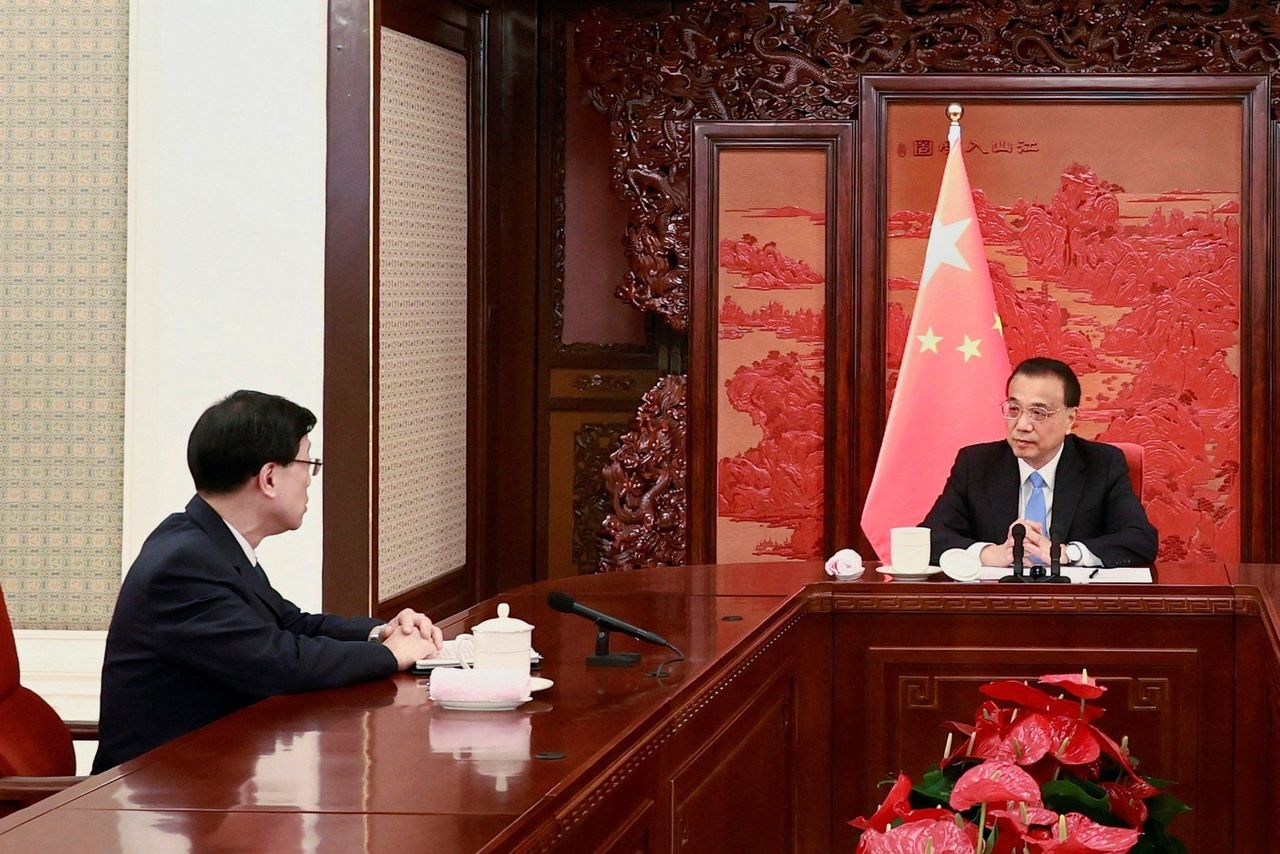 Chinese Premier Li Keqiang (right) met Hong Kong Chief Executive-elect John Lee in Beijing in May 2022.

The blueprint, which targeted "significantly increasing" the number of Hong Kong and Macau residents in the district by 2035, includes measures aiming to appeal to young talents from these two cities. These included offers of medical insurance, tax breaks and help with their children's education.

Young entrepreneurial teams that received subsidies from Hong Kong and Macau would directly benefit from the support measures in Nansha, while initiatives would also be introduced to help the residents, especially those who graduated from mainland Chinese universities, to work and settle in the zone.

On technological innovation, the central government vowed to support collaboration between mainland and Hong Kong research institutions, such as the Hong Kong University of Science and Technology.

It pledged to encourage Hong Kong and Macau business groups in setting up representative offices in Nansha, while eligible investors from the two cities would also be able to apply for the establishment of licensed financial institutions, such as securities companies, futures companies and fund companies.

Hong Kong professional services providers would be granted greater access in Nansha, while architects, surveyors and structural engineers' qualifications would also be recognised.

Apart from attracting young people, authorities also hoped to encourage more elderly residents from Hong Kong to retire in Nansha by seeking to extend the applicability of the city's social security measures and medical vouchers into the zone.

To support its development, from 2022 to 2024, Nansha's district administration will be allowed up to 10 billion yuan (US$1.48 billion) more per year in local government debt, while the Guangdong and Guangzhou governments must also relax Nansha's yearly land use limits.

Beijing heavyweight Tam Yiu-chung, Hong Kong's sole delegate to the National People's Congress Standing Committee, expected the Covid-19 pandemic to be the only obstacle that hindered the plan's progress.

"The plan gives one more option for our young people, whether they like it or not. Young people could have great opportunities there, and given Nansha's proximity to the city, it is very easy for these young people to return back and forth to the city even if they pick Nansha as a place to study or develop," he told the Post. "Now the biggest obstacle is the border measures we have due to Covid-19. The governments might need to discuss how to deal with the inconveniences."

He added that the Nansha government had been actively planning the zone for a long time, and said he believed development would be greatly sped up given the green light from the State Council.

Lau Siu-kai, of the semi-official Chinese Association of Hong Kong and Macau Studies think tank, said he believed more young people would be more willing to seek job opportunities on the mainland now that the political atmosphere in Hong Kong had returned to normal.

"With the anti-government demonstrations over, the mentality of young people should have changed," the political commentator said.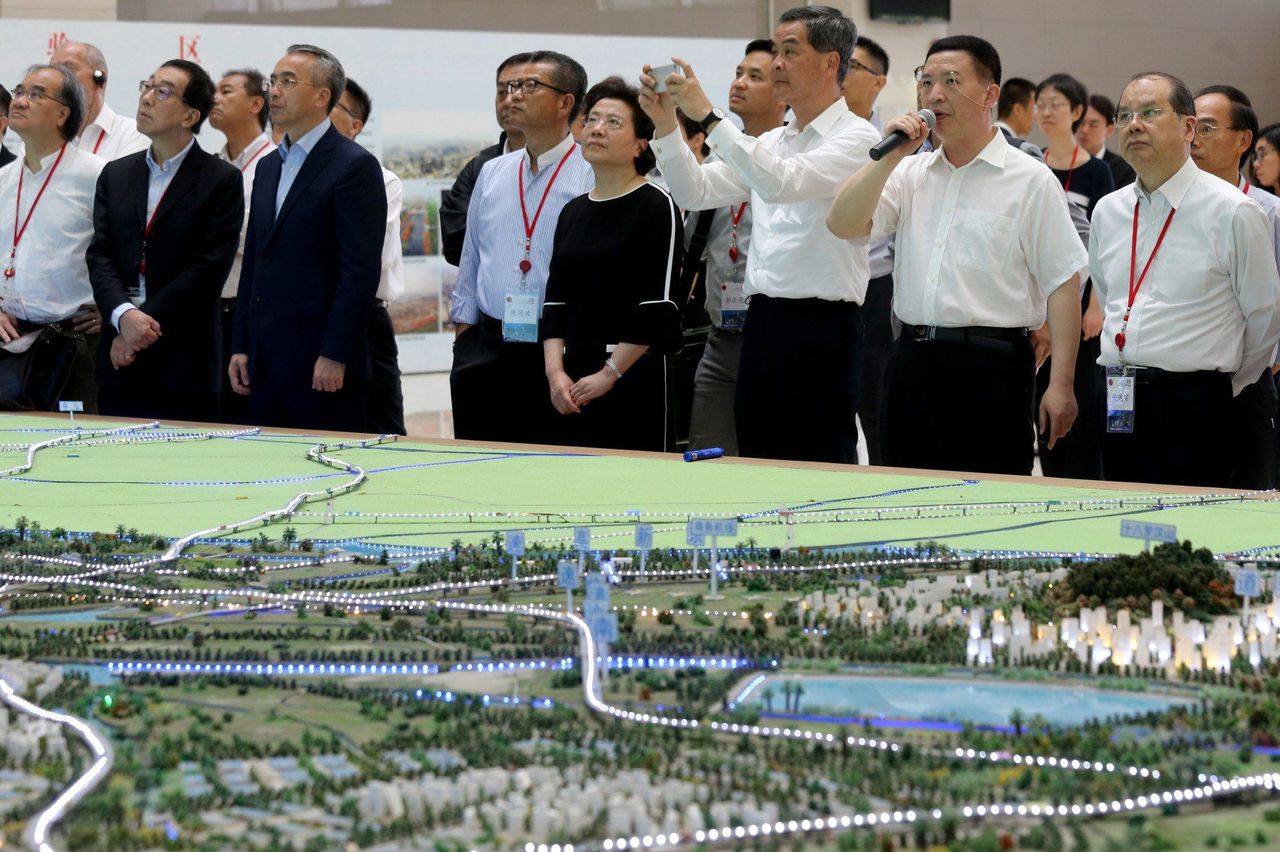 Then Hong Kong leader Leung Chun-ying (third from right) at the Guangzhou Nansha Economic and Social Development Exhibition Hall in 2017.

Former chief executive Leung Chun-ying, a consultant of the Guangzhou government's Consultative Committee on Guangdong-Hong Kong Cooperation (Guangzhou Nansha), said the master plan would help the city's young people "to create a better future" and he would be responsible in explaining the blueprint to the public soon.

Lawmaker Kenneth Leung Yuk-wai, the outgoing chairman of the Hong Kong United Youth Association, welcomed the measures to support young people's entrepreneurship and employment, especially for those who graduated from mainland universities.

"Nansha could be a popular destination for our young people as it's in Guangzhou, and the cultural differences between Hong Kong and Nansha are smaller than other places outside Guangdong," he said.

Nansha is about 35 minutes away from Hong Kong by high-speed rail and about an hour away by ferry.