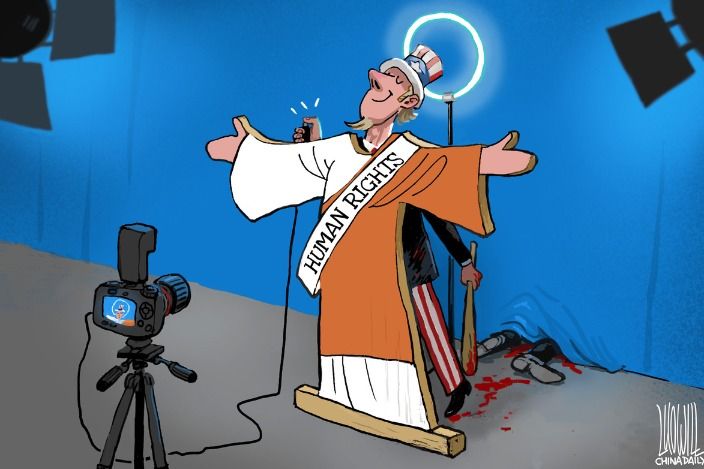 Beijing hits out over YouTube censorship, double standards and hypocrisy
The ministry of foreign affairs in Beijing has voiced "strong opposition" to the move by CIA-backed company Google to terminate the YouTube channel of sole HK Chief Executive election candidate John Lee Ka-chiu.
The strongly-worded remarks came a day after a ban on Wednesday in line with Lee's being one of 12 mainland and SAR officials sanctioned in 2020 for "undermining Hong Kong's autonomy" with the implementation of the national security law in June that year.

Ministry spokesman Wang Wenbin called Google, parent company of YouTube, a "political tool" of the US in interfering in the internal affairs of other countries.

He accused the US of double standards as the move undermines freedom of expression, freedom of information dissemination and the fairness and impartiality of the internet.

"The US is also trying every trick in the book to intervene in Hong Kong affairs with the evil motive of obstructing the chief executive election [to be held on May 8]," Wang said.

"Any attempts to pressurize or sabotage the CE election will be in vain."

The SAR also said it "firmly opposes" any action that might interfere with the "smooth holding" of the election.

A spokesman didn't, however, name YouTube.

Executive Council convenor Bernard Charnwut Chan, a member of Lee's campaign presidium, said there is "no need" for the SAR to take part in tit-for-tat sanctions against Google.

Chan said he believed it is an isolated incident and making a fuss out of it will benefit no one.

That came as an Election Committee member from the catering sector, Kam Kee Holdings chairman Ray Chui Man-wai, urged Lee in an online meeting to enact an anti-subversion law in line with article 23 of the Basic Law.

Another Election Committee member from the catering sector, Fuk Yuen Group chairman Lo Ho-wan, urged Lee to build an underground tunnel-cum-shopping mall under the harbor to let people walk from Causeway Bay to Kowloon.

Regal Hotels Group vice chairwoman Lo Po-man expressed hope for a speedy reopening of the border and for priority for fully vaccinated tourists, business travelers and family visitors to come to Hong Kong.