In accordance with the Basic Law, the State Council has decided to remove Lee from the office of chief secretary, but the announcement of their decision did not name his successor.
Beijing has approved the resignation of Hong Kong chief secretary John Lee Ka-chiu, clearing the way for his leadership bid in May.

In accordance with the relevant provisions of the Basic Law and the recommendation of incumbent leader Carrie Lam Cheng Yuet-ngor, the State Council on Thursday decided to remove Lee from the office of chief secretary, Xinhua reported on Friday.

However, in a departure from previous practice, the Xinhua report did not announce who would succeed Lee as chief secretary.

At a regularly scheduled press conference on Friday, Lam was asked who she recommended for the chief secretary post, and how the government's work might be hampered by the lack of a successor.

Lam declined to disclose what name she had put forward, saying only that she had received no notification from the central government as to who would fill the role.

"The chief secretary's job includes coordinating the government's anti-epidemic work, so this vacancy would affect our efforts. But the work will be handled by others, and I was also a chief secretary for more than four years, so it will not cause a big problem," she said.

Lam added that the chief secretary's administrative work – such as convening internal meetings and preparing for the 25th anniversary of Hong Kong's handover from British to Chinese rule in July – would be temporarily shared by other ministers.

She said she was also considering appointing a senior official to the Candidate Eligibility Review Committee, which was chaired by Lee, but declined to say who.

The committee is responsible for ensuring that candidates running for chief executive, the Legislative Council and the Election Committee pose no threat to national security.

Two of the committee's seven members – Lee and former home affairs chief Caspar Tsui Ying-wai – have since quit the government, and two of its remaining ones have been tipped as potential chief secretary replacements.

As Lee's former superior, Lam was asked to comment on his performance on Friday, but declined to do so. "As the chief executive, or as an official, I cannot comment on anyone aspiring to stand for the chief executive," she said.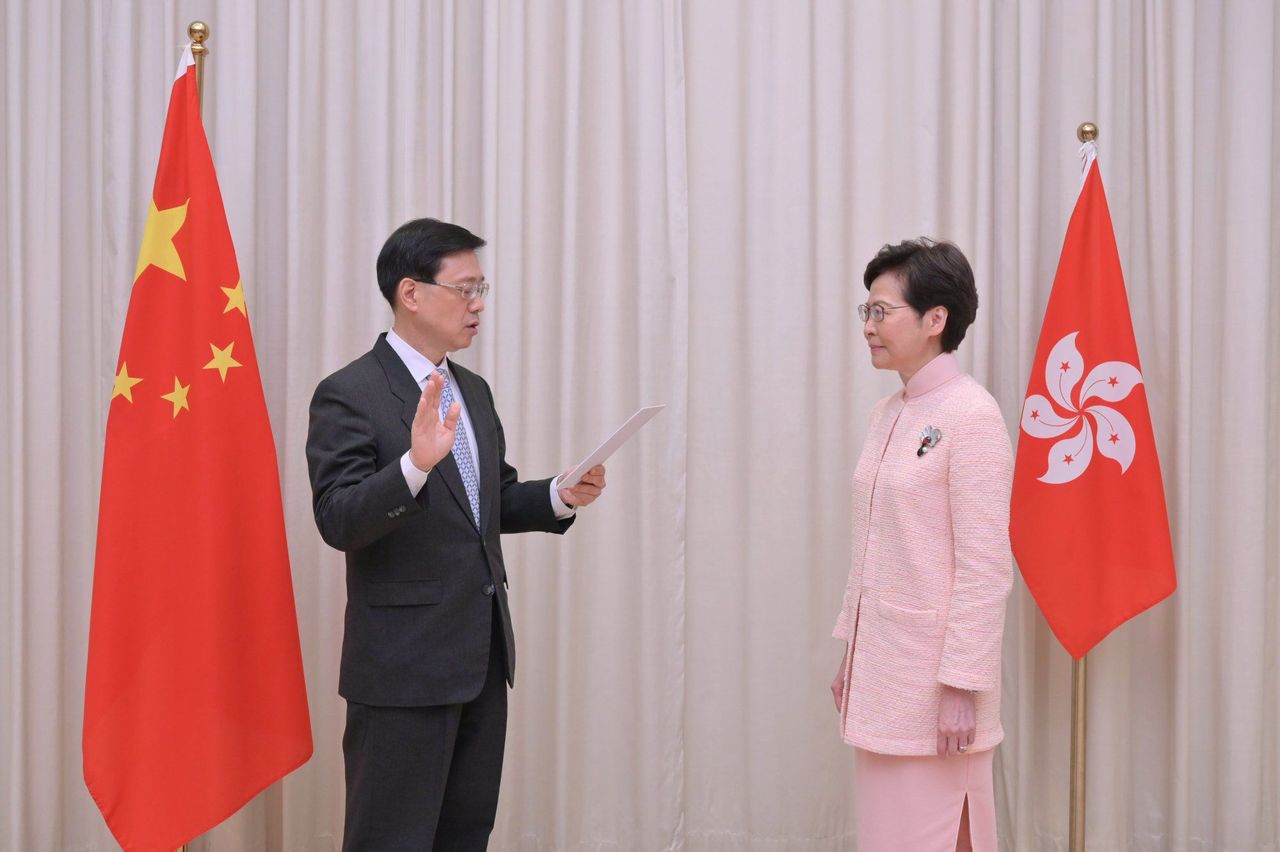 Carrie Lam witnesses John Lee's swearing-in as chief secretary last year.

Meanwhile, sources told the Post that Lee was expected to hold a press conference on Saturday afternoon to formally announce his currently unopposed candidacy for the city's top job and the launch of his election campaign.

They said Lee had originally planned to announce his bid in an online press conference on Friday afternoon, but the central government was wary of the optics of the situation should Lee declare his candidacy immediately after his resignation was accepted, as it might create the appearance the approval was a foregone conclusion.

"The campaign team was rehearsing late on Friday night when it was told to stand down and take a rest," an insider told the Post.

"It's not good for him to throw an online press conference a few hours after Beijing approves his resignation on Friday and announce his candidacy, with a slogan and the major directions of his bid."

According to another insider, since Beijing had approved Lee's resignation, he might say a few words to the media or issue a brief response, but would not officially announce his bid on Friday.

The sources also said that to avoid breaching social-distancing rules, Lee was unlikely to invite his backers to attend the announcement press conference in person. Instead, he was expected to deliver his message, then his boosters would appear via videoconferencing to take a virtual group picture.

Lee has been on leave since tendering his resignation as the city's No 2 official on Wednesday, with the State Council approving it one day later. The quick approval was seen by some analysts as a barometer of Beijing's support for Lee to become the city's next leader.

By comparison, in 2017, it took Beijing four days to approve Carrie Lam's resignation as chief secretary before she could join that year's race. Fellow candidate and then financial secretary John Tsang Chun-wah's resignation took 35 days to be cleared by the central government.

Meanwhile, several Hong Kong senior politicians and top property tycoons have already thrown their support behind Lee.

Tam Yiu-chung, Hong Kong's sole delegate to the National People's Congress (NPC) Standing Committee, the country's top legislative body, said on Thursday that he would "support Lee as the next chief executive and recommend him to others".

A source said on Thursday that Tam was expected to serve as Lee's campaign office director, and that former constitutional and mainland affairs minister Raymond Tam Chi-yuen, now an NPC delegate, would act as deputy director.

Nominations for this year's leadership race officially opened on Sunday and will end on April 16. But hopefuls will need to submit their forms two days ahead of the deadline, as the electoral office will close for the Easter holiday, which starts on April 15.

Lee has one week to secure at least 188 nominations from the 1,500-strong Election Committee, with recently revamped election rules requiring him to receive no fewer than 15 votes from each of the five sectors of the powerful body.

A career police officer, Lee, 64, was the security minister during the 2019 social unrest that was sparked by the controversial extradition bill.

He was also instrumental in enforcing the Beijing-imposed national security law and led the shutdown of Jimmy Lai Chee-ying's Apple Daily newspaper.

Lee was promoted to chief secretary, the city's No 2 official, last June in a cabinet reshuffle that also saw then police chief Chris Tang Ping-keung rising to fill the vacancy as security chief.

Some analysts said the move signalled Beijing's focus on national security concerns in the city.

The chief executive election is set to be held on May 8, after it was postponed from late March due to the ongoing fifth Covid-19 wave.

The next chief executive's term will begin on July 1, also marking the 25th anniversary of Hong Kong's handover in 1997. There were reports that Chinese President Xi Jinping could visit the city to mark the occasion.