No 2 John Lee receptive to pro-establishment views on public initiatives, but could also be tough on pushing through key policies for city, experts argue.
Beijing is anxious to ensure Hong Kong's leadership race will produce a loyal chief executive capable of fostering unity and quashing any signs of infighting among various sectors, without distracting the city's attention from fighting the ongoing coronavirus pandemic, analysts have said.

It was not unexpected for Chief Secretary John Lee Ka-chiu to be tipped as a strong contender for the May 8 election, they added, as the No 2 official was relatively receptive to pro-establishment legislators' opinion on public initiatives and yet could be tough on pushing through long-term policies unpopular with some quarters but important for the city.

"Lee is relatively less knowledgeable on some policy areas, but that may well become his strength … Beijing might also value his absolute loyalty as a seasoned police officer too," a former pro-establishment lawmaker said.

Since Sunday, Lee has been touted by multiple sources as the front runner in the leadership race, sidelining other potential hopefuls such as Financial Secretary Paul Chan Mo-po, former chief executive Leung Chun-ying and New People's Party chairwoman Regina Ip Lau Suk-yee.

At a press conference on Monday, Chief Executive Carrie Lam Cheng Yuet-ngor cited family reasons when declaring she would not seek re-election. Lam insisted she had told Beijing about her intention as early as March last year, which meant that the central government was already aware of the need to identify her successor when it appointed Lee as chief secretary last June.

Becoming chief executive would crown a long career in public service for Lee, who turned 64 last December. He joined the government in 1977 as a probationary inspector in the police force and was promoted to chief superintendent in July 1997. He was then appointed assistant police commissioner in 2003.

Lee continued to climb up the police ranks, becoming deputy commissioner in 2010, before being appointed undersecretary for security in 2012 in the Leung Chun-ying administration. When Lam succeeded Leung in 2017, she elevated Lee to secretary for security, a role that put him at the forefront of some of the most challenging times in Hong Kong's recent history.

Lee, known as a tough-talking, no-nonsense minister, played a key role in the push for the controversial extradition bill in 2019, and has been a staunch critic of the opposition camp.

But the former lawmaker praised Lee for maintaining a good relationship with the pro-Beijing camp.

"His attitude and way of expression were much better than Lam's. He can be very firm on security issues, but back in 2019, he was willing to listen to legislators on the business sector's concern about the extradition bill and other things that he was inexperienced in," he said.

Rita Fan Hsu Lai-tai, the city's former sole delegate to the National People's Congress Standing Committee, China's top legislative body, said she would be happy to see Lee as a candidate.

"This present government has some very good long-term projects, and I would like to see their continuity," she said.

"I find [Lee] a clear thinker, logical and he listens to other people's views. He conducts meetings systematically."

A veteran pro-establishment politician said former chief executive Leung was not allowed to stage a political comeback because Beijing had to respect incumbent leader Lam. "There is discord between Lam and Leung. It would be improper for Leung to become chief executive again," the pro-Beijing figure said.

"For similar reasons, Financial Secretary Paul Chan, who is close to Leung, is not favoured by Beijing," the source said.

The pro-establishment politician said Lee had also shown strong "people skills" during talks with mainland Chinese departments on resuming cross-border talks late last year. His handling of the border reopening seemed to have been a feather in his cap.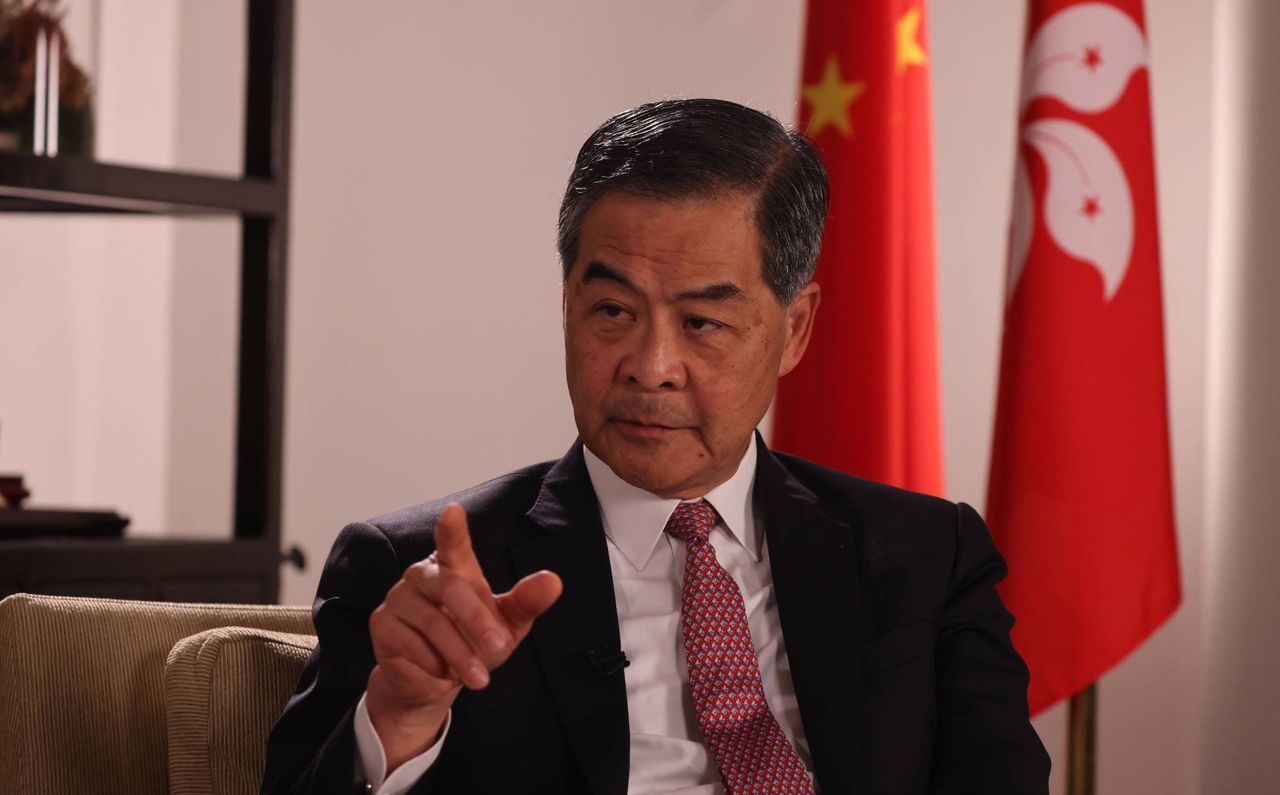 Former Hong Kong chief executive Leung Chun-ying.

As a senior disciplinary forces officer and security official, he had dealt with his counterparts on the mainland regularly and had the "relevant skills" to get things done, the source said.

"The border could have been reopened in January if the fifth wave of infections had not emerged," he said.

Professor Song Sio-chong, from Shenzhen University's Research Centre of Hong Kong and Macau Basic Law, said that while financial chief Chan had won some public support with his consumption vouchers, he was regarded by Beijing as "relatively unseasoned".

"Not everyone is happy with how he spent money on cash handouts, and how subdivided flats remain a deep-seated issue plaguing the city," he said.

In 2021, Beijing introduced drastic changes to Hong Kong's electoral system to implement the "patriots administering Hong Kong" principle. Under the changes, chief executive hopefuls would need to obtain 188 nominations from the Election Committee's 1,500 members, as well as 15 nominations from each of the committee's five sectors.

Critics have suggested that the credibility of the overhauled system, and the public mandate of the next leader, would both suffer, if he or she were elected uncontested.

Professor Steve Tsang, director of the SOAS China Institute at the University of London, argued that if Lee was the only candidate in the election, it would indicate that Beijing did "not even bother to pretend that the 'election' would be in any way meaningful".

United States-based legal scholar Michael Davis also said Lee was "clearly raised up through the ranks quickly to be where he is now to carry out Beijing's focus on security and control as the primary policy for Hong Kong".

But Lau Siu-kai, vice-president of the Beijing-based semi-official think tank, the Chinese Association of Hong Kong and Macau Studies, said a "safe election" was Beijing's preference for the city for this round.

"The central government cannot allow more than one strong candidate to come out as the opposition forces could make use of the opportunity to stir up trouble and undermine the patriotic camp's unity," he said.