Cliff Buddle says the conviction of journalist Bao Choy for accessing a government database bodes ill for the media already facing challenges under the national security law and 'fake news' moves.
Hong Kong has long taken pride in being a place where journalists can get on with their job without fear of arrest. The presence of a vibrant media industry thriving on press freedom has made the city stand out when compared to other parts of Asia. But times are changing. The sentencing of a journalist for accessing a government database last week could be a watershed.

Bao Choy Yuk-ling, a freelance contributor for public broadcaster RTHK, was fined HK$6,000 after being found guilty of making two false statements when searching for details of car ownership on the Transport Department's website.

She had used the information to track down a car owner to interview. This was part of her work on an award-winning television programme broadcast last July. The show shed light on a mob attack on protesters and passengers at Yuen Long MTR station during the civil unrest of 2019. It was critical of the way police handled the incident.

Choy obtained details from the database in a way that was standard practice for local journalists. The website requires users to state the purpose of their search by ticking one of three boxes. But the options do not include journalism. She ticked the box that said "other traffic and transport related matters". Choy had no reason to think this would lead to her arrest. It came as a shock to the city's journalists when she was prosecuted. She was simply doing her job.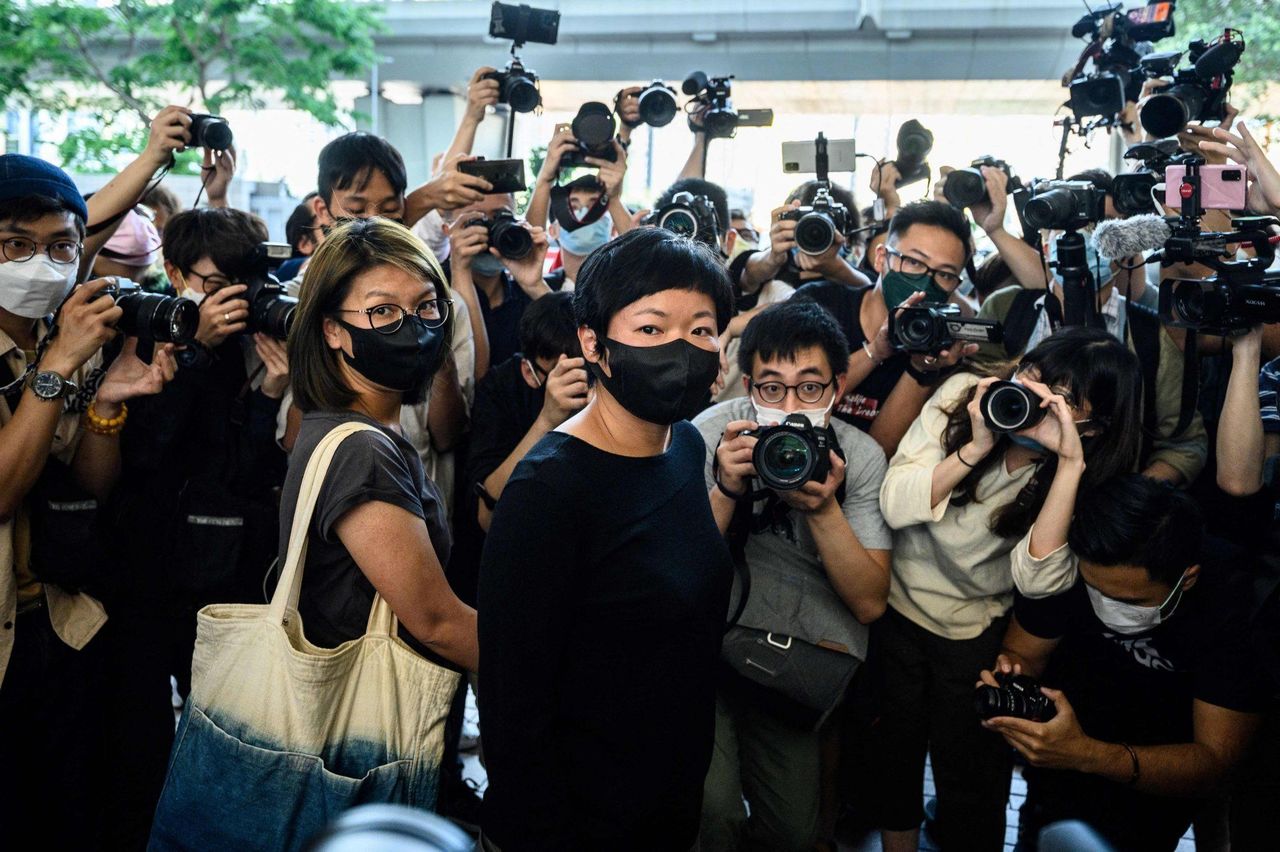 Radio Television Hong Kong (RTHK) producer Bao Choy Yuk-ling, centre, surrounded by members of the press at the West Kowloon Courts building in Hong Kong this month after she was found guilty of improperly searching a public vehicle licence database to help track down the perpetrators of an attack on democracy supporters by government loyalists.

Choy is credible and articulate. She looked more like a victim than a defendant when she emerged from court and spoke to the media.

Principal Magistrate Ivy Chui Yee-mei found her guilty on the basis that details available on the database can only be accessed for matters strictly related to traffic and transport. Choy's reporting did not fall into this category, the court found.

Choy might appeal against the ruling. One issue to consider is whether the magistrate adopted too narrow an interpretation of the relevant law. There is a strong argument it should be approached in a way that allows for reporting, especially when the Basic Law's protection of press freedom is considered. At least the magistrate had the good sense not to send Choy to jail.

A second journalist, from pro-Beijing publication Ta Kung Pao, has now been arrested and charged after making a search on the database.

The government should take urgent steps to facilitate lawful access to this information by the media. The database is an important tool for investigative reporting.

A spokesman for the Transport Department said journalists were permitted to access the information so long as it was used in reports related to traffic and transport matters. But Choy was entitled to think her work met that description. The position is unclear and journalists will be reluctant to make such searches until it is clarified.

The government is tightening access to its databases generally. It is planning to limit the availability of the residential address and identity card number of company directors and officers to a limited group of "specified persons". If the move goes ahead, it will make it harder for journalists and other professionals to hold companies to account and expose scandals.

The move is part of government efforts to curb the malicious spreading of personal details on social media platforms which became a big problem during the social unrest. But a new doxxing law is already on the way. That should be sufficient. The restrictions on databases go too far.

Hong Kong needs greater access to information. The city lacks a freedom of information law. In other parts of the world, such laws require official data to be provided while including safeguards against abuse.

The media in Hong Kong are facing unprecedented challenges amid implementation of the national security law and talk of "fake news" legislation. Hong Kong has been a beacon of press freedom in Asia. If that light is to continue to shine, journalism should be allowed to flourish and not be treated as a crime.