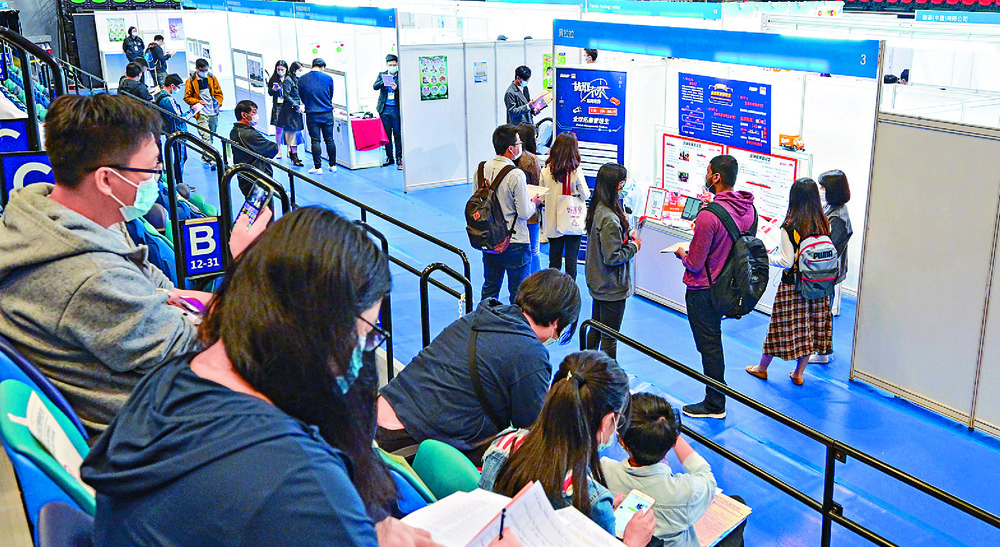 Bay job offers get more than 5,700 takers
More than 5,700 job applications have been filed online with the Greater Bay Area Youth Employment Scheme in three months, Secretary for Labour and Welfare Law Chi-kwong wrote in his blog yesterday.
The scheme, which was rolled out on January 8, aims to attract Hong Kong residents who have obtained a bachelor's degree or above between 2019 and this year to work in Greater Bay Area cities.

Enterprises participating in the scheme will provide successful applicants with a monthly salary of not less than HK$18,000 and guarantee them on-the-job training while they are stationed in the Greater Bay Area.

The government will also grant a monthly allowance of HK$10,000 to enterprises for each applicant hired for up to 18 months.

Law said the number of job applications as of Wednesday is expected to far surpass 5,727 as the scheme allows enterprises to handle recruitments across different channels.

He said the applications filed covered over 2,000 posts - more than half of which are designated for the innovation and technology industry and were provided by a total of 275 enterprises.

Law said the government has extensively promoted the scheme, including running an actual job expo along with a virtual version last month.

"The government has also contacted universities and institutions offering bachelor's degrees and will hold multiple online seminars introducing the scheme starting from this month to attract more participants," he said.

The government would soon establish the "Alliance of Hong Kong Youth Innovative and Entrepreneurial Bases in the Greater Bay Area" announced in the 2019 policy address, inviting Hong Kong and Greater Bay Area enterprises to build a "one-stop communication platform" to support young Hong Kong entrepreneurs stationed in the region, Law said.

Between 2015 and 2016, the government launched a similar "Guangdong-Hong Kong Internship Program" under its "Funding Scheme for Youth Internship in the Mainland."

Law added: "The scheme offers Hong Kong youngsters aged 18 to 30 internship opportunities at mainland enterprises and government organizations, enabling them to gain a deeper understanding of the labor market, work culture and career prospects in the mainland, as well as establish interpersonal networks and set career goals."